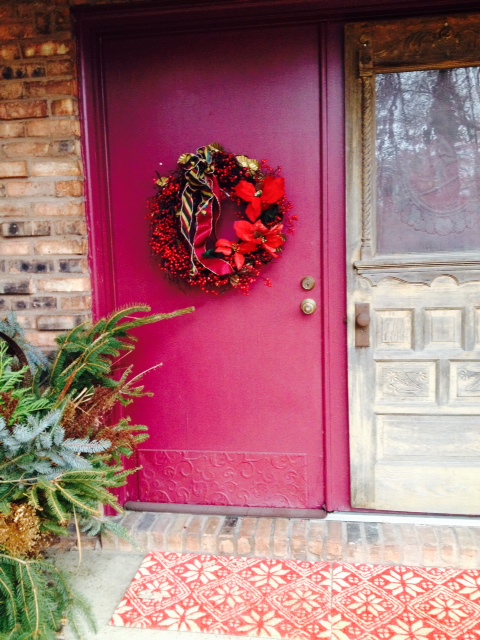 Cranberry door with red berry Christmas wreath.
For decades, the Mains family has honored the tradition of celebrating Christmas together on odd years, and having the even-year Christmases free to visit with other in-laws without feeling torn between family systems or to just stay home and honor your own traditions. This is the year 2014, so it is a non-Mains family Christmas celebration year.
Generally, David and I plan to go away on these even years, but one of our sons will be alone, and since we all are still reeling from losing Jeremy Mains, son and brother, age 41 in November 2013, we are settling in for a quiet gathering.
Angela, Jeremy's wife, has made her own plans with family and friends, so the littlest grandchildren will not be with us. Our eldest grandchildren, ages 22, 20 and 19, are in Phoenix, AZ. Our daughter, son-in-law and their two kids, 17 and 14, are happy to follow their own traditions.
So the three of us (the leftovers) have consulted and plan to attend a Christmas Eve candlelight service performed at the reasonable hour of 5:00 p.m. We'll prepare crab-and-cheese fondue at our son's house. Christmas Day we'll serve the traditional English menu—a rolled roast of some sort, Yorkshire pudding, a platter of white braised vegetables, and something flaming for dessert. The request has been made that we play Scrabble (my request), do a puzzle together and sit by the fire.
Frankly, it sounds lovely. In some ways we are grandparents in search of grandchildren—we have eleven grandchildren, but none of them will be with us for Christmas. (Lest you begin to feel sorry for us, our 19-year-old with girlfriend in tow is flying into Chicago the day after Christmas—that is when the festivities will truly begin!) So instead of getting blue about this potential emptiness, I'm going to anticipate what God has in mind for us. What kind of gift in this quiet is He preparing?
The grandchildren will not be here, but there are three of us and isn't the promise the same for Christmas as it is for the rest of the year?—"Where two or three are gathered together in my name, there am I in the midst of you." This could be, if we will let it, one of the best Christmases ever.
---
Award-winning author Karen Mains has long had an interest in spiritual formation and the obedient Christian walk. She has written about the God Hunt in her book by the same name, The God Hunt: The Delightful Chase and the Wonder of Being Found. A hardback copy can be ordered from Mainstay Ministries for $10.00 plus $4.95 shipping and handling. Contact Karen at info@mainstayministries.org and she will be happy to autograph a copy for you.
Karen continues to write content for her Christian blog, "Thoughts-by-Karen-Mains." In so doing, she desires to touch the lives of Christian women and men and help them find ways to walk closer with the Lord Jesus Christ. In addition, through silent retreats, spiritual teaching, women's retreats, Christian vacation opportunities, and other ministry activities, Karen helps each Christian woman and man receive vital spiritual food.
Through her Hungry Souls ministry, Karen serves as a spiritual coach to many Christian women and men, and teaches a mentor-writing class. And, through the Global Bag Project, she is working to develop a network of African women who sew exquisite cloth reusable shopping bags, Africa bags. This micro-finance women opportunity helps provide a much-needed sustainable income for struggling African families. For more information on this critically important project, please click here.
For decades, Karen and her husband, David, have served God through religious communications—radio, television, and print publication. They are the co-authors of the Kingdom Tales Trilogy: Tales of the Kingdom, Tales of the Resistance, and Tales of the Restoration. To find many valuable resources for pastors and congregations at the Mainstay Ministries main website, please click here.
Likewise, pastors will find special resources to help them prepare effective, life-transforming Sunday sermons by visiting David Mains' website by clicking here.
Share this Article