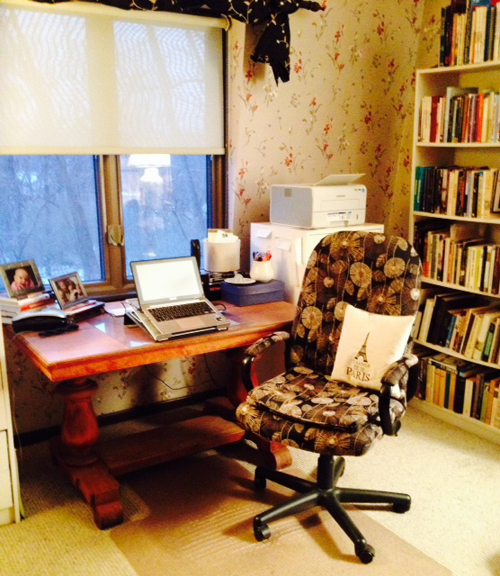 I realized this year, as I turned 72, that I have a terminal life diagnosis. It's not as though a doctor has given me so many months to live, but it is more inevitable that my life will end sooner than later. The days that stretch out for me are fewer with each passing year, and I am determined to be intentional about my dying—or at least the circumstances surrounding my death.
Approaching age is a little like having a cancer diagnosis (and it helps in this process of being intentional that I had a brush with thyroid cancer myself last year). Let's say I have five years left, or ten. What difference does that make in the way I live the life that is given to me?
First of all, for me, it means deciding what is the Most Important Thing for me to do with my gifts and interests and capabilities. In addition, what is the MIT to do while I still have health and a good mind? I refuse to not be prepared for death, to leave messes that our adult children have to sort through, to have bitter feelings about people in the past or in the present, or to not celebrate the ascent that death really is for those of us who are people of faith and belief.
I have a friend who is putting her funeral scheme together; she's a musician, and the music she's chosen sounds wondrous. I might just ask her if I can look over her funeral program, get some ideas, and adapt it for ourselves. Is our will in order? Have we given away things to family members that they will love to have? Will we have the joy in observing the pleasure we have given them with these gifts?
I am greatly convicted that I must withdraw from many of the things I love and start writing seriously again—this means five hours every week day thinking, making notes, researching and reading, then writing and writing and writing. This is the gift God has given me. I have little time left, comparatively. Scripture teaches us that we should "number our days." And if I die without doing the work that is given me to do—as best I can—I will feel as though I've lived an uncompleted life.
So I took January and cleaned my writer's study. This was no small task. There were piles upon piles. The mess had gone way beyond the "creative chaos" we artists like to brag about. My desk and the laptop computer were unapproachable. But AHA!—I have conquered it. There are just three small piles of letters and papers and bank statements I need to file. I think I'll also dust and order the books in my writer's reference library. Should get that done today.
February is set aside for writing as many book proposals as I have a mind to complete. The plan is to send them out to publishers and just go with any (if there are any) who will bite and give me a contract and an advance on royalties.
Intents have to start somewhere. Actions have to match the ideas. We have to let go of anything that is unnecessary or will prohibit us from achieving the Most Important Things. I turned 72 this month. I have a terminal life diagnosis.
---
Award-winning author Karen Mains has long had an interest in spiritual formation and the obedient Christian walk. She has written about the God Hunt in her book by the same name, The God Hunt: The Delightful Chase and the Wonder of Being Found. A hardback copy can be ordered from Mainstay Ministries for $10.00 plus $4.95 shipping and handling. Contact Karen at info@mainstayministries.org and she will be happy to autograph a copy for you.
Karen continues to write content for her Christian blog, "Thoughts-by-Karen-Mains." In so doing, she desires to touch the lives of Christian women and men and help them find ways to walk closer with the Lord Jesus Christ. In addition, through silent retreats, spiritual teaching, women's retreats, Christian vacation opportunities, and other ministry activities, Karen helps each Christian woman and man receive vital spiritual food.
Through her Hungry Souls ministry, Karen serves as a spiritual coach to many Christian women and men, and teaches a mentor-writing class. And, through the Global Bag Project, she is working to develop a network of African women who sew exquisite cloth reusable shopping bags, Africa bags. This micro-finance women opportunity helps provide a much-needed sustainable income for struggling African families. For more information on this critically important project, please click here.
For decades, Karen and her husband, David, have served God through religious communications—radio, television, and print publication. They are the co-authors of the Kingdom Tales Trilogy: Tales of the Kingdom, Tales of the Resistance, and Tales of the Restoration. To find many valuable resources for pastors and congregations at the Mainstay Ministries main website, please click here.
Likewise, pastors will find special resources to help them prepare effective, life-transforming Sunday sermons by visiting David Mains' website by clicking here.
Share this Article