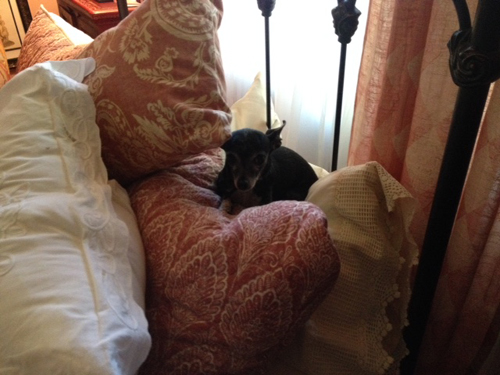 The bed pillows: Lacy's favorite spot
Sleep, a good night's sleep, is an all-too-elusive capacity for me. I aim for seven good hours per night and maybe, just maybe, I'll achieve that goal two nights out of seven. When my allergy is active, I take Nyquil; this cuts the nasal draining and the resultant cough, but I also sleep deeply. Aleve PM is the favorite go-to during non-allergic cycles. However, I am skeptical about taking two many over-the-counter medicines with acetaminophen, since that is an ingredient in many pain-killing products and it is easy to overdose by taking more than 4000 milligrams per day (combining a sleep aid with a pain aid with an allergy reliever). Too much of a good thing has been linked to liver damage.
I've discovered that a combination of natural activities, plus heightening my Vitamin B intake, seem to be helping. To bed as much as possible by 9:00 or 9:30; since I am an early riser, this is not a problem. No late-night television watching or computer work; something about the glare from the screens interrupting the normal activity of the melatonin in our system that helps us sleep. A warm bath at night is desired, although I am generally too tired to participate in this relaxing soporific. Deep breaths—25 at least—in and out, in and out, slow my mind down, and I have been trying simple eye-movement exercises, scanning from the left to the center to the right, then back from the right to the center to the left. These seem to quiet my brain; don't ask me to explain, but it has something to do with crossing from the left brain to the right and back again.
Most of the time, falling to sleep is not my problem; it's staying asleep. Going into deep sleep is also difficult, into that REM sleep where the dream world informs us that we have really dropped below the semi-conscious sleep barrier.
I'm having some success—dreaming and being able to go back to sleep when I wake at one a.m., two-thirty, or three. This sleep saga, however, has not been helped by the fact that our son's little Chihuahua, who has been staying with us this summer and then this last month while her owner is moving from Phoenix to Atlanta, loves to burrow under the covers and sleep pressed against warm skin.
I am not the kind of woman who allows animals to hop in bed, and believe me, we've had plenty of pets throughout the years, but something about the displacement of our "grand" pets when they are dropped off while their owners go gallivanting has touched my heart. Carlie, Joel's rescue dog, jumps up on the foot of the bed. She is always so obviously grateful to be left at our house and not the dog pound that I take pity on her.
And the inevitable lump in our well-made bed that is Lacy, the Chihuahua, has been cause for so much humor and she is so little, that I've bent the rules again and we've let her burrow under the covers with us. Perhaps this has something to do with the fact that she whimpers when our son, Randall, leaves, her little body shaking from stress.
Last night, however, when I woke at 1:00 and realized that I'd been maneuvering carefully all night so that I wouldn't squish the little dog under the covers (how does she breathe?), I decided I would change beds; leave David in the guest room where we had parked since I washed all the bedding, sheets and pillowcases and summer blankets and mattress covers in our bedroom, hanging them all out on the line to dry in the sun. Perhaps I would go back to sleep better without the warm little dog tucking up against my legs.
I went through all the routines, eye movements, deep breathing, keeping my mind from racing toward the next day's things-to-do list. A quick look in the bedside cabinet reminded me that I had packed the sleep mask in my airplane kit and I didn't want to go rooting around to find that, but there was the rosary I purchased when David and I toured the Vatican in Rome some 15 years ago. I climbed back into bed, using a Scripture mantra per each bead—"Bless the Lord, oh my soul, and praise His holy name." Finally, I remember hearing the downstairs clock chime three a.m. and nothing else until I woke this morning at 6:30.
I suppose I should look forward to this sleep adventure every evening. It is a monumental dilemma in my life: Will I or will I not get enough sleep? In fact, I hate to admit it, but the first thing I write in my prayer journal every morning is the amount of sleep I achieved the night before. Today's journal is a sample: To bed by 9:30, slept to 1:00 = 3 ½ hours. Back to sleep by 3:00, awake at 6:30 = 3 1/2 hours. Total 7.
Rest. Deep sleep. Dreams. These are the goals. But I'm afraid, for a while, the sleep saga goes on. And it looks like we're going to have the little dog for another month.
---
Award-winning author Karen Mains has long had an interest in spiritual formation and the obedient Christian walk. She has written about the God Hunt in her book by the same name, The God Hunt: The Delightful Chase and the Wonder of Being Found. A hardback copy can be ordered from Mainstay Ministries for $10.00 plus $4.95 shipping and handling. Contact Karen at info@mainstayministries.org and she will be happy to autograph a copy for you.
Karen continues to write content for her Christian blog, "Thoughts-by-Karen-Mains." In so doing, she desires to touch the lives of Christian women and men and help them find ways to walk closer with the Lord Jesus Christ. In addition, through silent retreats, spiritual teaching, women's retreats, Christian vacation opportunities, and other ministry activities, Karen helps each Christian woman and man receive vital spiritual food.
Through her Hungry Souls ministry, Karen serves as a spiritual coach to many Christian women and men, and teaches a mentor-writing class. And, through the Global Bag Project, she is working to develop a network of African women who sew exquisite cloth reusable shopping bags, Africa bags. This micro-finance women opportunity helps provide a much-needed sustainable income for struggling African families. For more information on this critically important project, please click here.
For decades, Karen and her husband, David, have served God through religious communications—radio, television, and print publication. They are the co-authors of the Kingdom Tales Trilogy: Tales of the Kingdom, Tales of the Resistance, and Tales of the Restoration. To find many valuable resources for pastors and congregations at the Mainstay Ministries main website, please click here.
Likewise, pastors will find special resources to help them prepare effective, life-transforming Sunday sermons by visiting David Mains' website by clicking here.
Share this Article