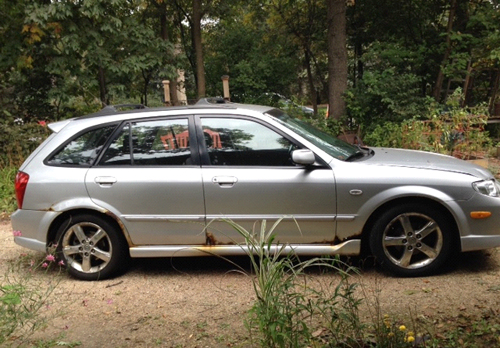 Driving round in a car with 190,000 miles on the odometer, purchased in 2002, that has had to sit in the driveway for many years because our garage was needed for a Mainstay Ministries product warehouse. Were we saying that being in the ministry was equated with driving what was fast becoming a junk heap? Recently, I heard of a popular televangelist who owns two Rolls-Royces. At that point I feel like patting my little Mazda Protégé 5 and saying, "Good little car. You have served the Kingdom well. You have hauled used furniture and books and retreat supplies and provided us with traveling mercies. You, despite our neglect, have stayed sturdy for almost 14 years. You have been a good provision from the hand of our Heavenly Father."
Sometimes authenticity in ministry can be measured by the luxuries we desire and acquire. Just to assure you, good friends, as far as the Mainses and Mainstay Ministries go, your donor dollar does not underwrite any luxuries!
I'm including a photo of the Mazda Protégé 5. This does not show how creepy the rust is as it eats away wheel frames; nor does its show the dent and the wrinkle in the hood where I turned left behind our son who was driving a rental car as we all gathered for his daughter's college graduation. I thought he turned and was already into the highway ahead of me. I crumpled his left back light shield and crumpled our hood.
Given all this car drama, David has gone ahead and purchased another 2015 Mazda. Since I am tender about the 2002 car (it having served us so well) and tempted at the thought of having a second car just to run errands around town, we put $900—no fancy cosmetic fixes—into the first fix-up (just to keep it running for another three years). The tow cost $80; the new battery cost $204; what I hope will be the final fix-up, a new alternator (the old one had a leak and gas had seeped into the lines and exhaust), cost us another $500. That's a total of $1,684—still better than buying a new car and making payments.
I guess I'm not so embarrassed after all.
---
Award-winning author Karen Mains has long had an interest in spiritual formation and the obedient Christian walk. She has written about the God Hunt in her book by the same name, The God Hunt: The Delightful Chase and the Wonder of Being Found. A hardback copy can be ordered from Mainstay Ministries for $10.00 plus $4.95 shipping and handling. Contact Karen at info@mainstayministries.org and she will be happy to autograph a copy for you.
Karen continues to write content for her Christian blog, "Thoughts-by-Karen-Mains." In so doing, she desires to touch the lives of Christian women and men and help them find ways to walk closer with the Lord Jesus Christ. In addition, through silent retreats, spiritual teaching, women's retreats, Christian vacation opportunities, and other ministry activities, Karen helps each Christian woman and man receive vital spiritual food.
Through her Hungry Souls ministry, Karen serves as a spiritual coach to many Christian women and men, and teaches a mentor-writing class. And, through the Global Bag Project, she is working to develop a network of African women who sew exquisite cloth reusable shopping bags, Africa bags. This micro-finance women opportunity helps provide a much-needed sustainable income for struggling African families. For more information on this critically important project, please click here.
For decades, Karen and her husband, David, have served God through religious communications—radio, television, and print publication. They are the co-authors of the Kingdom Tales Trilogy: Tales of the Kingdom, Tales of the Resistance, and Tales of the Restoration. To find many valuable resources for pastors and congregations at the Mainstay Ministries main website, please click here.
Likewise, pastors will find special resources to help them prepare effective, life-transforming Sunday sermons by visiting David Mains' website by clicking here.
Share this Article