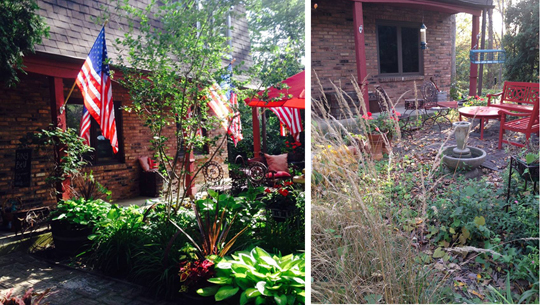 Nothing shows neglect more than a garden that has not been tended all spring, summer and fall! Above are contrasting photos of our front patio garden. One shows the garden lovingly cultivated from last year—the other cruelly showing the neglect this year due to a series of distresses and catastrophes that have demanded my attention for months. It occurs to me that a neglected garden is an apt metaphor that visually shows what many of our souls look like—we all too often neglect the inner journey. Weeds have grown, a flowerpot is broken, creatures have dragged the soil-amending bag and torn it open. Nothing has been deadheaded, and the relentless, encroaching Dutchman's Pipe Vine is twisting in the grasses, the bushes, and even around the benches (they did get repainted this summer—but that's about all).
This year, my daughter Melissa and I begin planning what we hope will be an annual Advent Retreat in their beautiful lodge-like home at Turtle Creek Acres in McHenry, Illinois. That meant a program had to be planned, a meditation Scripture chosen, an endless-hot-chocolate bar created, Christmas decorations put up before Thanksgiving, and guided exercises in silence chosen. All this work so others could have time to do a year-end checkup in the interior spaces.
What are you planning to put into place so that your soul won't look like my front patio garden? I have found that intentional planning has to be put into effect or the soul-tending will just not happen.
Ideally, a garden must be tended a little bit every day, a lot once a week, there is spring cleanup, seed planting, lawn mowing, cultivating, weeding and weeding and weeding, transplanting, watering, trimming and edging—mostly, keeping a garden is an act of love. We gardeners do this work because we love it, and the end result is soul-satisfying. The same kind of tender care has to go on when we turn our attention to the inner life. We have to learn to nurture our own souls in collaboration with the Master Gardener who always has a plan for each garden—without or within.
What are you planning to put into place so that your soul won't look like my front patio garden?
---
Award-winning author Karen Mains has long had an interest in spiritual formation and the obedient Christian walk. She has written about the God Hunt in her book by the same name, The God Hunt: The Delightful Chase and the Wonder of Being Found. A hardback copy can be ordered from Mainstay Ministries for $10.00 plus $4.95 shipping and handling. Contact Karen at info@mainstayministries.org and she will be happy to autograph a copy for you.
Karen continues to write content for her Christian blog, "Thoughts-by-Karen-Mains." In so doing, she desires to touch the lives of Christian women and men and help them find ways to walk closer with the Lord Jesus Christ. In addition, through silent retreats, spiritual teaching, women's retreats, Christian vacation opportunities, and other ministry activities, Karen helps each Christian woman and man receive vital spiritual food.
Through her Hungry Souls ministry, Karen serves as a spiritual coach to many Christian women and men, and teaches a mentor-writing class. And, through the Global Bag Project, she is working to develop a network of African women who sew exquisite cloth reusable shopping bags, Africa bags. This micro-finance women opportunity helps provide a much-needed sustainable income for struggling African families. For more information on this critically important project, please click here.
For decades, Karen and her husband, David, have served God through religious communications—radio, television, and print publication. They are the co-authors of the Kingdom Tales Trilogy: Tales of the Kingdom, Tales of the Resistance, and Tales of the Restoration. To find many valuable resources for pastors and congregations at the Mainstay Ministries main website, please click here.
Likewise, pastors will find special resources to help them prepare effective, life-transforming Sunday sermons by visiting David Mains' website by clicking here.
Share this Article