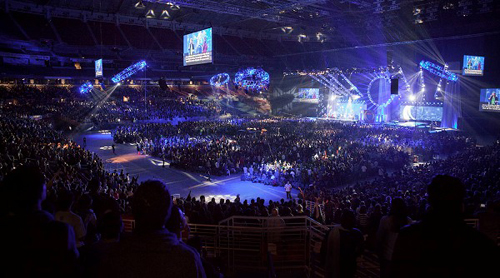 Urbana is the tri-yearly student missions conference that InterVarsity has sponsored for over fifty years. Various sources estimate that of all missionary candidates for overseas service, some 70-85% have experienced a spiritual call or nudge while attending Urbana.
Because I served as a trustee on the InterVarsity board for eight years and as its first woman chair for two years, I am regularly invited to return. This year a personal invitation from the staff director who heads the InterVarsity Arts division (and the fact that I was in town) encouraged me to attend.
During my years on the board, we established a multi-cultural ad-hoc committee, browned the board, made sure that vocal women, not hesitant to speak at a table surrounded by powerful men, were invited to serve, sent out regular documents between each of the three yearly board meetings on issues relating to ethnicity, then slotted regular times for reaction and discussion in each agenda. It was estimated that by the year 2012, American secular universities would no longer have white majorities.
You can imagine my surprise and delight, when I entered the Edward Jones Dome at the convention center in St. Louis, to discover that of the 16,000 attendees, some 55% were people of color. There were as many women plenary speakers as men and only two of them were right; the rest were internationals.
OK, I thought. What has happened here? What had happened was a constant, intentional, some thirty-year attempt to create student and staff racial ratios that would reflect the demographic on secular university campuses. In discussion with several missiologists present at Urbana, we pretty much agreed that to the best of our knowledge there was no similar conference on this scale that reflected so succinctly the globalization of our world.
Believe me, this is not an easy task. There will be a thousand mistakes, a thousand reasons for misunderstanding, a thousand opportunities to ask for and to offer forgiveness. It takes committed, dogged determination—and an extraordinary amount of humility—to be part of any organization that integrates its members ethnically, and integrates its members fully.
One evening friends and I went out for dinner. When I returned for the evening plenary session, I realized I had left my bag of just purchased InterVarsity Press books in the restaurant, which was five blocks away. If I hurried, I could walk to retrieve my bag and make it back without missing much of the evening service. As I was hurrying down a hallway, I noticed two black custodians chatting with one another in the quiet, un-crowded passage. Approaching, I heard one of them say, "Yes, I think history will show that he's been one of our best presidents ever."
"Who we talking about here?" I called out as I hurried past, knowing who we were talking about. "Obama," they both called out.
I turned around to face them, now walking backward, "If he'd only broken the color barrier, that would have been more than enough." They nodded their heads and smiled at me. Now I wish I'd stopped to chat. What did they think he had done to be evaluated as one of the best presidents America's ever had?
I thought about those two men as I hurried onto the restaurant. There are probably black boys, street teens, young women going to college, the first in their family, preachers and congregations, activists, grade-school students, bus drivers and lawyers, housewives and business owners all over this country who think exactly the same thing.
Not all black Americans support President Obama (but I suspect that most of them do).
We'll have to wait for history to make a judgment. But for now, instead of trusting the pundits and the op-ed writers, instead of trusting lawmakers and political operatives, I think I'll pay more attention to the man and woman on the street (certainly to those proud custodians chatting about political affairs in a now-quiet and empty hallway).
---
Award-winning author Karen Mains has long had an interest in spiritual formation and the obedient Christian walk. She has written about the God Hunt in her book by the same name, The God Hunt: The Delightful Chase and the Wonder of Being Found. A hardback copy can be ordered from Mainstay Ministries for $10.00 plus $4.95 shipping and handling. Contact Karen at info@mainstayministries.org and she will be happy to autograph a copy for you.
Karen continues to write content for her Christian blog, "Thoughts-by-Karen-Mains." In so doing, she desires to touch the lives of Christian women and men and help them find ways to walk closer with the Lord Jesus Christ. In addition, through silent retreats, spiritual teaching, women's retreats, Christian vacation opportunities, and other ministry activities, Karen helps each Christian woman and man receive vital spiritual food.
Through her Hungry Souls ministry, Karen serves as a spiritual coach to many Christian women and men, and teaches a mentor-writing class. And, through the Global Bag Project, she is working to develop a network of African women who sew exquisite cloth reusable shopping bags, Africa bags. This micro-finance women opportunity helps provide a much-needed sustainable income for struggling African families. For more information on this critically important project, please click here.
For decades, Karen and her husband, David, have served God through religious communications—radio, television, and print publication. They are the co-authors of the Kingdom Tales Trilogy: Tales of the Kingdom, Tales of the Resistance, and Tales of the Restoration. To find many valuable resources for pastors and congregations at the Mainstay Ministries main website, please click here.
Likewise, pastors will find special resources to help them prepare effective, life-transforming Sunday sermons by visiting David Mains' website by clicking here.
Share this Article