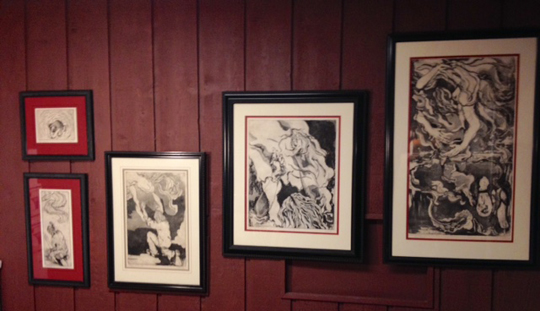 We are turning the little downstairs bedroom (which two sons have inhabited, in addition to various live-ins, my brother-in-law's gardener—a long story—and boyfriends of one granddaughter). This space also served as my "fabric studio," which had been set up with a sewing table, a sewing machine, a fabric art library, and an upholstered chair to settle into for comfortable hand-hemming or mending.
The rough cut siding of the room had been stained a rich wine color, the cement floor covered with red concrete paint and the long wall, which held cutouts where fish tanks once perched, had been almost covered with five signed prints given to me by a student artist when David and I were pastoring Circle Church in the heart of the inner city of Chicago. They are a little rough and unformed in their artistry, but I love them—mostly because they illustrate, from small to large, the cry of the human heart for a God to embrace, receive, overtake, and infill it. The artist, Charis Hathaway, titled the prints "Spirit Power." But, a granddaughter, about three years of age, named them "Hep me! Hep me!" I think I like the little child's nomenclature best.
The reason these prints move me is that at that time in my life, I was hungry for a work of the Holy Spirit that would embrace, receive, overtake, and fill me. This was during a national cycle of argument over the theological role of the Holy Spirit in the lives of humankind. There was a moving of power and miracle-working authority happening in many places in the world deemed the charismatic movement. I, a child of Baptist, fundamentalist background, knew next to nothing about the Holy Spirit, either theologically or experientially. The prints remind me of that hunger—something given to me that came from outside of my capabilities or design. The eventual climax of the art—the last print and the largest—beautifully conveys to me the desire and the satisfaction of that desire that God worked in my life during those years.
I am reluctant to sell these five prints—they hold such personal meaning—I'm not sure anyone will want a whole wall or a stairwell-full of swirling lines and longing that impressionistically represent "spirit power" or mankind's need to be "hepped". They are beautifully framed; my daughter and I agree that framing pictures and paintings with design ability is one of my gifts. With all the moving that is going on, I will not have a place for them. So today I am praying, Lord, find them a home. Find them a home.
---
Seeing takes time… National award-winning and best-selling author Karen Mains writes out of decades of ministry filled with pains and joys. Known for her authentic and passionate voice, Karen, through the Hungry Souls ministry, serves as a spiritual friend to Christian women and men.
From church planting in the inner city with her husband, David, to national media broadcasting and telecasting, to serving on international boards, Karen brings a perspective on life informed by rich experience, motivated by tenderness, expanded by national travel in over 50 countries, and in an always surprising dialogue with those whose stories continually move her. Seeing—she has learned—hard-gained wisdom takes time.
To find many valuable resources for pastors and congregations at the Mainstay Ministries main website, please click here.
To learn more about Karen as activist, writer, and thinker, please click here.
Share this Article