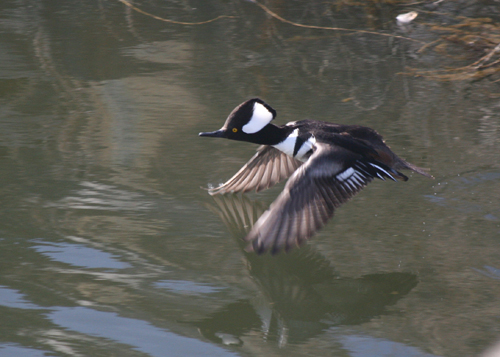 A male hooded merganser
Birding with my son, Randall, is always a physically invigorating experience. Yesterday, we walked through a nearby preserve, Timber Ridge, which was saved from the developers some 15 years ago. (I've only walked there once before—more to my shame.) It is also a uniquely spiritual exercise.
"Why don't we take a little walk after work? There's water over there, isn't there?"
"Yes," answered his father. "Don't you remember we drove our Pontiac Sunbird into the pond when you were in high school?" This was not an intentional choice, driving into the pond; rather, one Sunday night, coming home from church, we swerved to avoid three horses galloping directly on our side of the road, about 20 yards away. The little yellow car, the only sporty vehicle we have ever owned, sank to the bottom. I have memories of us opening our doors, wading waist-high toward the shore, with the car lights beaming eerily through the pond waters.
Randall is with us for a few weeks from his home in Phoenix. He is here meeting with clients for his Internet marketing business and making strategic plans for various publishing projects we are working on together.
I was eager to take our only car (shared three ways these days) and run to Goodwill. My coffee-bean grinder is broken, and a friend brought me two bags of coffee beans, necessitating a resale-store hunt for something secondhand (and cheap). Then I thought, How often do you have an amateur ornithologist invite you for a stroll through bird territory? … Oh, heck. Goodwill is open till 9:00. "Let's go now," I responded. "We'll still have light for another couple of hours."
Again, I was reminded of how a hunt, of any kind, is a metaphor for seeking God in our world, for intentionally finding the numinous, which seems to hide if we don't go looking for it. And the more we hunt, the more we are enabled to find what we seek. "Seek and ye shall find." I didn't say it; Jesus did. But I testify to the veracity of the expression.
It was one of the first climate days of this slow spring. Randall's keen eyes picked up turkey vultures circling above the preserved prairie, which had just undergone a prescribed burn. Nothing had greened up yet; nothing appeared to be budding. "There's a tree swallow." He pointed to the little darting figure in the sky and loaned me his binoculars to get a closer look. So went our half-mile, 45-minute walk. Here a bird, there a bird, everywhere a bird-bird. Randall's eyes catch movement, identify wing form and underbellies, delineate the coloration; his ears hear and identify song and cry.
For me, it's an extraordinary experience to go birding with my son. With him, the still-dun brushed world was vibrant with life. We walked down to the aforementioned pond. "Look! There's a hooded merganser." The big birds I can identify are Canada geese, swans, egrets, herons, turkeys and mallards. A great blue heron flew overhead, its long neck stretching to the sky. I actually could say, "Oh, look, a heron. Red-winged blackbird on the cattails." Randall went on naming, ducks my eyes would never identify; he pointed out the log-like stick floating between two wood ducks. "Can you see that? It's a muskrat. Oh, look! There's a scaup. There's a bufflehead.
The same seeing effect occurs when we take time to look for God in the world of our lives. I write down my God Hunt sightings every day in my prayer journal. I have done this for over forty years, and my life is richer, more spiritually replete because I live so intentionally in the transcendent. Yesterday, I jotted down 18 ways God had intervened in my everyday life. Try it and see.
I'm determined to go birding with Randall as much as I can while he is still here.
---
Award-winning author Karen Mains has long had an interest in spiritual formation and the obedient Christian walk. She has written about the God Hunt in her book by the same name, The God Hunt: The Delightful Chase and the Wonder of Being Found. A hardback copy can be ordered from Mainstay Ministries for $10.00 plus $4.95 shipping and handling. Contact Karen at info@mainstayministries.org and she will be happy to autograph a copy for you.
Karen continues to write content for her Christian blog, "Thoughts-by-Karen-Mains." In so doing, she desires to touch the lives of Christian women and men and help them find ways to walk closer with the Lord Jesus Christ. In addition, through silent retreats, spiritual teaching, women's retreats, Christian vacation opportunities, and other ministry activities, Karen helps each Christian woman and man receive vital spiritual food.
Through her Hungry Souls ministry, Karen serves as a spiritual coach to many Christian women and men, and teaches a mentor-writing class. And, through the Global Bag Project, she is working to develop a network of African women who sew exquisite cloth reusable shopping bags, Africa bags. This micro-finance women opportunity helps provide a much-needed sustainable income for struggling African families. For more information on this critically important project, please click here.
For decades, Karen and her husband, David, have served God through religious communications—radio, television, and print publication. They are the co-authors of the Kingdom Tales Trilogy: Tales of the Kingdom, Tales of the Resistance, and Tales of the Restoration. To find many valuable resources for pastors and congregations at the Mainstay Ministries main website, please click here.
Likewise, pastors will find special resources to help them prepare effective, life-transforming Sunday sermons by visiting David Mains' website by clicking here.
Share this Article