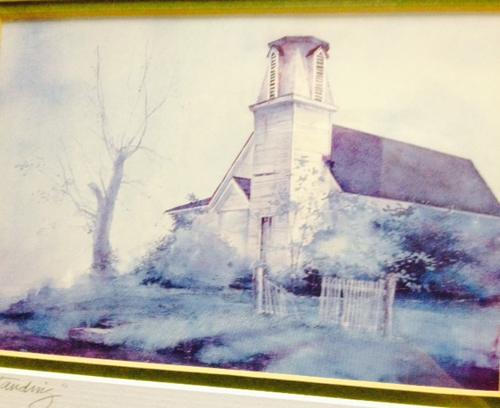 The headline of an article in This Week magazine asked the question: "France: should abandoned churches become mosques?"
The first paragraph sets the tone of the dilemma:
"We French must save our churches from being usurped by Islam," says Denis Tillinac in Valeurs Actuelles. The head of the Grand Mosque of Paris, Dalil Boubakeur, recently proposed solving his overcrowding problems by converting empty churches into mosques. "It's the same God," he said in a radio interview. "The rites are similar, fraternal."
According to Tillinac, such a claim is "scandalous denial of reality." France's beautiful chapels aren't just religious structures, but part of French patrimony. "The tens of thousands of steeples sown on our soil by our ancestor's piety embody the deep memory of our country. I'm not the only one who finds the idea of converting churches into mosques gravely offensive. Polls show that 67 percent of voters also oppose Boubakeur's plan."
I recently read a survey that in the States, some 4,000 churches close their doors each year. This number is counterweighted by the fact that only some 1,000 churches are planted each year, meaning that we are playing a losing-sum game.
I wonder what Americans will do when Muslim communities begin to convert both simple and majestic structures, once formerly dedicated to the nurture and advancement of Christian faith, into mosques?
Is anyone concerned that people of faith, in large numbers, are not leaving their faith but are stopping attending church on Sundays? Every year in the U.S., some 2.7 million church members fall into inactivity. Near the beginning of the 20th century (1900), there was a ratio of 27 churches per 10,000 people, as compared to the close of the 20th century (2000), where we have 11 churches per 10,000 people in America.
In France, only six percent of French people attend Mass every Sunday, and rural churches are falling into ruin. Churches in France that stand empty are maintained at state expense, thanks to a law saying religious structures built before 1905 are state property, while those built after must be paid for by the congregation. Here, old churches that no longer house congregations are turned into private homes, community centers, restaurants and dance studios. How will we feel when, due to a growing Muslim population, they begin to be converted to mosques?
I'm still thinking about this one. It seems all the fuss about the upcoming presidential elections are not what any of us should be really concerned about. What we need to be considering is if the church will be still standing in the days ahead.
---
Award-winning author Karen Mains has long had an interest in spiritual formation and the obedient Christian walk. She has written about the God Hunt in her book by the same name, The God Hunt: The Delightful Chase and the Wonder of Being Found. A hardback copy can be ordered from Mainstay Ministries for $10.00 plus $4.95 shipping and handling. Contact Karen at info@mainstayministries.org and she will be happy to autograph a copy for you.
Karen continues to write content for her Christian blog, "Thoughts-by-Karen-Mains." In so doing, she desires to touch the lives of Christian women and men and help them find ways to walk closer with the Lord Jesus Christ. In addition, through silent retreats, spiritual teaching, women's retreats, Christian vacation opportunities, and other ministry activities, Karen helps each Christian woman and man receive vital spiritual food.
Through her Hungry Souls ministry, Karen serves as a spiritual coach to many Christian women and men, and teaches a mentor-writing class. And, through the Global Bag Project, she is working to develop a network of African women who sew exquisite cloth reusable shopping bags, Africa bags. This micro-finance women opportunity helps provide a much-needed sustainable income for struggling African families. For more information on this critically important project, please click here.
For decades, Karen and her husband, David, have served God through religious communications—radio, television, and print publication. They are the co-authors of the Kingdom Tales Trilogy: Tales of the Kingdom, Tales of the Resistance, and Tales of the Restoration. To find many valuable resources for pastors and congregations at the Mainstay Ministries main website, please click here.
Likewise, pastors will find special resources to help them prepare effective, life-transforming Sunday sermons by visiting David Mains' website by clicking here.
Share this Article