August is always a woeful donor month here at Mainstay Ministries. We squeak by on fumes and patience because the checks coming in the door dwindle. August is traditionally our second-lowest donor month: April, tax month, is always our first. They are both uncomfortable financial seasons.
So it is important to get our donor letter out on time, and I often find myself prayerfully pleading for help: Help me to get an idea! Help me to get it written (within the two-page limit)! Help me to think of some fresh way to ask for money (after some 50 years of being dependent upon the kindness of the donor—what a way to earn an existence!)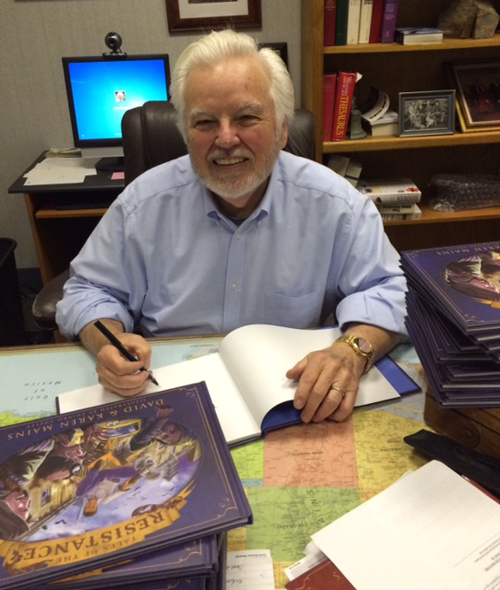 This last week, I came sailing into the office with my part-time editor, for once here ahead of me, ready and waiting. David interrupted my momentum by nicely demanding I take a photo of him autographing books from one of the 42 boxes containing the 1,000 books, new reprints of the Tales of Resistance, which arrived from the China printer a couple weeks ago. "Can't you wait for me to do that?" I asked. "No," came the answer, "Heather Ann [our office manager] can't finish the donor receipt for August until I have a photo for it." So I reluctantly took his phone, framed a photo, took several shots, chose the best one, went outside for AT&T reception because his iPhone shows no bars when he is in the office, emailed the photo to Heather Ann, then finally got to my desk and waiting editor to do a blitz on the design of the donor letter, the response device and the envelope.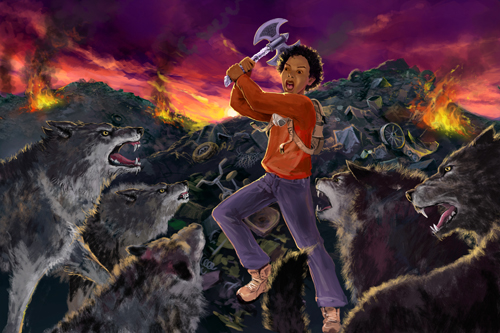 It wasn't until I got to my desk that I realized the photo I just under protest shot would be perfect for the September donor letter response device. It wasn't until I got to my desk that I remembered we had a new illustration in Dropbox showing Little Child (from Book Three of the Tales of the Kingdom trilogy) fighting off wolves during Crossing Alone from Great Park to Bright City. It wasn't until I began to cut copy to fit into the two-page letter, that I realized everything I needed to finish this project had been put into my hand without me asking (except in my somewhat-general but urgent morning plea—Help me to get the donor letter out the door today, Oh Lord!).
George Koch, my editor, had everything completed, Xeroxed off for copy and design approval, and off to our printers, Lightning Source, in about two hours. To me, this was evidence of the collaboration I have come to recognize and respect from the Great Designer and Greatest Communicator. Unfortunately, too often I forget to take the time to pause and see exactly where it was I had unusual help to do God's work in the world.
Actually, I have learned that God is also the Master Collaborator in the life that is Karen Mains. My times and my being are in his hands. They are in his hands. When I stop, take deep breaths and say to myself, Now where is it I have seen God working in this day?, I always (ALWAYS) discover His involvement in my being. It is a joy to realize this, a source of delight, often the cause of mischievous laughter, and proof positive that I am loved, loved deeply enough for the Master of the Universe to bend somehow some way into the minuscule molecular formulae that make up who and what I am.
I am awed, overwhelmed, grateful and mostly surprised. "My times are in His hands…"
---
Award-winning author Karen Mains has long had an interest in spiritual formation and the obedient Christian walk. She has written about the God Hunt in her book by the same name, The God Hunt: The Delightful Chase and the Wonder of Being Found. A hardback copy can be ordered from Mainstay Ministries for $10.00 plus $4.95 shipping and handling. Contact Karen at info@mainstayministries.org and she will be happy to autograph a copy for you.
Karen continues to write content for her Christian blog, "Thoughts-by-Karen-Mains." In so doing, she desires to touch the lives of Christian women and men and help them find ways to walk closer with the Lord Jesus Christ. In addition, through silent retreats, spiritual teaching, women's retreats, Christian vacation opportunities, and other ministry activities, Karen helps each Christian woman and man receive vital spiritual food.
Through her Hungry Souls ministry, Karen serves as a spiritual coach to many Christian women and men, and teaches a mentor-writing class. And, through the Global Bag Project, she is working to develop a network of African women who sew exquisite cloth reusable shopping bags, Africa bags. This micro-finance women opportunity helps provide a much-needed sustainable income for struggling African families. For more information on this critically important project, please click here.
For decades, Karen and her husband, David, have served God through religious communications—radio, television, and print publication. They are the co-authors of the Kingdom Tales Trilogy: Tales of the Kingdom, Tales of the Resistance, and Tales of the Restoration. To find many valuable resources for pastors and congregations at the Mainstay Ministries main website, please click here.
Likewise, pastors will find special resources to help them prepare effective, life-transforming Sunday sermons by visiting David Mains' website by clicking here.
Share this Article