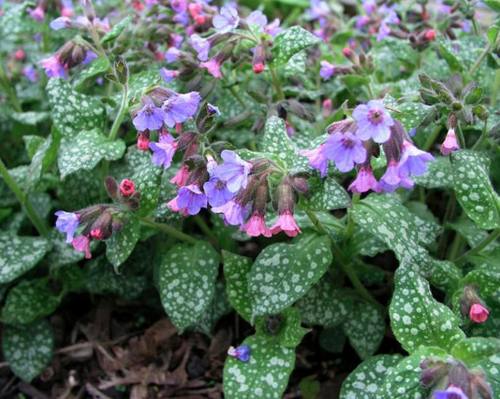 Lungwort (Pulmonaria)
Over the last two summers, lungwort (pulmonaria) has taken over my garden. Lungwort is the little spring plant with the spotted leaves and pink, blue and white flowers that bloom in the spring. As a specimen plant, this early bloomer is delightful, but as a ground cover—all over the ground—it has taken residence where I did not plant it and do not want it.
However, I have let it grow—partly by intent and partly due to the fact that I have been physically under the weather for the last six months—and grow it has. My intent has been to dig out the lungwort (so named because previous generations thought the spots on the leaves looked like lungs and treated lung discomforts and diseases with this plant) and fill the wooden pathway down to the marsh at my son-in-law and daughter's home named Turtle Creek Acres.
Neglect sometimes is an expedient strategy. In the case, the more lungwort that sprouted each year, the more lungwort took root each summer. Now there are not just solitary chipper pink and blue flowered plants waving in my spring garden, due to my physical inability to garden for two years, there are now huge mother plants gripping the soil, determinedly marking out their habitat.
David has been the determined gardener this year, leaving our bed early every morning before sunrise, to rake and haul and burn the leaves and debris and dried deadheads that have made our March yard look like a wasteland.
Yesterday morning, however, was perfect for digging—cool and damp with the threat of a late-morning rain—so dressed in my favorite gardening duds, jeans and flannel shirt over a turtleneck sweater, blue baseball cap with a Chicago Cubs insignia, thick sports stockings and plastic clogs—I attacked the compost bed outside my back door where I intend to plant tomatoes up against the brown siding and where I have been dumping my kitchen garbage all winter. Here the pulmonaria has made itself cheekily at home. But I have just the place for it, where the woods back up to the country road and stretch toward the creek and the marsh; where sandhill cranes fly overhead and families of deer rise out of the slightly foggy mornings to graze on grasses and tasty weeds.
I figure I took out 20 plants, hauled them up to McHenry, IL, where my kids live, and within two hours on a misty day, Melissa and I had settled them in along the woodland path in the verdant soil made of a mix of sand and forest dirt and rich leaf mold. Even slightly in shock, the polka-dot leaves and the jaunty pink and blue buds looked delightful in their new growing spots.
Making further plans with my daughter, I heard myself saying out loud, "You know, I think I have at least two times this much lungwort still at home waiting to be dug out." We observed the rest of the path and envisioned what spring would look like next year, then the first thing I did when I arrived back home was go out and count the possible transplants that still hunkered down in the spring soil. Yes, indeed, there were at least forty more plants growing healthy and eager that would make a perfect addition to the Timberlakes' woodland paths. At least forty.
One of the great pleasures of bounty—perhaps the only pleasure, actually—is the fact that we get to share it with people we love. We get to share. I wonder if this is what God feels when He looks at the greening world and the fertile soil and the exquisite landscapes and a night sky somewhere undimmed by light pollution? I suspect He is delighted to share this bounty and this beauty with those He loves.
Digging out self-perpetuating plants from my own yard and digging in some sixty to eighty plants into my daughter's woods—what could make a parent heart happier?
---
Award-winning author Karen Mains has long had an interest in spiritual formation and the obedient Christian walk. In writing content for this blog, she desires to touch the lives of Christian women and men and help them find ways to walk closer with the Lord Jesus Christ. In addition, through silent retreats, spiritual teaching, women's retreats, Christian vacation opportunities, and other ministry activities, Karen helps each Christian woman and man receive vital spiritual food.
Through her Hungry Souls ministry, Karen serves as a spiritual coach to many Christian women and men, and teaches a mentor-writing class. And, through the Global Bag Project, she is working to develop a network of African women who sew exquisite cloth reusable shopping bags, Africa bags. This micro-finance women opportunity helps provide a much-needed sustainable income for struggling African families. For more information on this critically important project, please click here.
For decades, Karen and her husband, David, have served God through religious communications—radio, television, and print publication. To find many valuable resources for pastors and congregations at the Mainstay Ministries main website, please click here.
Share this Article