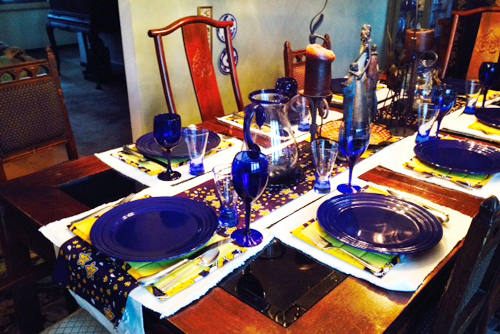 A delightful Kanga cloth runner from Africa accents the table setting.
I had set aside Saturday afternoon to prepare food for Sunday dinner. A family from the church was coming, bringing seven of their nine children with them. Fortunately, I had enough vegetables of the remainder variety (some potatoes still in the bin, half a bag of spinach, some homemade red-cabbage sauerkraut left in a refrigerator jar, some carrots that had been shredded) to cook a vegetable medley without making a trip to the grocery store.
I took the time to pitch a couple potatoes that had gone bad; the rest looked to be healthy and firm. Although as I washed and diced them, leaving the skins on, which is my custom since so much of the nutrient value is in the skins as well as being a source of great fiber content, I noticed the skins seemed thicker than usual.
As the vegetables were cooking slowly in the wok, I made up a biscuit mix, used the rest of the stone-ground cornmeal to make cornbread, then I sample-tasted the cooking vegetables. Something was bitter; the summary of the mix didn't hit the back of my tongue but lingered nastily on its tip. I added seasoning, finally a jar of cheese sauce, and still with another taste test, the bitterness hit my tongue tip and didn't land on the savory zone of my mouth. I had visions of seven children and five adults writhing with stomach agony.
What had gone wrong? The potatoes, at least the skins, were bad. I couldn't possibly serve the vegetable medley to guests! What's more, the cheese sauce had turned the bright shining colors into a congealed mass hue. Now my cooking schedule was completely wonked. My back was beginning to tire from an afternoon in the kitchen, and David and I were scheduled to leave for an evening in the home of some friends—no time to work from 6 to 9 p.m. to correct the disaster.
I dumped the dish in the garbage—much to the pain of my frugal self—and began to frantically consider what else I had to serve in the house. The menu as planned included a beautiful broiled salmon, but I'd have to scramble to pull a complementary meal together the next morning—Sunday—something I hate to do. A trip to the store would eat up my time—it might mean I wouldn't make it to church.
It is at this point for a frantic cook that the real blessing occurs. Lord, give me the creativity and cooking instinct to put something together with what I already have that will feed a family with seven children, my husband and myself and one of our sons who was also invited to dinner.
Ah-hah! A friend had brought us two dozen eggs from a shopping trip to Costco. I could make a curried white sauce to pour over a dozen hardboiled eggs garnished with dehydrated chives from our garden. There were some new potatoes, enough to combine with a large bag of green beans. I steamed the beans, parboiled the diced potatoes in the water, melted butter and garlic in the wok, then combined everything to simmer and season while I added skinned and sliced tomatoes. It looked great.
A bag of long-grain brown rice went into the rice cooker, and unfrozen summer blueberries and Georgia peaches were combined with an instant-pudding mix, piled on granola to cook in the bottom of individual ramekins, then topped with vanilla ice cream.
I had what looked to be a remarkable meal. Thanks be to God, the Master Chef.
So the family with the many children came to Sunday dinner. They were enchanting. Each took their blue plate into the kitchen where a serving buffet was set, filled them from each dish. Each child told me "thank you" about five times. Comments about the food included, "Oh, I love salmon." "These vegetables look great." Yes, I'd love honey from the beehives on the biscuits." "Um-m-m-m-m, these eggs are yummy."
I kid you not. They were polite at the table, made a point of not spilling the goblets filled with water (no mean feat for little folk of various sizes around a crowded table), and continued to commend me ("Yum! I love blueberries and peaches!"). I felt like I was an adult actress in a play titled The Most Well-Behaved Children in the Whole World. What an enchanting afternoon! The conversation at the table among the adults was stimulating and engaging; the children contributed when they could, found the toys in the basement and occupied themselves for an hour (and the basement was fairly intact when they all left).
A woman does not regret having to make two meals when she receives this kind of affirmation. I actually thought, Oh, it is so good to have the house filled with children again. Despite the cooking disaster, it was a most-successful Sunday dinner.
---
Award-winning author Karen Mains has long had an interest in spiritual formation and the obedient Christian walk. She has written about the God Hunt in her book by the same name, The God Hunt: The Delightful Chase and the Wonder of Being Found. A hardback copy can be ordered from Mainstay Ministries for $10.00 plus $4.95 shipping and handling. Contact Karen at info@mainstayministries.org and she will be happy to autograph a copy for you.
Karen continues to write content for her Christian blog, "Thoughts-by-Karen-Mains." In so doing, she desires to touch the lives of Christian women and men and help them find ways to walk closer with the Lord Jesus Christ. In addition, through silent retreats, spiritual teaching, women's retreats, Christian vacation opportunities, and other ministry activities, Karen helps each Christian woman and man receive vital spiritual food.
Through her Hungry Souls ministry, Karen serves as a spiritual coach to many Christian women and men, and teaches a mentor-writing class. And, through the Global Bag Project, she is working to develop a network of African women who sew exquisite cloth reusable shopping bags, Africa bags. This micro-finance women opportunity helps provide a much-needed sustainable income for struggling African families. For more information on this critically important project, please click here.
For decades, Karen and her husband, David, have served God through religious communications—radio, television, and print publication. They are the co-authors of the Kingdom Tales Trilogy: Tales of the Kingdom, Tales of the Resistance, and Tales of the Restoration. To find many valuable resources for pastors and congregations at the Mainstay Ministries main website, please click here.
Likewise, pastors will find special resources to help them prepare effective, life-transforming Sunday sermons by visiting David Mains' website by clicking here.
Share this Article