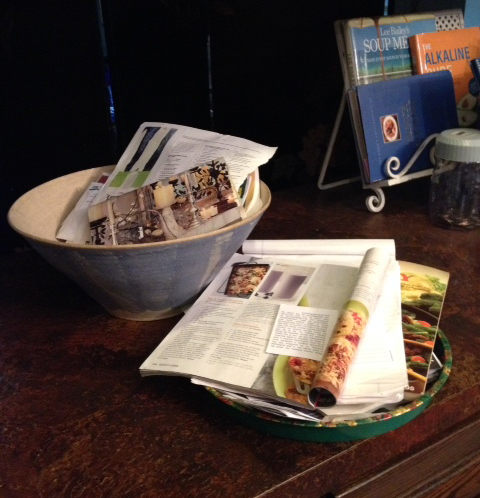 Time for true confessions: I am a piler, not a filer. And as a New Year's effort ("resolution" is a little too strong of a word), I'm making a determination to become a filer not a piler! I've spent days in my writer's study in order to get five hours of writing in per day, making more and smaller piles—these papers to the medical information drawer, these newspaper and magazine tear-sheets to the files about authors and filmmakers and curious bits of information, etc., etc.
Somehow, filing goes against the grain of my fiercely independent, artistic and free-floating nature. I HATE to be pinned to a too-tight schedule of any kind that lasts too long. A rule of life for me is NO More Than One Appointment Per Day. This means only one face-to-face, and if I have a committee meeting commitment, no face-to-faces at all.
But ordering papers is my donnybrook (David says that is like a mass melee; I had to ask)—the desk at the office is stacked with piles, my writer's study, obviously, ditto, the kitchen bowls (see photo), and the household and garden management desk in the basement!
For a long time, I excused this as "creative clutter"—we artistic types do flourish in certain kinds of disorder and shrivel when faced with too much regimentation. Inevitably, when I go through these rare compunctions to exorcise the demons of paper disorder, I can never find anything I've filed, and I eventually and pretty rapidly revert to piling-not-filing again.
But truthfully, despite my excuses, piles are really symptomatic of some old sins. Procrastination is an oldie that I have whipped into submission and mastered with brutal determination. I arrive on-time, do household work on schedule, match my writing assignments to the deadline schemes and bask in the positive feelings of virtue I feel when I function competently in all these arenas. I even am mastering the glut that results from modern email ubiquity.
Old sins, however, no matter how much we attempt to vanquish them from our lives, die hard. This Procrastination, my dastardly enemy, keeps peeping out of my piles; "Hee-haw," it taunts. "You done thought you got rid of me."
Now I haven't even mentioned that I am allergic to dust, so clean surfaces, wiped regularly, are important to my health. I simply have to face down this last remnant of defeat regarding a personality flaw that will probably attempt to haunt me for the rest of my life.
Consequently, I would like to announce that I have filed all-but-two-of my-piles. The remaining ones are in bowls in the kitchen. The household desk top is cleared and swiped. My writer's study is ready for me to begin practicing sweat and inspiration.
And all that is left are two small kitchen bowls holding recipes, sales notices, coupons, etc.
They say it takes 30 days for any practice to become a habit. Consequently, I've set a grim goal: No more piles for the next couple of months. File instead.
---
Award-winning author Karen Mains has long had an interest in spiritual formation and the obedient Christian walk. She has written about the God Hunt in her book by the same name, The God Hunt: The Delightful Chase and the Wonder of Being Found. A hardback copy can be ordered from Mainstay Ministries for $10.00 plus $4.95 shipping and handling. Contact Karen at info@mainstayministries.org and she will be happy to autograph a copy for you.
Karen continues to write content for her Christian blog, "Thoughts-by-Karen-Mains." In so doing, she desires to touch the lives of Christian women and men and help them find ways to walk closer with the Lord Jesus Christ. In addition, through silent retreats, spiritual teaching, women's retreats, Christian vacation opportunities, and other ministry activities, Karen helps each Christian woman and man receive vital spiritual food.
Through her Hungry Souls ministry, Karen serves as a spiritual coach to many Christian women and men, and teaches a mentor-writing class. And, through the Global Bag Project, she is working to develop a network of African women who sew exquisite cloth reusable shopping bags, Africa bags. This micro-finance women opportunity helps provide a much-needed sustainable income for struggling African families. For more information on this critically important project, please click here.
For decades, Karen and her husband, David, have served God through religious communications—radio, television, and print publication. They are the co-authors of the Kingdom Tales Trilogy: Tales of the Kingdom, Tales of the Resistance, and Tales of the Restoration. To find many valuable resources for pastors and congregations at the Mainstay Ministries main website, please click here.
Likewise, pastors will find special resources to help them prepare effective, life-transforming Sunday sermons by visiting David Mains' website by clicking here.
Share this Article