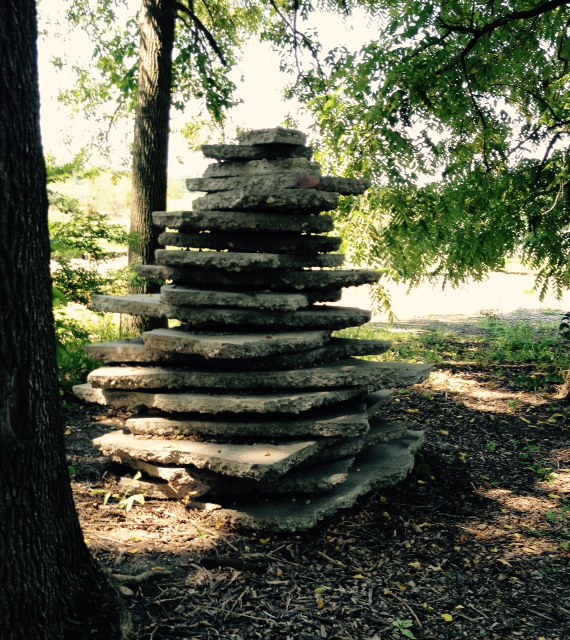 This limestone pyramid in a wooded spot is another kind of stacked stones. To my eye it is lovely in its simplicity and has caused me to be watchful for an old pile of discarded limestone by the roadside somewhere that I can bring home to build my own pyramid! Silly woman that I am.
This past month I've been reviewing my blogs and discovered that I had totally forgotten about most of the incidents I'd chosen to record—how my leaking faucet got fixed; how pumpkin vines grew out of the kitchen garbage I dug into the soil; how Farage, our Muslim driver in Kenya, kept saying, "I am here for you" and what deeper meaning that took on for me; about the guests who came for dinner and stayed for 17 days.
How recklessly we throw away the meaning of our lives when we fail to take time to record them—in some way. I make lists in my prayer journal of prayer requests, then notate the columns in my 8.5×11″ spiral-bound notebook when answers come. The next morning I record all the ways I have seen God work in my life the previous day, but there are so many answers, I forget. When I go back and review my journal, I am reminded. For instance, this has been the summer of rebates, coupons and not-quite-depleted gift cards. I remembered that my daughter, Melissa, had given me a Mother's Day card to spend at Barnes & Noble. I had enough left on the card to buy four books! Menards offered an 11% storewide rebate during the spring season. And I have received three credit-in-store receipts of $29.56, $18.11 and $14.59. At Savers, a resale big-box store, the woman behind me at the checkout counter gave me a 50%-off coupon, which reduced my $27.00 purchase to $13.50.
Because I thank God for these provisions and record them in my lists, I remember the bounteous and delightful way He provides for me daily.
People say to me, "I'm blogging, but I don't think anyone is reading my blog." For me, that is not the point, because I am blogging also and have several files of wonderful, painful and wry observations about life and my place in the world. These are fresh, of-the-moment blogservations that provide an incredible record and without blogging would have passed into old-age amnesia. Blogging is different than journaling. The work is more refined because we think there might just be one or two people who could find it helpful. Journals—we hope our progeny will have the sense to burn them.
Like the limestone pyramid in a wooded spot, these records are the beautiful, simple and organic stacked stones of our daily lives. How are you keeping the memory of the life you have lived and of how God has intervened in it?
---
Award-winning author Karen Mains has long had an interest in spiritual formation and the obedient Christian walk. She has written about the God Hunt in her book by the same name, The God Hunt: The Delightful Chase and the Wonder of Being Found. A hardback copy can be ordered from Mainstay Ministries for $10.00 plus $4.95 shipping and handling. Contact Karen at info@mainstayministries.org and she will be happy to autograph a copy for you.
Karen continues to write content for her Christian blog, "Thoughts-by-Karen-Mains." In so doing, she desires to touch the lives of Christian women and men and help them find ways to walk closer with the Lord Jesus Christ. In addition, through silent retreats, spiritual teaching, women's retreats, Christian vacation opportunities, and other ministry activities, Karen helps each Christian woman and man receive vital spiritual food.
Through her Hungry Souls ministry, Karen serves as a spiritual coach to many Christian women and men, and teaches a mentor-writing class. And, through the Global Bag Project, she is working to develop a network of African women who sew exquisite cloth reusable shopping bags, Africa bags. This micro-finance women opportunity helps provide a much-needed sustainable income for struggling African families. For more information on this critically important project, please click here.
For decades, Karen and her husband, David, have served God through religious communications—radio, television, and print publication. They are the co-authors of the Kingdom Tales Trilogy: Tales of the Kingdom, Tales of the Resistance, and Tales of the Restoration. To find many valuable resources for pastors and congregations at the Mainstay Ministries main website, please click here.
Likewise, pastors will find special resources to help them prepare effective, life-transforming Sunday sermons by visiting David Mains' website by clicking here.
Share this Article