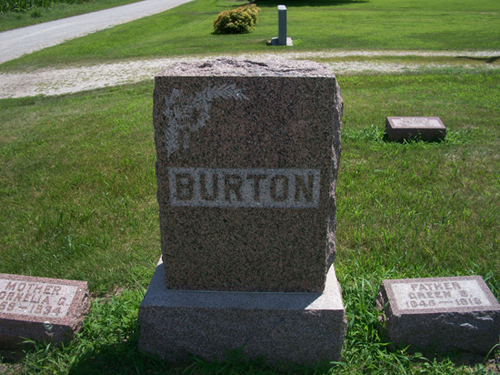 In August, I am taking as many Burton descendants from my extended family as possible to the Iowa State Fair, which is supposed to be the best State Fair in the country. To get ready for it, I am now listening to Alabama, the country-music group my sister recommended would be most suitable for the older (and wiser) age set in our family. Right now, "Oh, Play Me Mountain Music" is resounding through the Mainstay offices! "Oh, play me some mountain music, like Grandma and Grandpa used to play." The younger set is attending the Carrie Underwood concert. Because I am mostly unfamiliar with popular music, my son Joel burned me some discs so that I would not be totally unexposed.
Actually, the purpose of this trip is to evoke the memories and meanings of the former Burton clan, who by the time I was a child had migrated from the hills of Kentucky to Oklahoma to Indiana to Des Moines, Iowa.
My brother, Craig Burton, is now the chaplain of a retirement village in Des Moines and has located the little country church cemetery where many of the gravestones bear the name of some of our ancestors. He's decided he wants to be buried there and has bought two grave plots even though the caretakers (whom he had a little trouble hunting down) have notified him he'd have to dig his own grave (!). I told my brother I'm not helping with this one.
One of the women in the memoir writing class I'm teaching recommended the book Little Heathens: Hard Times and High Spirits on an Iowa Farm During the Great Depression by Mildred Armstrong Kalish. The author's desire has been to capture and record that life before there was no one longer alive who remembered it. This goal is admirably captured for her readers.
I am trying to do the same—to expose my adult children and some of my grandchildren to a way of life different that what they have known or what they will ever know. I want them to see my grandfather's little house that my parents and my sister and brother returned to each summer in August. We're planning a trip to the Dairy Queen that still stands on the corner of the block. My brother captured some of the spirit of this book in an article he wrote for the newsletter of his retirement center. It's titled "Wise Adages From Rural Iowa During the Great Depression" and he lists a compendium of sayings taken from the book Little Heathens.
To quote one paragraph that examines one of the regionalisms:
"Why do we always get the hind tits?" Here's an expression that was sometimes used by young people expressing their dismay over being treated unfairly. For instance, having to go to bed earlier than the big kids, getting a smaller piece of dessert, having to do the dishes, etc. Here's where the saying comes from: animals that bear multiple litters of young, such as dogs, cats, and pigs, have two rows of mammary glands. The forward teats are larger and produce more milk than the hind teats. The runts would often get the hind teats, and this is where the expression came from. By the way, I never heard this expression growing up in the Chicago area.
Perhaps you can sense why my brother is loved by those to whom he ministers; his humor is a stand-out quality.
This Iowa State Fair is an opportunity for us to mark our lives, to revisit the Burton places again. (Alabama in the background as I write: "Singing: song/ song of the South/sweet potato pie/ and shut my mouth…") Going back to places we have been is always evocative, but I am at the time of my life when I am marking the byways of my life—setting stacked stones here and there—re-reading journals and my own writing ("You know," I said to David recently about one of my books, "this is pretty good!"). I was really surprised. I want to share some of these stories with my adult children and grandchildren before we are out of time and these memories (and the people who hold them) will die.
Going back and re-doing a trail is often necessary if we are to go forward well. The Iowa State Fair is a good place to start.
---
Award-winning author Karen Mains has long had an interest in spiritual formation and the obedient Christian walk. She has written about the God Hunt in her book by the same name, The God Hunt: The Delightful Chase and the Wonder of Being Found. A hardback copy can be ordered from Mainstay Ministries for $10.00 plus $4.95 shipping and handling. Contact Karen at info@mainstayministries.org and she will be happy to autograph a copy for you.
Karen continues to write content for her Christian blog, "Thoughts-by-Karen-Mains." In so doing, she desires to touch the lives of Christian women and men and help them find ways to walk closer with the Lord Jesus Christ. In addition, through silent retreats, spiritual teaching, women's retreats, Christian vacation opportunities, and other ministry activities, Karen helps each Christian woman and man receive vital spiritual food.
Through her Hungry Souls ministry, Karen serves as a spiritual coach to many Christian women and men, and teaches a mentor-writing class. And, through the Global Bag Project, she is working to develop a network of African women who sew exquisite cloth reusable shopping bags, Africa bags. This micro-finance women opportunity helps provide a much-needed sustainable income for struggling African families. For more information on this critically important project, please click here.
For decades, Karen and her husband, David, have served God through religious communications—radio, television, and print publication. They are the co-authors of the Kingdom Tales Trilogy: Tales of the Kingdom, Tales of the Resistance, and Tales of the Restoration. To find many valuable resources for pastors and congregations at the Mainstay Ministries main website, please click here.
Likewise, pastors will find special resources to help them prepare effective, life-transforming Sunday sermons by visiting David Mains' website by clicking here.
Share this Article