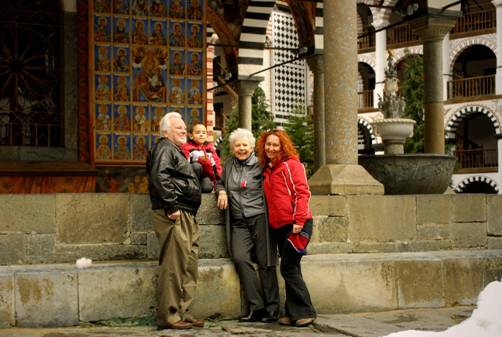 David and Karen, with Sia and five-year-old Pavlo, outside
façade of Rila Monastery. Four-story cloisters in background.
(Jivko taking the photo.)
I asked for prayers for a seven-day journey David and I took to Bulgaria. Perhaps a detailed account of how those prayers were answered will help others remember or understand that prayer is important (it moves mountains).
REQUEST: Safety as we traveled and rest so we wouldn't be exhausted when we arrived.

ANSWER: Our plane from Chicago was delayed, but we were able to use our standby passes to get a later flight out to Washington, D.C. Dulles airport. The 9 o'clock flight was the last flight out, and I was beginning to think of asking about hotel airports where we could stay to catch the afternoon flight overseas. No need. We received the last two standby seats on the plane.

Because we had built an extra day of travel into our scheme, we arrived in Frankfurt, Germany with time to spare before our next-day early morning flight to Sophia, Bulgaria via Munich departed. To ease our travel anxieties caused by the standby situation, we used all our Mileage Plus points to book our flight from Frankfurt to Sophia. As we were disembarking, I asked the stewardess if there was an airport hotel. She directed us to a Sheraton, where David stretched out and slept for five hours. Since we were already at the airport, we walked ourselves through gate locations, checked in for the early flight and received boarding passes, then ate in a lovely restaurant where the food was excellent. European airports definitely serve better food than American airports. Needless to say, after another round of sleep, we made our early flight and arrived in Sophia without jetlag and well-rested.

On the way home, despite three days of gentle snow in Sophia, our Lufthansa flight left and arrived on time. We received the last two standby seats on the flight from Frankfurt to Chicago; they were in First-Class. Thank you! Thank you for your prayers.

REQUEST: Connection with Jivko and his wife despite language and cultural barriers.

ANSWER: Jivko Jelev's English was excellent. Europeans are often fluent in several languages but always apologize for their language facility. We spent hours talking and getting acquainted. The resort where our time-share company had several weeks open was in Razlog, south of the Sophia airport, with two bedrooms, two baths, an extraordinary view of the mountains, and an excellent and affordable restaurant in the complex. Sia, Jivko's wife, had been learning English and we encouraged her to practice with us. Pavlo, their little 5-year old, was adorable, beautifully behaved and delightful to have around with us. "En Englees," we would say, and he picked up rudimentary phrases. "Letz go!" was a favorite. For the few days we were together as Jivko and family generously drove us around, it felt as though there were few barriers at all.

REQUEST: That there would be joy.

ANSWER: We laughed our heads off and delighted deeply in the company of these new friends—the ages of our own children. Thank you for your prayers.

REQUEST: Pray that our eyes would be opened to those wonderful surprises only God can provide.

ANSWER: The weather was beautiful; spring was in the air. We journeyed through the mountains in the Jelev's car (with a beautiful little 5-year-old contentedly riding in his car seat) and visited some of the ancient Eastern Orthodox monasteries with their beautiful iconography (a lifetime study of mine). Jivko couldn't possibly have known about David's specialty study in church history or about this artist/devotional interest of mine in icons. Our artist/guide made a point of filling us in regarding his country's history, found wonderful local restaurants with typical Bulgarian food.

After the Zhelev's went home, the retort manager made a point of helping us book a hotel for two days in the capital city. She arranged for a driver, and as we were on line searching for a place to stay, the Sophia Grand Hotel rated five stars, posted a special rate and we booked it instantly.

In Sophia, though it was snowing slightly, we traipsed half a mile to the Alexander Nevsky Cathedral. Several people and guidebooks had recommended that a visit to the crypt was a "must" and here, some 200 icons had been mounted all restored to their glorious original coloration and shining gloriously under bright flood lights. Now, I have trekked after icons all over the world. I've rushed to special exhibits here in the States, and I have never seen this ancient religious artwork in this kind of splendid condition or in this kind of lighting. The monasteries that are home to these pieces are often dimly lit—often with clerestory windows built in high in vaulted domes, the icons themselves glazed with the film of the smoke. There were five or six rooms to peruse without any kind of crowd (only obviously-bored guards), the colors gloriously restored. What a gift!

Because the hotel was fairly empty and staffed by eager young people desiring to practice their English, we struck up delightful conversations. One young bellhop ran to a nearby pharmacy to purchase some over-the-counter medicine we needed. The manager of the breakfast buffet gave us complimentary tickets to dinner in the hotel restaurant, and since we were the only, very-early guests (Europeans dine much, much later than most Americans eat), we were given complimentary champagne, complimentary appetizers, complimentary salads and complimentary desserts. David proclaimed the baked bass entrée as the best meal he had ever eaten, but I suspect this assessment was partly due to the fact that everything else was free.

Thank you! Thank you for your prayers!

REQUEST: That we would figure out a way to phone communicate to home.

ANSWER: A friend set us up with FaceTime so that we could communicate home. The Wi-Fi was erratic in the resort but worked enough, although sporadically, to make satisfactory-enough contact. While Jivko was with us, he was able to email all and notify them that we had arrived safely and what a great time we were having.

REQUEST: One of the reasons for the trip was to take some iPad footage of David interviewing Jivko to show at a fundraising banquet we are holding on June 6 and to use on our blog sites.

ANSWER: Though Zivko was reluctant—"English not good"—David is an excellent host, and I am an encouraging director (though my photographer skills are not good), but we caught a sweet and authentic conversation between the older and younger man that is touching. Thank you for your prayers!

How prone I am to rush into my life without pausing to pray over the days plans—in the middle of the day. Mother Teresa was once quoted as saying, "Pray before you do anything." I am attempting to learn how to do this, but oh, how it helps knowing that I have a couple dozen people on my prayer team who are interceding for me.
---
Award-winning author Karen Mains has long had an interest in spiritual formation and the obedient Christian walk. She has written about the God Hunt in her book by the same name, The God Hunt: The Delightful Chase and the Wonder of Being Found. A hardback copy can be ordered from Mainstay Ministries for $10.00 plus $4.95 shipping and handling. Contact Karen at info@mainstayministries.org and she will be happy to autograph a copy for you.
Karen continues to write content for her Christian blog, "Thoughts-by-Karen-Mains." In so doing, she desires to touch the lives of Christian women and men and help them find ways to walk closer with the Lord Jesus Christ. In addition, through silent retreats, spiritual teaching, women's retreats, Christian vacation opportunities, and other ministry activities, Karen helps each Christian woman and man receive vital spiritual food.
Through her Hungry Souls ministry, Karen serves as a spiritual coach to many Christian women and men, and teaches a mentor-writing class. And, through the Global Bag Project, she is working to develop a network of African women who sew exquisite cloth reusable shopping bags, Africa bags. This micro-finance women opportunity helps provide a much-needed sustainable income for struggling African families. For more information on this critically important project, please click here.
For decades, Karen and her husband, David, have served God through religious communications—radio, television, and print publication. They are the co-authors of the Kingdom Tales Trilogy: Tales of the Kingdom, Tales of the Resistance, and Tales of the Restoration. To find many valuable resources for pastors and congregations at the Mainstay Ministries main website, please click here.
Likewise, pastors will find special resources to help them prepare effective, life-transforming Sunday sermons by visiting David Mains' website by clicking here.
Share this Article