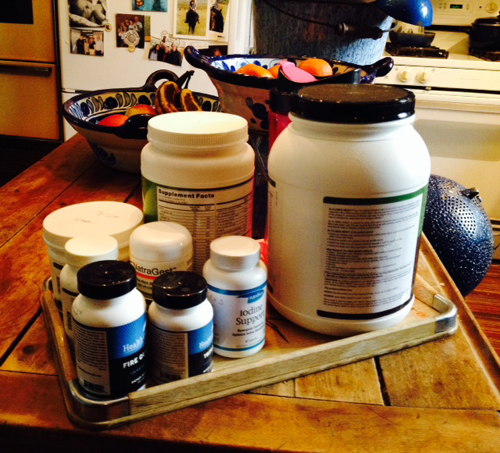 After our son, Jeremy Mains, died from a rare and acute lymphoma, I realized that the stress levels we were experiencing were on the dangerous ends of the charts that measure stress. Knowing what stress does to the physiological condition of our bodies, I took myself off to a clinical nutritionist (one who is credentialed to teach nutrition to medical students) and entered what was to be a three-month intensive detoxification program.
I met with the nutritionist once a week, had a bioimpedance analysis taken weekly, measured my pH balance daily to measure the toxicity levels for the purpose of turning it alkaline. I struggled to establish an exercise disciple—but made progress—removed dairy and wheat products from my diet along with anything with sugar (most refined foods) or caffeine. No meats were allowed (fish, of course, is), no citrus fruit or certain kinds of vegetables (the nightshades—tomatoes, green peppers). My meal base mostly was a mix of nutritional shakes.
After three months of this, I felt healthier than I had in my whole life, rising at 4 or 5 a.m. and going strong until 9:00 at night. My bioimpedance levels improved and I finally moved into the alkaline numbers. I lost about 15 pounds. My skin glowed, and my hair shone. People regularly commented on how good I looked. Nice for someone who was 71 years of age. (Some pundit—a doctor—said that we don't really have a healthcare system, we have a "sick-care" system.) So I shelled out $2,825.81 to move myself into a healthy place.
I stopped the nutritional intensive two weeks before I had a thyroidectomy in which a 2.5 centimeter spot of papillary cancer was removed. My last appointment was in June of 2014.
This week, I finally had the money and the time concurrently, and stopped by the nutritionist's office to purchase the product I needed to begin again. I'll have to detox myself all over. (This is called the "weeding" process; the next phase is the "seeding" process.) Cost to me for one office visit in order to buy product and establish a bioimpedance baseline was $425.71.
No wonder we aren't healthy as a nation. We can't afford it.
As I thought about this, however, I realized that I am investing in my own future. The theory with the nutritional crowd is that when a person really becomes healthy, he or she ages but doesn't decline with all the vagaries and distresses that usually accompany the later years. Maybe. The idea is that you don't die from sickness; you just go to sleep. I won't be able to let you know, obviously, I'll be dead. I'll settle for a healthier journey until I get there.
---
Award-winning author Karen Mains has long had an interest in spiritual formation and the obedient Christian walk. She has written about the God Hunt in her book by the same name, The God Hunt: The Delightful Chase and the Wonder of Being Found. A hardback copy can be ordered from Mainstay Ministries for $10.00 plus $4.95 shipping and handling. Contact Karen at info@mainstayministries.org and she will be happy to autograph a copy for you.
Karen continues to write content for her Christian blog, "Thoughts-by-Karen-Mains." In so doing, she desires to touch the lives of Christian women and men and help them find ways to walk closer with the Lord Jesus Christ. In addition, through silent retreats, spiritual teaching, women's retreats, Christian vacation opportunities, and other ministry activities, Karen helps each Christian woman and man receive vital spiritual food.
Through her Hungry Souls ministry, Karen serves as a spiritual coach to many Christian women and men, and teaches a mentor-writing class. And, through the Global Bag Project, she is working to develop a network of African women who sew exquisite cloth reusable shopping bags, Africa bags. This micro-finance women opportunity helps provide a much-needed sustainable income for struggling African families. For more information on this critically important project, please click here.
For decades, Karen and her husband, David, have served God through religious communications—radio, television, and print publication. They are the co-authors of the Kingdom Tales Trilogy: Tales of the Kingdom, Tales of the Resistance, and Tales of the Restoration. To find many valuable resources for pastors and congregations at the Mainstay Ministries main website, please click here.
Likewise, pastors will find special resources to help them prepare effective, life-transforming Sunday sermons by visiting David Mains' website by clicking here.
Share this Article