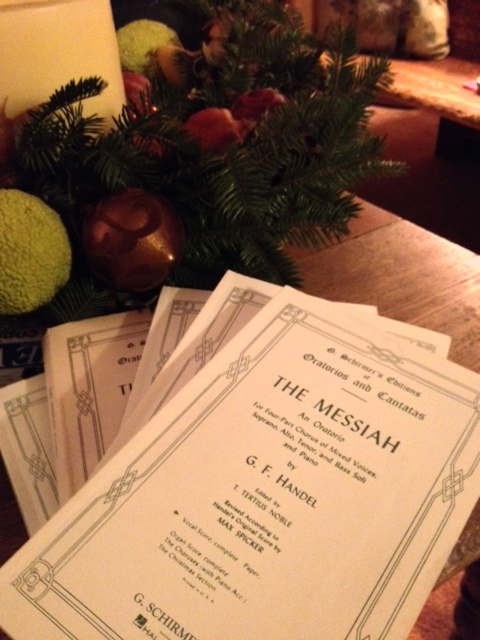 Handel "Messiah" scores beside Advent wreath.
Every Advent I pull out the five scores I purchased for what I hoped would become an annual Christmas tradition—listening to the whole Messiah, the score on my lap, turning the pages as we moved through the extraordinary lyrics this master composer has set to the oratorio format. I read music, although without the lyrics to act as clues I definitely get lost in all the black circles and bars on the pages.
For years, the scores were used as one of the meditative tools we provided during Hungry Souls' annual 24-Hour Advent Retreat. The five scores were set out on a table in a quiet room, a tape recorder was provided, iPods were available for privacy, and women were allowed to read and listen to the Messiah without being interrupted. Sometimes we just don't have the time for such an event in our busy lives.
This day I was determined to practice this listening discipline myself—hopefully with some friends, but I just couldn't see my way to getting a time when we could pull something together. When the leader of our book group cancelled our monthly meeting (via email) because things had become too frantic, I grabbed the opportunity of inviting everyone to our house. The December meeting is set aside for catching-up with one another. I suggested we listen to the Messiah with scores in hand, then share with each other where we were in our individual lives.
I didn't realize that for some this would be a daunting invitation. In total, four people canceled (busy schedules), David had to go to bed with heart arrhythmia (chronic problem), but seven of the rest of us enjoyed cookies, hot cider, then gathered around the fireplace to listen to just the first four songs with our scores in hand.
I realized as we debriefed this 20-minute experience that one of the men had never heard the Messiah before. The other young man was ready to excuse himself to the washroom, then slip down into the basement to watch the football game! (He confessed this to me himself.) My friend beside me couldn't read music. The other four of us seemed to be wondering at the majesty and creativity of the event, the richness of the music, the score in our hand heightening our enjoyment beyond our expectations.
After twenty minutes, we turned off the CD and talked about the listening experience. One of the women who has her Ph.D. in dance told the story of how Handel created this piece—24 straight days in which he felt he was overpowered by the Holy Spirit and couldn't stop until the work was finished. I shared how the first concert was performed in Dublin, Ireland for charity and that Handel had been poor and impoverished himself. We began to talk about how listening proficiency in many things comes over time. We acquire a taste for classical music. One of the women, an ESL teacher, told how the same is true about languages: The nuances of tone and words and conjugations are often overlooked because people are struggling just learn the basics. In time, however, they begin to hear things they couldn't hear before. The world of that second language opens to them, doors beckon, the learner begins to step through with delight.
The same is true with listening to God. This spiritual exercise also takes time before a proficiency comes. When we begin, we may consider it a dull occupation—nothing happens! We certainly aren't hearing the whispers, not to mention the shouts of the divine. We'd rather be down in the basement watching the football game rather than trying to "configure these black marks on the page."
One of the classic words of advice that comes to us from people wiser than ourselves regarding listening—to music—or to that mostly quiet Word of God that speaks to our hearts is: Even when you don't quite get it, just keep listening.
Open the score, put on the music, light a fire in the fireplace, follow as best you can, catch up on the score when the words are printed matching the voices you are hearing (don't hide away in the basement), but expect—just anticipate—that something eventually will open up in your soul and you will hear and know what you have heard and you will understand.
You will no longer go through life "never having heard the Messiah"!
---
Award-winning author Karen Mains has long had an interest in spiritual formation and the obedient Christian walk. She has written about the God Hunt in her book by the same name, The God Hunt: The Delightful Chase and the Wonder of Being Found. A hardback copy can be ordered from Mainstay Ministries for $10.00 plus $4.95 shipping and handling. Contact Karen at info@mainstayministries.org and she will be happy to autograph a copy for you.
Karen continues to write content for her Christian blog, "Thoughts-by-Karen-Mains." In so doing, she desires to touch the lives of Christian women and men and help them find ways to walk closer with the Lord Jesus Christ. In addition, through silent retreats, spiritual teaching, women's retreats, Christian vacation opportunities, and other ministry activities, Karen helps each Christian woman and man receive vital spiritual food.
Through her Hungry Souls ministry, Karen serves as a spiritual coach to many Christian women and men, and teaches a mentor-writing class. And, through the Global Bag Project, she is working to develop a network of African women who sew exquisite cloth reusable shopping bags, Africa bags. This micro-finance women opportunity helps provide a much-needed sustainable income for struggling African families. For more information on this critically important project, please click here.
For decades, Karen and her husband, David, have served God through religious communications—radio, television, and print publication. They are the co-authors of the Kingdom Tales Trilogy: Tales of the Kingdom, Tales of the Resistance, and Tales of the Restoration. To find many valuable resources for pastors and congregations at the Mainstay Ministries main website, please click here.
Likewise, pastors will find special resources to help them prepare effective, life-transforming Sunday sermons by visiting David Mains' website by clicking here.
Share this Article