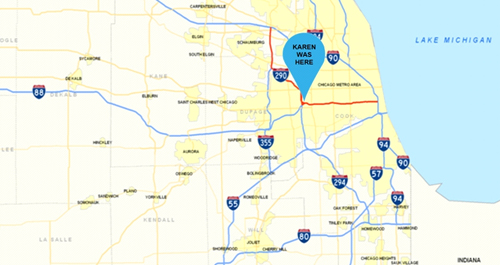 Those of us who live in large metropolitan areas go to great lengths to avoid rush-hour traffic. We work hard not to travel from 6:30 to 9:00 in the mornings and from 3:30 to 6:00 in the early evening. Flights in and out of Chicago are booked not according to our convenience but in order to escape spending unnecessary time trapped in bumper-to-bumper gridlock. So I decided to leave the house at 3 p.m. to catch a 5:30 flight at O'Hare Airport. That should give me enough time to park and take the tram to the terminal.
We had our 2002 model Mazda Protégé 5 tuned up, and after I hurried away for an earlier trip out of town, I came home to discover I had left the dome light on. Naturally, we charged the dead battery; I drove it around and everything felt fine, but on my way to O'Hare, early enough to avoid rush-hour traffic and taking a highway I usually didn't drive to the airport but that skirted late-afternoon drive patterns, I noticed there was a little hesitation in the acceleration and a puff of exhaust fumes that I could see out my rearview window.
After passing the first toll, I realized the car was hesitating, so I pulled over to the right lane, and just as I moved across oncoming traffic, the engine died completely and I coasted to the side of the road.
All the info I needed was in a folder in the glove compartment—the VIN, make/model info, and the Roadside Assistance phone number. I felt fairly calm, with my little economy car rocking slightly with each automobile that whizzed past me in the nearby lane, then rocking mightily with the SWOOSH of each passing truck.
A lady with a caring voice (all the way down in Florida, I learned) took my info as she sought to locate me so she could call the nearest Mazda dealer and order a tow truck to pick me up. Name? Make of car? Number of miles?
The problem was: I did not know my exact location. I had entered the highway on Rt. 355, but she couldn't find that. I thought I was an exit short of Rt. 90, the turnoff to O'Hare Airport, but I was too far away to read the overhead road sign. Panic began to rise.
After instructing me not to get out of the car, my new Roadside Assistance friend asked, "What city are you in?" I had no idea. When you live in a geographic area all your life, the driving becomes automatic. You literally do not think as you toddle down a major expressway, Oh, I'm passing Arlington Heights. Oh, I'm on the edge of Barrington, Illinois.
At this point I said to her, "I have no idea where I am. I think we better pray." And pray I did, a short bullet-point, inelegant, God-help-us kind of prayer.
Soon after this plea, my son pulled up on the shoulder ahead of me (I'd called him first thing since David was out of town). Since locating me himself, he was able to communicate our exact position to my new friend in Florida, who then found the number of the tow-department of the nearest Mazda dealer (I was in Schaumburg). On another call, Randall gave the tow-truck driver the car's exact location. We thanked Roadside Assistance, left the key in the dead ignition for the tow and drove on to O'Hare, with me still hoping that if I'd missed the first plane, I could catch the second.
Since this little incident, I have thought about how many times we get lost in life. The job is not right, or we can't find a job. We feel as though everything around us has collapsed. Our economics are shooting down a tube. Disasters, major or minor, waylay us. Friends or family ask of us: "Where are you? How are you doing?" Truthfully, we don't know. That panicky feeling of not being able to say, "I am on this street, in this locality, at this very route," while all these dangerous entities that have the potential to maim or destroy us are zooming around—this panic while being lost is a common, universal human response.
Please remember if you are getting panicky about being lost: God knows where you are. He knows where to find you. He wants to help you get to a safe place. Divine Roadside Assistance is on the way.
David has been walking beside a friend who heads an extraordinary international ministry but has been facing the unrelenting attack of critics. This unnamed person has become weary managing the expanding ministry while at the same time meeting with antagonistic enemies who have done as much damage as they could possibly do.
Yesterday, David remembered this verse from Scripture he had memorized decades ago:
"God is our refuge and strength, a very present help in trouble. Therefore we will not fear, though the earth be removed, and though mountains be carried into the midst of the sea…" (and though we feel lost and don't know where we are and wonder how to get back again —KM paraphrase) —Psalm 46:1–2.
David phoned his friend overseas and left the message on the answering machine. Early the next morning, our phone rang. It was this godly gentleman:
"I was about to give up," he said. "But I listened to your message, then listened again and again. It was exactly the word from God I needed to hear."
Please believe me, for all those of you who are tempted to give up: God knows exactly where you are. He is sending divine Roadside Assistance to help you.
---
Award-winning author Karen Mains has long had an interest in spiritual formation and the obedient Christian walk. She has written about the God Hunt in her book by the same name, The God Hunt: The Delightful Chase and the Wonder of Being Found. A hardback copy can be ordered from Mainstay Ministries for $10.00 plus $4.95 shipping and handling. Contact Karen at info@mainstayministries.org and she will be happy to autograph a copy for you.
Karen continues to write content for her Christian blog, "Thoughts-by-Karen-Mains." In so doing, she desires to touch the lives of Christian women and men and help them find ways to walk closer with the Lord Jesus Christ. In addition, through silent retreats, spiritual teaching, women's retreats, Christian vacation opportunities, and other ministry activities, Karen helps each Christian woman and man receive vital spiritual food.
Through her Hungry Souls ministry, Karen serves as a spiritual coach to many Christian women and men, and teaches a mentor-writing class. And, through the Global Bag Project, she is working to develop a network of African women who sew exquisite cloth reusable shopping bags, Africa bags. This micro-finance women opportunity helps provide a much-needed sustainable income for struggling African families. For more information on this critically important project, please click here.
For decades, Karen and her husband, David, have served God through religious communications—radio, television, and print publication. They are the co-authors of the Kingdom Tales Trilogy: Tales of the Kingdom, Tales of the Resistance, and Tales of the Restoration. To find many valuable resources for pastors and congregations at the Mainstay Ministries main website, please click here.
Likewise, pastors will find special resources to help them prepare effective, life-transforming Sunday sermons by visiting David Mains' website by clicking here.
Share this Article