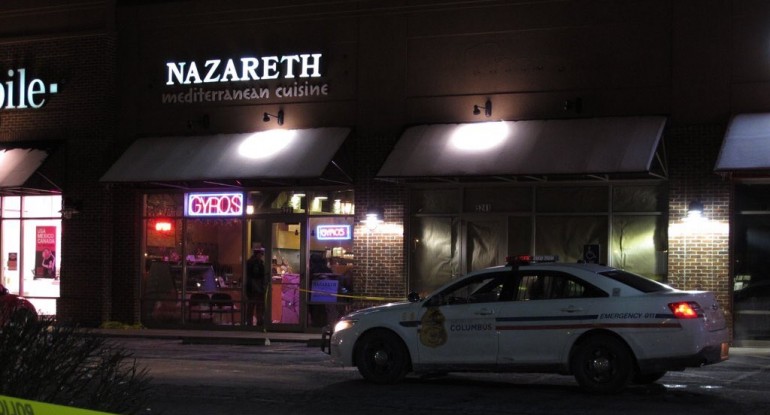 This is a heartfelt story sent to me by my friend, Anita Butler, whose daughter lives in Columbus, Ohio. On February 11th of this year, a Muslim man attacked the patrons in Nazareth—Nazareth Mediterranean Cuisine, that is—severely wounding four unsuspecting customers and employees. The attacker was shot and killed by the police after he charged at them following a brief pursuit. The restaurant owner, Hany Baransi, speculated that his establishment was attacked because he is from Israel, an Arab and a Christian.
On February 15, the restaurant reopened from 11 a.m. to 8 p.m. to serve a limited buffet. Waiting outside were a sea of people—hundreds, some news reports said a thousand—eager to lend support, to express compassion, to give hugs and commiseration. A tent set up in the parking lot handled the overflow seating, and a donation jar set out to cover expenses and help the wounded was stuffed to overflowing faster than it could be emptied again and again.
What a picture! The account from The Columbus Dispatch said, "Part reunion and part therapy session, the atmosphere inside Nazareth on Monday was mostly one of gratitude and joy. Though there were many tears and heavy hearts for those who were so badly wounded, the customers who stood in a line that snaked out the front door said nothing would have kept them away."
"'I love Hany because Hany loves us all,' said Jerry Loos, a loyal customer, friend and musician. … 'He is so accepting, so loving toward everyone in the community,' said Tessa Koch through tears. 'That's why this unthinkable act of violence against such a peaceful man is so hard to understand.'"
As far as I know, this dramatic little story didn't gain national news attention; the media seem to be caught up with the insults and accusations being flung around during this ridiculous American campaign year. Yet these are the stories we need to hear, the examples of communities of caring people who rally to make things right. Then another part of me suspects that these kinds of incidences happen all the time. It's just that the media doesn't judge these acts to be important enough to capture headlines.
Actually, I agree with John Kasich, the Republican governor of Ohio, now running what feels like a hopeless candidacy for president. He is the only candidate I've heard who understands that healing America is not just a matter of big government, certainly not a matter of contentious government, but it has as much to do with the people of this country finding one another, slowing down, caring about one another and going over the top to express their concern. This candidate's got that much right.
I'm taking notice of this incident in Nazareth—the horror and the overwhelming loving response—to remind me that I, for one, am looking for those remarkable stories of grassroots people who rally—rally to care for the wounded, rally to work together to speak truth to unjust power, rally together to resist systemic evil. We are much better than our politicians understand. And I'm looking for those stories.
---
Award-winning author Karen Mains has long had an interest in spiritual formation and the obedient Christian walk. She has written about the God Hunt in her book by the same name, The God Hunt: The Delightful Chase and the Wonder of Being Found. A hardback copy can be ordered from Mainstay Ministries for $10.00 plus $4.95 shipping and handling. Contact Karen at info@mainstayministries.org and she will be happy to autograph a copy for you.
Karen continues to write content for her Christian blog, "Thoughts-by-Karen-Mains." In so doing, she desires to touch the lives of Christian women and men and help them find ways to walk closer with the Lord Jesus Christ. In addition, through silent retreats, spiritual teaching, women's retreats, Christian vacation opportunities, and other ministry activities, Karen helps each Christian woman and man receive vital spiritual food.
Through her Hungry Souls ministry, Karen serves as a spiritual coach to many Christian women and men, and teaches a mentor-writing class. And, through the Global Bag Project, she is working to develop a network of African women who sew exquisite cloth reusable shopping bags, Africa bags. This micro-finance women opportunity helps provide a much-needed sustainable income for struggling African families. For more information on this critically important project, please click here.
For decades, Karen and her husband, David, have served God through religious communications—radio, television, and print publication. They are the co-authors of the Kingdom Tales Trilogy: Tales of the Kingdom, Tales of the Resistance, and Tales of the Restoration. To find many valuable resources for pastors and congregations at the Mainstay Ministries main website, please click here.
Likewise, pastors will find special resources to help them prepare effective, life-transforming Sunday sermons by visiting David Mains' website by clicking here.
Share this Article