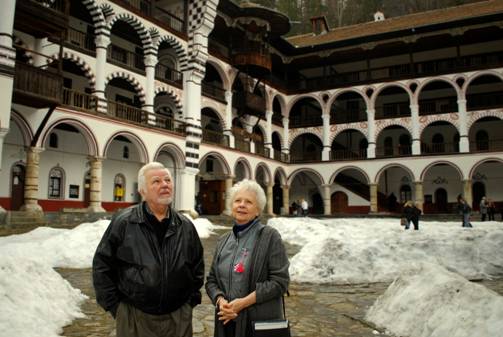 David and Karen at Rila Monastery in the
mountains of Bulgaria. Originally built
around 927. Karen is wearing her martenitsi.
We arrived in Bulgaria on February 28, which meant we were present for the celebration of their traditional holiday of Baba Marta, which falls on March 1. Our illustrator, Jivko Jelev, his wife Sia, and their son Pavlo picked us up at the airport in Sofia, and we drove southwest together up to the ski resort city of Bansko at the foot of the Pirin Mountains.<.p>
Our timeshare exchange had given us a two-bedroom, two-baths apartment with beautiful views out either side of the building. It was absolutely perfect for one young couple with a well-behaved but active child and one jet-lagging couple in their seventies.
The next morning after breakfast in the hotel, Jivko and Sia pulled two little yarn dolls from their backpacks and gave them to us as a present. "Martenitsi!" they said. The red doll's skirt evidenced that this was a woman; the white doll's pants indicated that one was a man; these are Penda and Pizho. March 1 is a celebration of coming spring. In Bulgarian folklore, Baba Marta ("Grandma March" in English) is a grumpy old woman who changes her moods; this reflects the March weather. As children, we used to say, "March roars in like a lion, and goes out like a lamb." Yet with worldwide changing climate conditions, I haven't heard this saying in years. David and I wore the two little yarn dolls—his on a wrist and mine attached to a button on my vest.
In Bulgaria, Baba Marta is a national holiday, and this year, that meant there was a three-day weekend. We celebrate "April Fools" but no one takes the day off. The idea is to give the little dolls to one another as a spring rite, leaving them in place until you see a stork or a swallow, or a fruit tree blossoming for the first time in the season. After that you can tie them on the blossoming tree for fertility—fruitfulness, flourishing, fullness in life.
While packing for the overseas trip, I slipped several half-read or unfinished books in my suitcase; things to read in airports while waiting for departures, or on the long flights overseas or on quiet days at the resort or hotel. One book that has stayed too long on my reading pile is A Public Faith: How Followers of Christ Should Serve the Common Good by the theologian Miroslav Volf. This is a concise, easily read discourse on the relationship of faith as practiced in the public arena. Richard Mouw, former president of Fuller Seminary, writes an endorsement:
Our efforts as people of faith to bring our religious convictions into the public arena have clearly malfunctioned in recent years. But Miroslav Volf does not want us to retreat to a 'private faith' mentality. Instead he offers profound counsel about how faith-based public advocacy can promote the common good in our increasingly pluralistic world."
One of the thoughts that struck me from this book is the principle Volf underlines about religions:
For the sake of the fulfillment of individuals, of the thriving of communities, and of our common global future, we need a better account of human flourishing than experiential satisfaction. The most robust alternative visions of human flourishing are embodied in the great faith traditions. It is to them—and the debates between them as to what human flourishing truly consists in—that we need to turn for resources to think anew about human flourishing. In what follows, I will suggest contours of a vision of human flourishing as contained in the Christian faith. … A vision of human flourishing—and the resources to realize it—is the most important contribution of the Christian faith to the common good."
Human flourishing—isn't that at the heart of the pagan longing as evidenced in this Bulgarian celebration? "Happy Baba Marta!" they call to one another on March the 1st as a kind of reminder to give one another a blessing of good wishes. May you thrive. May your orchards bear fruit. May you have many children. May they play happily around your feet. And how Old Testament are these wishes?
Isn't this the message that Christ brings to earth, the central reality of the Kingdom of God? "Thy will be done on earth as it is in Heaven." What is that will? It is the will of redemption—that men and women will be reunited with God, that they will love Him and one another, that communities will also be redeemed and that societies will be ruled with justice. Peace will come. Every human will belong and have not only a spiritual home, but a place of material shelter. The land will flourish and bear fruit. The lion will lie down with the lamb. There will be no more tears or pain. Sorrow and sighing will flee away. War will be no more. (Happy Baba Marta!)
These longings and their fulfillment are the predominate evidences of flourishing. I (as well as pagans from the past, as their fertility rituals attest) long for that peaceable Kingdom, where a benevolent dictator, who has the best interest of his people at heart, rules. "Christ is risen. He is risen indeed" is the key to fulfilling that longing for a better world.
I tucked my little yarn dolls into a box, along with other "typical" Bulgarian gifts the Zelevs thoughtfully brought to us. Perhaps I should take them out, hang them on a branch and remember that all human hearts through all of time have longed for what Christ promised and for what theologian Miroslav Volf urges modern Christians to attempt to achieve.
---
Award-winning author Karen Mains has long had an interest in spiritual formation and the obedient Christian walk. She has written about the God Hunt in her book by the same name, The God Hunt: The Delightful Chase and the Wonder of Being Found. A hardback copy can be ordered from Mainstay Ministries for $10.00 plus $4.95 shipping and handling. Contact Karen at info@mainstayministries.org and she will be happy to autograph a copy for you.
Karen continues to write content for her Christian blog, "Thoughts-by-Karen-Mains." In so doing, she desires to touch the lives of Christian women and men and help them find ways to walk closer with the Lord Jesus Christ. In addition, through silent retreats, spiritual teaching, women's retreats, Christian vacation opportunities, and other ministry activities, Karen helps each Christian woman and man receive vital spiritual food.
Through her Hungry Souls ministry, Karen serves as a spiritual coach to many Christian women and men, and teaches a mentor-writing class. And, through the Global Bag Project, she is working to develop a network of African women who sew exquisite cloth reusable shopping bags, Africa bags. This micro-finance women opportunity helps provide a much-needed sustainable income for struggling African families. For more information on this critically important project, please click here.
For decades, Karen and her husband, David, have served God through religious communications—radio, television, and print publication. They are the co-authors of the Kingdom Tales Trilogy: Tales of the Kingdom, Tales of the Resistance, and Tales of the Restoration. To find many valuable resources for pastors and congregations at the Mainstay Ministries main website, please click here.
Likewise, pastors will find special resources to help them prepare effective, life-transforming Sunday sermons by visiting David Mains' website by clicking here.
Share this Article