When Mainstay Ministries produced six broadcasts per week (for twenty years), taped one television show per day (for six years), mounted 137 pastor's conferences per year, we also had our own publishing arm. Teams of pastors came into our offices to help us put together an annual 50-Day Spiritual Adventure (which some 350,000 people used yearly), and because ministers asked for it, an annual Advent preaching series. The Christmas season is one of the busiest times of the year for the professional minister and his family, so we were pleased to be able to serve. The month before Advent began, it was not unusual to see two to four USPS delivery trucks backed up to the warehouse loading dock. You can imagine how satisfactory it was to have them take off, completely filled with our product.
I'm the author of some 23-or-so books, and publishing being what it was, I rarely had the final say on a title, on a book cover, and sometimes had to negotiate about some content between the frontispiece and the bibliography back page. Although I was involved in the publishing arm at Mainstay Ministries, the nitty-gritty decisions of page size, design artist, copyright page, spine size were all up to the editorial team, so those ultimate considerations did not involve me.
The publishing world, however, has taken a huge change. This has been forced upon it by the rise of digital publishing, by authors self-publishing their products, by e-books and by the fact that even if a house does pick up your book, the marketing of it is pretty much a matter of how well the author knows how to leverage social media.
I am in the midst of republishing one of my own books. I never liked the title. I hated the cover, and I felt that when the book was published, it got lost in the publicity campaign rewarded to another well-known celebrity who had experienced some sort of conversion. My publishing house went mad for the celebrity and my little book, which their team named You Are What You Say: Cure for the Troublesome Tongue, got lost in all the hoopla. This is not sour grapes; it's "just the facts, ma'am." Just the facts.
Last year I re-read the book and thought, This book is about the tongue and about the way words can wound or heal. If there ever is a time, in this Internet age, for a book on this topic, it is now.
So I decided to try the self-publishing route. I've renamed the book Medicine for Mouth Disease: A Miracle Cure for Troublesome Tongues, found an artist to redesign the cover, rewritten the back-cover copy myself, and am slowly making my way through the vagaries of the process.
Just to give you an idea, the back-cover copy reads thus:
Medicine for Mouth Disease:
A Miracle Cure for the Troublesome Tongue
Want a sure test to determine how you are doing spiritually? Are you psychologically healthy? Maturing psychologically? If so, stick out your tongue and say ah-h-h-h-h. The tongue always tells.
Ever come home from a party (or an important meeting or a church event) and think, "I really didn't say that, did I? What was I thinking?" A sure case of troublesome tongue disease.
The ancient writers understood that a word spoken is never just a spoken word: It is a window to the soul. Many of us discover early on that the old singsong phrase, "Sticks and stones will break your bones, but words will never hurt you," is just not true. The wounds from words can last a lifetime.
So what should we do once we come to the truth that we are suffering from raging mouth disease? Mains designs a biblical treatment plan full of remedies for troublesome tongues. The results are truly miraculous in that formerly sick mouths begin speaking words of life—to God, to others and to culture.
This treatment to healthy tongues doesn't just manage symptoms but seeks to restore life to the inner self. "Out of the abundance of the heart the mouth speaks," taught Christ (Matthew 12:34). Mains shows us how to diagnose the symptoms and cure the cause. You may never have another restless night caused by dismay over your own troublesome tongue.
Here's a draft of the new cover: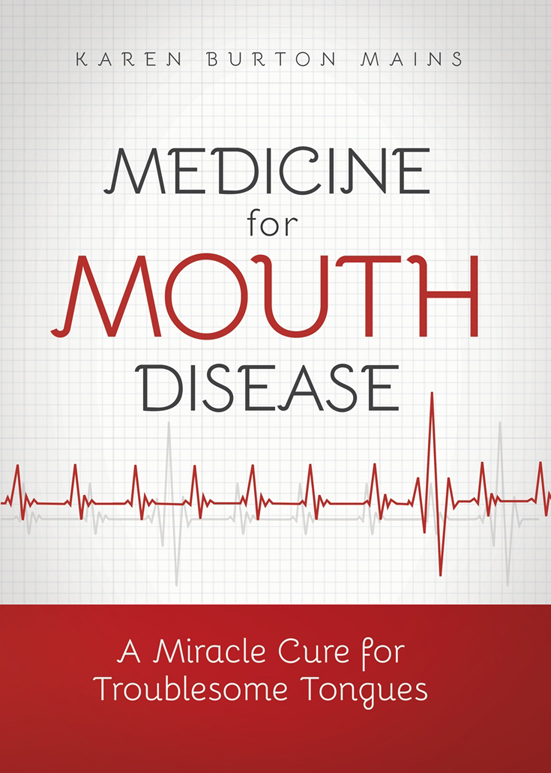 It is fun to put this together, but don't ever think it's not a lot of work. I'm looking for a "convertor," someone who can take the book, convert it into a file so I can rewrite some of the inside copy, then give it to an interior designer who can "flow" the chapters. Finally, the book goes to a print-on-demand house. Don't let anyone tell you this isn't a lot of work—it is. I have to admit that I am experiencing a little nostalgia for the good old publishing days. We're never really satisfied, are we?
---
Award-winning author Karen Mains has long had an interest in spiritual formation and the obedient Christian walk. In writing content for this blog, she desires to touch the lives of Christian women and men and help them find ways to walk closer with the Lord Jesus Christ. In addition, through silent retreats, spiritual teaching, women's retreats, Christian vacation opportunities, and other ministry activities, Karen helps each Christian woman and man receive vital spiritual food.
Through her Hungry Souls ministry, Karen serves as a spiritual coach to many Christian women and men, and teaches a mentor-writing class. And, through the Global Bag Project, she is working to develop a network of African women who sew exquisite cloth reusable shopping bags, Africa bags. This micro-finance women opportunity helps provide a much-needed sustainable income for struggling African families. For more information on this critically important project, please click here.
For decades, Karen and her husband, David, have served God through religious communications—radio, television, and print publication. To find many valuable resources for pastors and congregations at the Mainstay Ministries main website, please click here.
Share this Article