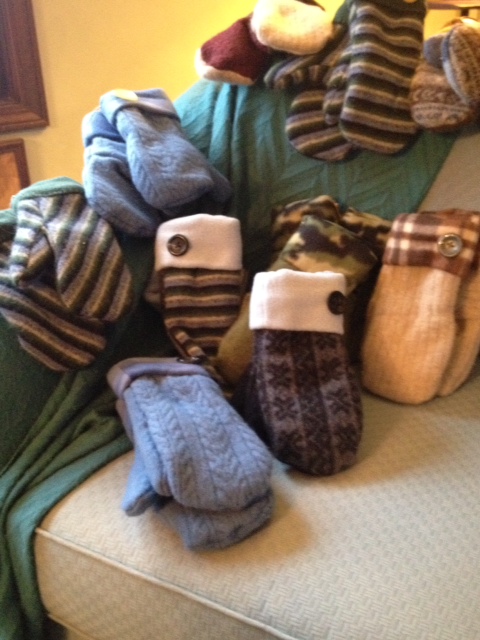 The mittens on display.
In an effort to provide work for women who live beneath the poverty line, many of them members of the immigrant community, some friends and I began to experiment with sewing mittens from recycled sweaters. In time, I had invested some $400 in resale sweaters (most of which sell for four or five dollars, and if you're lucky and find a half-off sale, for two or three dollars).
Wool sweaters make beautiful mittens—warm and sturdy—but they need to be felted, washed in hot water, and shrunk. This is a stage that adds time and work to what we were hoping would become a cost productive process for any sewer. It is one thing to be a part-time crafter, another thing to be attempting to make or supplement a minimal living existence.
Since the crafters were grabbing up the wool resale sweaters anyway, I began to wonder if the wool blends—plentiful in second-hand shops—would also make sturdy, washable, attractive mittens. College students joined us in our process—gave input and stood at cutting tables to see if we could hasten our mitten-making tasks by establishing an assembly line process. I began to notice when they chose fabrics, they took delight in combining random patterns. Sewing friends stitched up samples. We lined the mittens and made cuffs with resale velour, sometimes from thin summer or stadium blankets.
Then 2013 intervened and interrupted all my plans—a beloved son, age 41, with a wife and three small children—succumbed to a rare and aggressive lymphoma. He died five months after the first diagnosis. I fell, dislocated my shoulder, and tore the rotator cuff. Surgery ensued and months of physical therapy. Then, another operation had to be performed when a long-needle biopsy on thyroid determined that I had suspicious papillary cancer cells.
The mitten project was organized and stored in large cartons in our attic. The patterns and instructions were filed. Donated buttons were color-sorted into glass jars and put away. The college kids graduated, their cut patterns labeled and sealed in plastic sacks.
One friend, however, used the mitten project as a section in her re-certification classes for renewing her teacher's license in Illinois. She turned out some 16 beautiful wool mittens (none of them random pattern blends). My eight prototypes and hers sat unused in storage baskets. What were we going to do with them? Christmas gifts, I guessed.
This fall, however, our office manager, Heather Ann Martinez, and I visited a store in nearby La Grange Park where items like our reusable African-fabric shopping bags from the Global Bag Project, a small microenterprise we help to sponsor in Kenya, are made available to shoppers without a fee or share of the margin taken by the shop. This was amazing. We had not looked into retail marketing because the store cuts threatened our fair wage philosophy.
In the store, I asked if they would be interested in our recycled sweater mittens, since the winter season was creeping upon us. I explained that this would be a trial for the products and if they sold, we would see what kinds of sweater fabrics landed in the African flea markets, or we would follow our original plan of employing immigrant women who could sew.
Four days ago, I received a call informing me that all but two sets of the mittens had sold.
"The young gals loved the random pattern mittens. They just walked out the door. Do you have any more?"
The random pattern mittens were all made from wool blends—a good sign: availability, less processing, cheaper purchase prices. Sure enough, I found eleven more sets, all needing hemming and accent buttons. Let's see: 24 sets of mittens selling at $25 each meant that we had cleared $600. I could repay a part of my original investment and write checks totaling $400 to my friend who had made 16 beautiful wool mittens and didn't know what she was going to do with them.
Christmas is around the corner, but I am dying to get into the attic and open the boxes and find those plastic sacks of cut and random matched wool blend patterns all waiting to be sewn into mittens that will "just walk out of the store."
As Martha Stewart (and my friend Walt Wangerin) says, "This is a good thing."
---
Award-winning author Karen Mains has long had an interest in spiritual formation and the obedient Christian walk. She has written about the God Hunt in her book by the same name, The God Hunt: The Delightful Chase and the Wonder of Being Found. A hardback copy can be ordered from Mainstay Ministries for $10.00 plus $4.95 shipping and handling. Contact Karen at info@mainstayministries.org and she will be happy to autograph a copy for you.
Karen continues to write content for her Christian blog, "Thoughts-by-Karen-Mains." In so doing, she desires to touch the lives of Christian women and men and help them find ways to walk closer with the Lord Jesus Christ. In addition, through silent retreats, spiritual teaching, women's retreats, Christian vacation opportunities, and other ministry activities, Karen helps each Christian woman and man receive vital spiritual food.
Through her Hungry Souls ministry, Karen serves as a spiritual coach to many Christian women and men, and teaches a mentor-writing class. And, through the Global Bag Project, she is working to develop a network of African women who sew exquisite cloth reusable shopping bags, Africa bags. This micro-finance women opportunity helps provide a much-needed sustainable income for struggling African families. For more information on this critically important project, please click here.
For decades, Karen and her husband, David, have served God through religious communications—radio, television, and print publication. They are the co-authors of the Kingdom Tales Trilogy: Tales of the Kingdom, Tales of the Resistance, and Tales of the Restoration. To find many valuable resources for pastors and congregations at the Mainstay Ministries main website, please click here.
Likewise, pastors will find special resources to help them prepare effective, life-transforming Sunday sermons by visiting David Mains' website by clicking here.
Share this Article