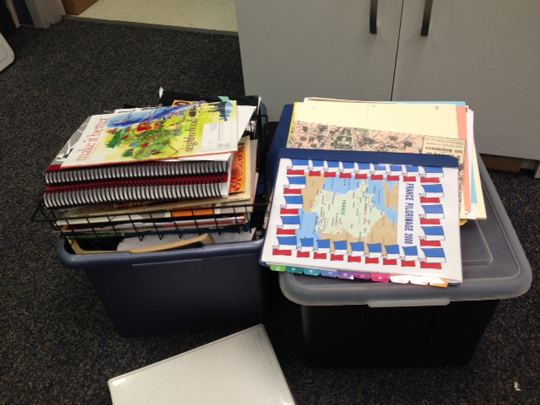 Travel files—a treasure trove of memories
Our deadline to be out of the Mainstay Ministries offices is April 1st of this year. This means books have been packed, files have to be cleaned, out-of-date storage records need to be shredded, boxes need to be taken to Goodwill, good metal desks need to find a home, the office kitchen needs to be broken down. My daughter, Melissa, has swooped up the white cabinets and the screen and the microwave and the hot plate for the little apartment in her basement. Our son, Joel, is taking the half-size refrigerator for his basement bar area (serving sodas and fruit juices). And, we are wondering, in the middle of all this dislocation, if we are going to make it on time.
The goal is to clear out our finished basement, move the furniture from there to our daughter's home, settle what is left from the office down there. This requires changing phone lines, setting up computers, deciding on printers, and overseeing the general planning that goes on with this sort of a move. It is unsettling, wearying, dislocating (I can't even fine my office Bibles). But, there are advantages.
First, we will save $800 a month in rent. Since we left our national broadcast some 25 years ago, where we had a donor list of some 35,000 people, now some 400 faithful friends regularly underwrite our support. Of course, our staff is smaller, our operations are not so far reaching. These donors regularly overwhelm us with their generosity. But, at the same time, many are experiencing diminished incomes. David and I certainly know what that is all about.
Second, we need to reduce the material possession in our lives. David was sorting through some file drawers in the office and said, "You know, we're doing all this so our kids won't have to." I feel surprisingly unsentimental about ditching, giving away, and boxing up the material things we have lived with all these years. My goal in this ministry life has been to be able to shut the door and not look back should the Lord so require that of us. Looks as though I've been successful in achieving this attitude, because I certainly am leaving this office, our bedroom, the cozy basement in our home with its small guest room without much emotional regret—any regret, actually.
Third, going through all this stuff evokes exquisite memories of projects we mounted, people we loved, and sorrows we endured. Hidden away in those files are photos we had forgotten about and wonderful places we have been.
I pulled out two bins from a cupboard where they were stored. These were the travel files of trips I organized to take groups overseas. The nearby community college offered courses in tourism that trained me how to set up transportation, housing, and site and museum visits, so that I could lead a group of 38 "pilgrims" to Spain. Eventually, my sister Valerie joined me in this enterprise and together we mounted three journeys to France. David and I planned trips to Vienna during the Advent season, to Italy and to Budapest. These labeled folders held lists of travelers, brochures of places to visit, negotiations with hotels for group prices, restaurants recommended by tourism groups, and my correspondence with private guides who shared their wonderful knowledge of their countries with those who journeyed with us. The retrospective transit through those files has been an evocative journey around the world.
Reading a book on icons, I was reminded of the adult course I took at the University of Chicago on Russian Religious Thinkers. Partly, this was because of my interest in Dostoevsky, Tolstoy, and Solzhenitsyn. But, the recent afternoon I spent going over my class notes and re-reading the photo-copied pages provided by a very quirky female professor were a delight. I had loved the mental challenge of this study as well as the spiritual food that fed my soul from these thinkers I had never before met. Here they were now, like old friends, stored in these bins.
I guess what I would say is this: Don't be afraid of doing the work to spare the next generation the effort of moving, purging, piling, and sorting. They will never discover the delights in those boxes and files and bins and shelves that you discover. Their experiences are not your experiences. Do the work for them, but spare the secret, hidden memories to be savored for yourself.
---
Seeing takes time… National award-winning and best-selling author Karen Mains writes out of decades of ministry filled with pains and joys. Known for her authentic and passionate voice, Karen, through the Hungry Souls ministry, serves as a spiritual friend to Christian women and men.
From church planting in the inner city with her husband, David, to national media broadcasting and telecasting, to serving on international boards, Karen brings a perspective on life informed by rich experience, motivated by tenderness, expanded by national travel in over 50 countries, and in an always surprising dialogue with those whose stories continually move her. Seeing—she has learned—hard-gained wisdom takes time.
To find many valuable resources for pastors and congregations at the Mainstay Ministries main website, please click here.
To learn more about Karen as activist, writer, and thinker, please click here.
Share this Article