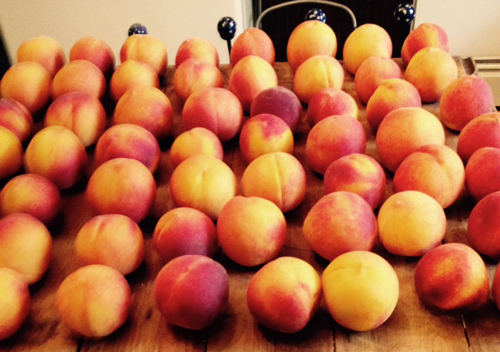 What is it about peaches?
Ripe at the rare-right moment,
Plucked in the fullness of taste.
Tartness at the tongue-tip and smoothness on the palate,
Wine orange fuscia slices with velvet golden rinds;
Soft, satisfying, saliva-seducing;
Nourishing, nurturing, nature's juices dripping.
Praises be for the peach perfect,
Plucked in the fullness of perfection,
Glorying God in its it-ness, its being-ness,
Exulting in its is-ness.
Note: Last year my daughter and son-in-law stood in the long line that formed early to await the arrival in Crystal Lake, IL, of the peach truck from Georgia. She bought two boxes, about half a bushel of fruit. When she discovered that the peaches were so delicious, she went back in two weeks to stand in the long line that formed early to await the arrival of the Georgia peach truck in the nearby town of McHenry. Once the boxes are gone and the truck is empty, there are no more peaches.
What can I say? We never buy peaches picked from the tree yesterday morning. Everything in our stores, even in the farmer's markets, seem to be plucked early in order to ripen in the transit from the groves to the grocery.
I open the box, marveling that in the long transit, there is not one bruise on one peach! The box has to be unpacked, however—right away. So I set the peaches in rows on the wooden counter in my kitchen making sure that no sides touch—a sure way to spread spoiling. We eat from the counter, slices in bowls with cream, or plain like apples, but with juice running down our mouths and chins from each bite.
Then, when my instinct tells me the peaches cannot last one more day without stepping over the just perfect rare-right line, I dip what is left in boiling water, cool them in ice water and peel the skins, which practically slide from the fruit. A bowl of white grape juice with a little lemon becomes the sauce in which I mix this extraordinary mix of sliced color and ripeness and miracle. Plastic refrigerator bags are filled, the air pressed out, edges sealed, then I stack them flat on a cookie sheet to freeze so that we will enjoy peach perfection through the winter, lest we forget how perfect rare-right moments can be.
Gerard Manley Hopkins believed that every created thing brings glory to the Creator when it becomes perfectly what it was created to be. So praises be for the peach perfect.
---
Award-winning author Karen Mains has long had an interest in spiritual formation and the obedient Christian walk. She has written about the God Hunt in her book by the same name, The God Hunt: The Delightful Chase and the Wonder of Being Found. A hardback copy can be ordered from Mainstay Ministries for $10.00 plus $4.95 shipping and handling. Contact Karen at info@mainstayministries.org and she will be happy to autograph a copy for you.
Karen continues to write content for her Christian blog, "Thoughts-by-Karen-Mains." In so doing, she desires to touch the lives of Christian women and men and help them find ways to walk closer with the Lord Jesus Christ. In addition, through silent retreats, spiritual teaching, women's retreats, Christian vacation opportunities, and other ministry activities, Karen helps each Christian woman and man receive vital spiritual food.
Through her Hungry Souls ministry, Karen serves as a spiritual coach to many Christian women and men, and teaches a mentor-writing class. And, through the Global Bag Project, she is working to develop a network of African women who sew exquisite cloth reusable shopping bags, Africa bags. This micro-finance women opportunity helps provide a much-needed sustainable income for struggling African families. For more information on this critically important project, please click here.
For decades, Karen and her husband, David, have served God through religious communications—radio, television, and print publication. They are the co-authors of the Kingdom Tales Trilogy: Tales of the Kingdom, Tales of the Resistance, and Tales of the Restoration. To find many valuable resources for pastors and congregations at the Mainstay Ministries main website, please click here.
Likewise, pastors will find special resources to help them prepare effective, life-transforming Sunday sermons by visiting David Mains' website by clicking here.
Share this Article