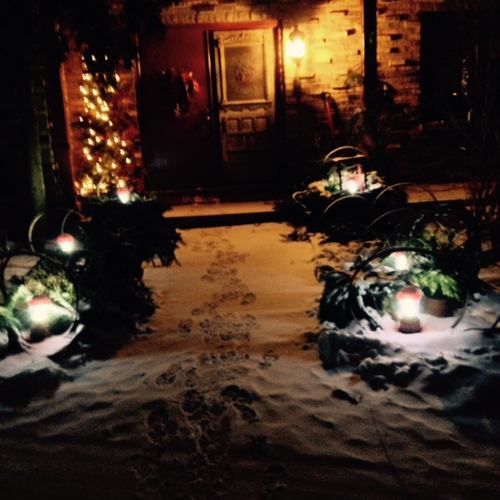 My daughter, Melissa Mains Timberlake, and I are planning an 8-hour Advent Retreat at the Timberlakes' beautiful Turtle Creek Acres in McHenry, Illinois, some 20 minutes south of the Wisconsin border. The barn house is a lovely, converted dairy barn with large rooms, vaulting lofts and plenty of sleeping room. We think it is a perfect getaway place—with its spreading protected marshes, the stable and paddocks, horses and sheep and dogs and cats and chickens. There are woodland walks that go down to the little creek, which winds around the property and has its very own island of trees in the middle. Deer trot the paths up from the marsh, and in certain seasons, sandhill cranes fly overhead and call their ancient cries.
Planning is one thing, but praying is another. It is so easy to forget that prayer and intercession for an event are as important as the day schedule, the decorating, the food and the guided silence. As I turned my heart to prayer, these thoughts came to me…
A Prayer for the Unquieted—
Oh Lord, You who are the Center of all stillness,
You who calm the storm with words,
You who are the Whisper at the end of every whirlwind,
You who stir the waters so that we will pay attention to Your Presence,
Bring to us those who are longing to find You in the stillness,
Who seek to run to You in the tumult,
Who can no longer hear Your voice due to pain-shout and soul-sorrow.
Nudge those weary from worry, alone and perplexed by hurt,
Help them to find their way through lists and voices and cacophony
To the still point where you are always, always, always…
---
Award-winning author Karen Mains has long had an interest in spiritual formation and the obedient Christian walk. She has written about the God Hunt in her book by the same name, The God Hunt: The Delightful Chase and the Wonder of Being Found. A hardback copy can be ordered from Mainstay Ministries for $10.00 plus $4.95 shipping and handling. Contact Karen at info@mainstayministries.org and she will be happy to autograph a copy for you.
Karen continues to write content for her Christian blog, "Thoughts-by-Karen-Mains." In so doing, she desires to touch the lives of Christian women and men and help them find ways to walk closer with the Lord Jesus Christ. In addition, through silent retreats, spiritual teaching, women's retreats, Christian vacation opportunities, and other ministry activities, Karen helps each Christian woman and man receive vital spiritual food.
Through her Hungry Souls ministry, Karen serves as a spiritual coach to many Christian women and men, and teaches a mentor-writing class. And, through the Global Bag Project, she is working to develop a network of African women who sew exquisite cloth reusable shopping bags, Africa bags. This micro-finance women opportunity helps provide a much-needed sustainable income for struggling African families. For more information on this critically important project, please click here.
For decades, Karen and her husband, David, have served God through religious communications—radio, television, and print publication. They are the co-authors of the Kingdom Tales Trilogy: Tales of the Kingdom, Tales of the Resistance, and Tales of the Restoration. To find many valuable resources for pastors and congregations at the Mainstay Ministries main website, please click here.
Likewise, pastors will find special resources to help them prepare effective, life-transforming Sunday sermons by visiting David Mains' website by clicking here.
Share this Article