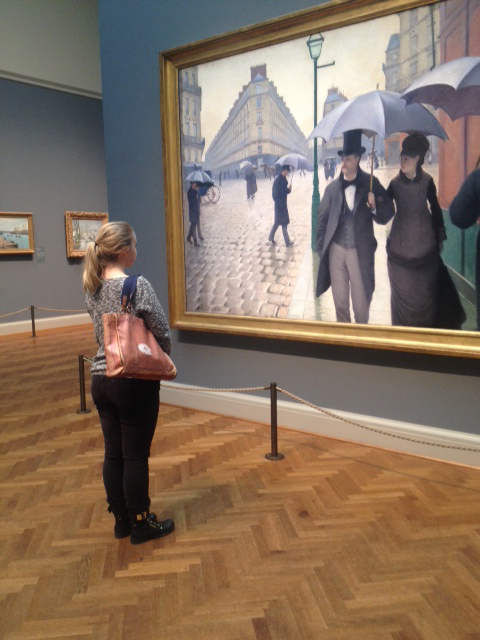 Gustave Caillebotte's Paris Street; Rainy Day (1877) was removed from the Chicago Art Institute galleries last summer when the museum's conservators noticed that some lifting of paint from the canvas and cracking in isolated spots was going on.
When the Art Institute acquired this large canvas in 1964, some restoration had already been conducted, but since then, magnification, x-ray viewing and ultraviolet-light imaging have become sophisticated diagnostic tools for great art works. Conservator Faye Wrubel, while examining the canvas with these tools, determined that the varnish on the painting had yellowed significantly, masking nuances of pale blue, pink, and lavender-grey tints. This meant the masterpiece had aged beyond the artist's original intent.
The member's catalogue explains the result of restoration: "Instantly the painting began to take on new life, revealing qualities that had been hidden for decades. The woman's earring, for example, believed by many to be a pearl, now reads as a sparkling diamond. The man's cheeks now glow with a touch of color. Above all, the sky, which had appeared to have an even yellow-gray tone, now shows a subtle gradation, from rosy-gray near the bottom to a cool gray toward the top of the painting. The result is a transformed sense of light and atmosphere that is likely to change the way viewers respond to Caillebotte's vision of 19th-century Paris and its people."
My granddaughter, Joscelyn Timberlake, and I are beginning to take monthly study trips to the Art Institute; what a waste it is not to visit and learn in this nearby museum which is credited as being one of the finest in the world.
So on a gray and snowy January morning, we took the Northwest line from Crystal Lake (Josie's mom and dad were out of town for a birthday celebration, and I was the grandmother supply) into the city, stopped in the wondrous French Market beneath Ogilvie Station, and bought six different kinds of Madeleine cookies, each of us eating one half of each flavor as we walked down Washington Street to Michigan Avenue.
We shared a lunch at Terzo Piano, the third-floor restaurant that overlooks the exquisite architecture of Millennium Park, then we plunged into our beginning study of the French Impressionists, beginning with Caillebotte's restored painting, pausing before one of Josie's favorites, A Sunday Afternoon by pointillist Georges Seurat (Josie also loves the musical it inspired, Sunday in the Park With George).
It occurred to me as I shot a photo of Joscelyn standing before the painting that it is some 137 years old and that the restoration and conservation process of great art is a constant, arduous process, very much like the process that goes on when the divine Master Painter attempts to render us into the human masterpiece He had in mind when He created us.
I am 72 years of age, and God is removing the varnish in my life brought on by the wear and tear of living this long. His methodology is to painstakingly remove whatever keeps the true colors of my being from glowing on the canvas. "Cotton swabs" are dipped into a solution that erodes the hard surface of my life but doesn't damage what is lovely underneath.
"Ouch! That stings!" I cry. "Can't You stop for at least a decade or two?" I bargain. "Whew! What an odor!" "I don't remember asking You to take on this restoration project. It seems to be totally Your idea." "Who gave You permission to be my curator?"
Of course, those are all the things we complain about when we are in the middle of painful conservation. The truth is I love the fact that there is a sparkling diamond on my ear, that the tints of the painting that is my life are really pale blue, lavender-gray and pink, that the sky behind me on a rainy day in Paris or in Chicago glows rose, and that my cheeks are really ruddy from walking along all the avenues of this good life.
Josie is 18, and it is so fun to watch her soul open up to what is beautiful and good and true. What a privilege it is to be a work of art some 72 years of age and be able to share with her what I know about walking along wet pavements, and avoiding storm sewers, and being part of the umbrella street dance, knowing the rain will not really spoil the pigments that are part of our lives.
We are under the capable hand of a Master Conservator, Josie. Stand before the work and attend.
---
Award-winning author Karen Mains has long had an interest in spiritual formation and the obedient Christian walk. She has written about the God Hunt in her book by the same name, The God Hunt: The Delightful Chase and the Wonder of Being Found. A hardback copy can be ordered from Mainstay Ministries for $10.00 plus $4.95 shipping and handling. Contact Karen at info@mainstayministries.org and she will be happy to autograph a copy for you.
Karen continues to write content for her Christian blog, "Thoughts-by-Karen-Mains." In so doing, she desires to touch the lives of Christian women and men and help them find ways to walk closer with the Lord Jesus Christ. In addition, through silent retreats, spiritual teaching, women's retreats, Christian vacation opportunities, and other ministry activities, Karen helps each Christian woman and man receive vital spiritual food.
Through her Hungry Souls ministry, Karen serves as a spiritual coach to many Christian women and men, and teaches a mentor-writing class. And, through the Global Bag Project, she is working to develop a network of African women who sew exquisite cloth reusable shopping bags, Africa bags. This micro-finance women opportunity helps provide a much-needed sustainable income for struggling African families. For more information on this critically important project, please click here.
For decades, Karen and her husband, David, have served God through religious communications—radio, television, and print publication. They are the co-authors of the Kingdom Tales Trilogy: Tales of the Kingdom, Tales of the Resistance, and Tales of the Restoration. To find many valuable resources for pastors and congregations at the Mainstay Ministries main website, please click here.
Likewise, pastors will find special resources to help them prepare effective, life-transforming Sunday sermons by visiting David Mains' website by clicking here.
Share this Article