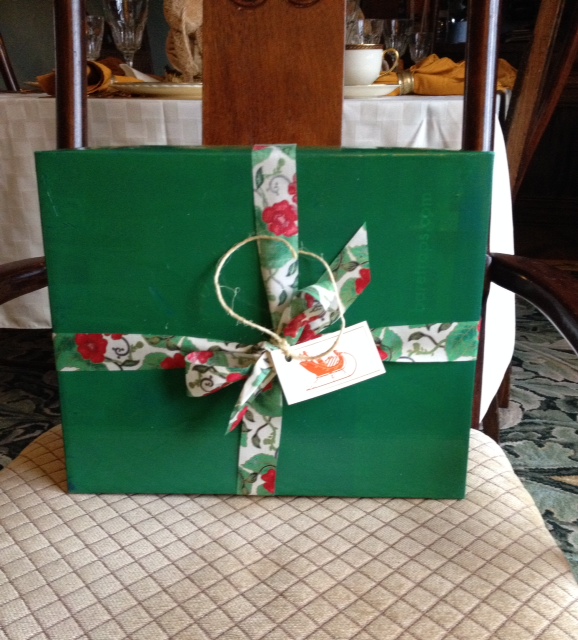 The "Make Your Own Snowman Kit" ready to deliver.
I can't bear waste, so the few times I've shopped at discount shoe stores, purchasing items that are 40% or 50% or even 60% off, I hate to bring home shoe boxes only to throw them away. Most of the time, I leave the boxes at the counter in the store—but a few times I've hauled home some boxes, particularly those that store boots—to see if I could find a way to recycle them.
Yesterday, I went to pack a "Make Your Own Snowman" kit that a friend had given me for our younger grandchildren. It contained a felt black hat with a jaunty ribbon band, a felt carrot (better than a corncob pipe), some coal for the mouth and nose, buttons for the eyes and a book of instructions. Also included was a plastic bag of sundries, some of which I could see were jingle bells.
What to pack this all in?—wait, wouldn't that shoe box I'd stored in the gift wrap center in the basement be just the right size? Everything fit—perfectly. But that color. And those price tags stickers on the sides. And the brand name imprint. I could wrap it. Or—or perhaps—perhaps I could spray paint it.
Sure enough, there was a can of Christmas green paint in my garage storage cupboard. So, I took my shoebox, sprayed the sides bright green, tucked the "Make Your Own Snowman Kit" into red tissue paper and tied it with seasonal ribbon. I signed a card, "To children who love snow. Nina and Papa."
It's amazing, isn't it, what it takes to make some people happy?
---
Award-winning author Karen Mains has long had an interest in spiritual formation and the obedient Christian walk. She has written about the God Hunt in her book by the same name, The God Hunt: The Delightful Chase and the Wonder of Being Found. A hardback copy can be ordered from Mainstay Ministries for $10.00 plus $4.95 shipping and handling. Contact Karen at info@mainstayministries.org and she will be happy to autograph a copy for you.
Karen continues to write content for her Christian blog, "Thoughts-by-Karen-Mains." In so doing, she desires to touch the lives of Christian women and men and help them find ways to walk closer with the Lord Jesus Christ. In addition, through silent retreats, spiritual teaching, women's retreats, Christian vacation opportunities, and other ministry activities, Karen helps each Christian woman and man receive vital spiritual food.
Through her Hungry Souls ministry, Karen serves as a spiritual coach to many Christian women and men, and teaches a mentor-writing class. And, through the Global Bag Project, she is working to develop a network of African women who sew exquisite cloth reusable shopping bags, Africa bags. This micro-finance women opportunity helps provide a much-needed sustainable income for struggling African families. For more information on this critically important project, please click here.
For decades, Karen and her husband, David, have served God through religious communications—radio, television, and print publication. They are the co-authors of the Kingdom Tales Trilogy: Tales of the Kingdom, Tales of the Resistance, and Tales of the Restoration. To find many valuable resources for pastors and congregations at the Mainstay Ministries main website, please click here.
Likewise, pastors will find special resources to help them prepare effective, life-transforming Sunday sermons by visiting David Mains' website by clicking here.
Share this Article