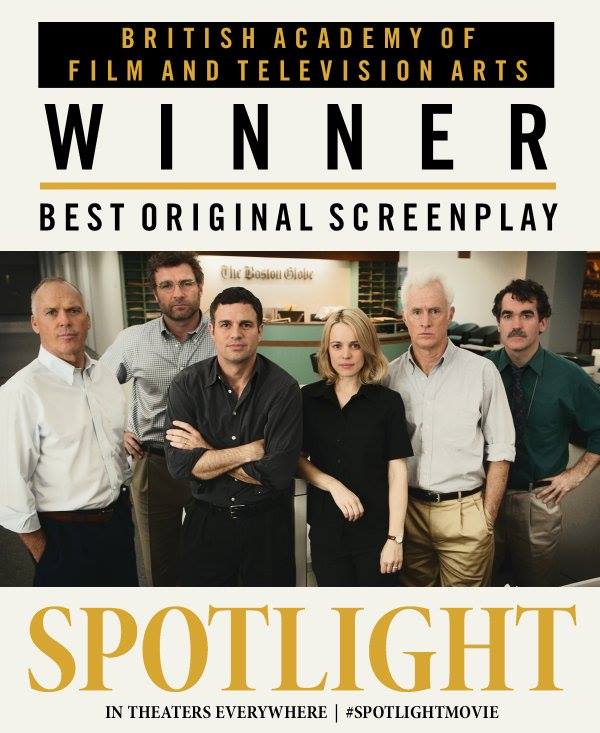 Whenever David and I recommend the Academy-Award movie Spotlight and ask friends and family if they have seen it, most often the response is, "Oh, we just didn't think we wanted to sit through something dealing with child sexual abuse in the Catholic Church." (Apart from our son, Joel Mains, who just won three Emmys for a documentary on a Christian tattoo artist who removes bar-codes from sex-slave-trafficking victims and the gang marks from former street-gang members—he obviously raved about it.)
Please. Please. Please. Dear friends and family. One of our great idols is comfort—God forgive us—we are resistant to being disturbed. I don't always keep this rule, but it is an ideal I remind myself that I want to retain: If these people (any people) can suffer it, I, at least, can learn about it.
Spotlight is about an investigative team at The Boston Globe who have the mandate (and the luxury) to spend months, even years on researching and digging out the "big stories." The film has made all the "Best Movie of the Year" lists, has been nominated for six Academy Awards (Best Picture, Best Original Screenplay, Best Director, Best Film Editing, Best Director, Best Supporting Actress [Rachel McAdams], Best Supporting Actor [Mark Ruffalo]). According to one of its scriptwriters, Josh Singer, it wasn't about "exposing the Catholic Church. We were not on some mission to rattle people's faith. In fact, Tom [McCarthy—the other screenwriter and director] came from a Catholic family. The motive was to tell the story accurately while showing the power of the newsroom—something that's largely disappeared today. This story is important. Journalism is important, and there is a deeper message in the story."
That message—watch for it at the end of the film—is a powerful question: Don't we all collude in the silence that allows evil to flourish? Aren't we all part of some cover-up?
This is a film that every Christian should see. I guarantee you will walk out of the theatre (or away from your movie-on-demand home television viewing experience) feeling ennobled, wanting to be a part, not of our scandal-mongering generation, but of those people who have the courage to uncover, dislodge and resist the evils of our age. Ask yourself: "Isn't my reluctance to be exposed to the ills of the world, to dig down far enough to discover the truth, then to work hard, in whatever way possible, to speak that truth to the systems of power that perpetrate the ills—isn't that a kind of collusion? Isn't that a kind of personal cover-up?"
Reviewers made comments such as these: "It's not a stretch to suggest that Spotlight is the finest newspaper movie of its era, joining Citizen Kane and All the President's Men in the pantheon of classics of the genre." In this film, totally without a shoot-out or collision-filled car chase of any kind, in the end, the good guys win.
Wikipedia includes this antidote about the release of Spotlight: "The film 'premiered to sustained applause' at the Venice Film Festival and the audience 'erupted in laughter' when the film credits reported that following the events in the film Cardinal Bernard Law (the Archbishop of Boston who colluded in reassigning pedophile and abusive priests and denied there was any widespread problem) was reassigned to a senior position of honor in Rome." (!) Some of the comments after reviews of the film include those that highlight the fact that due to the work of The Boston Globe investigative team, the Catholic Church has been forced to face the scandal it had worked so hard to keep from the public and consequently, by that very act, had further perpetrated the horrific abuse of children in the church. Make sure you see this. Then carefully and prayerfully consider: "How is it that I collude in the silence that allows evil to flourish?"
---
Award-winning author Karen Mains has long had an interest in spiritual formation and the obedient Christian walk. She has written about the God Hunt in her book by the same name, The God Hunt: The Delightful Chase and the Wonder of Being Found. A hardback copy can be ordered from Mainstay Ministries for $10.00 plus $4.95 shipping and handling. Contact Karen at info@mainstayministries.org and she will be happy to autograph a copy for you.
Karen continues to write content for her Christian blog, "Thoughts-by-Karen-Mains." In so doing, she desires to touch the lives of Christian women and men and help them find ways to walk closer with the Lord Jesus Christ. In addition, through silent retreats, spiritual teaching, women's retreats, Christian vacation opportunities, and other ministry activities, Karen helps each Christian woman and man receive vital spiritual food.
Through her Hungry Souls ministry, Karen serves as a spiritual coach to many Christian women and men, and teaches a mentor-writing class. And, through the Global Bag Project, she is working to develop a network of African women who sew exquisite cloth reusable shopping bags, Africa bags. This micro-finance women opportunity helps provide a much-needed sustainable income for struggling African families. For more information on this critically important project, please click here.
For decades, Karen and her husband, David, have served God through religious communications—radio, television, and print publication. They are the co-authors of the Kingdom Tales Trilogy: Tales of the Kingdom, Tales of the Resistance, and Tales of the Restoration. To find many valuable resources for pastors and congregations at the Mainstay Ministries main website, please click here.
Likewise, pastors will find special resources to help them prepare effective, life-transforming Sunday sermons by visiting David Mains' website by clicking here.
Share this Article