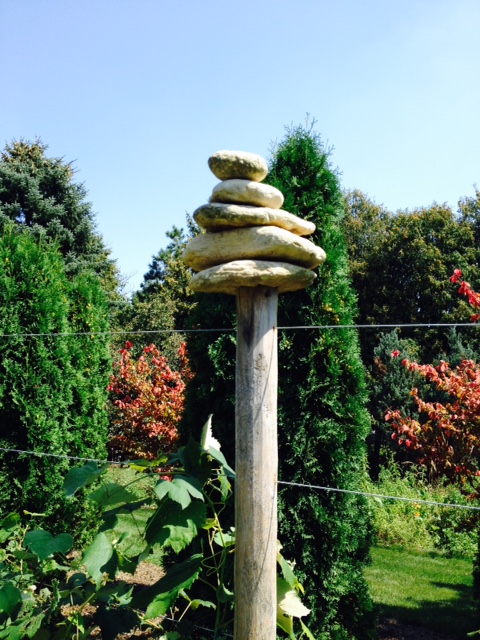 I loved these stacked stones on top of a grapevine fence post. Stacked stones along trails are markers that call attention to hikers. "Stop here!" they call to the hiker. "Agreed-on meeting place!" "Cutoff shortcut!" Notice the nest of an unusual bird … the wild animal lair hidden in the cliff! … the magnificent rock formation!
Scripture talks about stacked stones that were memory rocks to remind future generations as to how God had done remarkable works (miracles really) in specific geographic locations. Cairns is another name for stacked stones. According to Wikipedia, they can be found all over the world, "in uplands, on moorland, on mountaintops, near waterways and on sea cliffs, as well as in barren deserts and tundra. They vary in size from small stone markers to entire artificial hills, and in complexity from loose conical rock piles to delicately balanced sculptures and elaborate feats of megalithic engineering."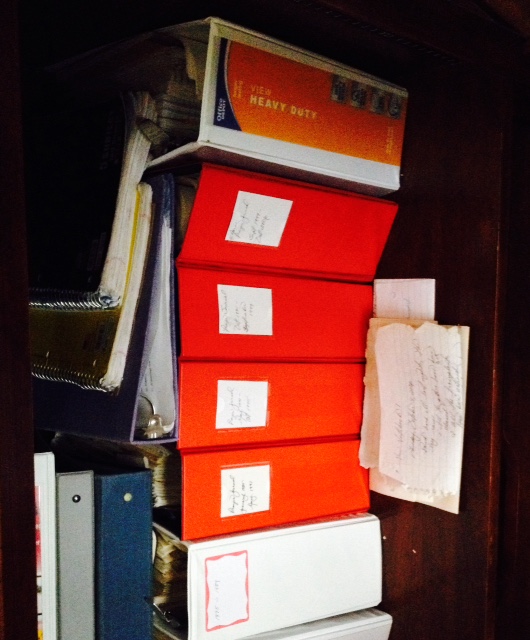 I have 40 years of journals in which, almost daily, I've recorded the specific ways God has worked in my life and in the lives of my family. Forty years times some estimated 350 days (I miss a few every now and then) equals 14,000 entries—small memorials in my journals of how God has been present. These days—because I am beginning to write again—I'm going back through my journals, the blogs I've written, my Soulish Food newsletter—and I'm reminding myself of how active God has been daily in His loving care for me.
Of all the spiritual practices in my life, this prayer journal-keeping has been one of the most effective. The current journal, begun on January 23, 2015, while re-reading just a few pages, reminds me of the delightful day in the city I spent with my granddaughter, Joscelyn. She introduced me to the French Market beneath the Ogilvie train station (totally unknown to this native Chicagoan), where we bought six madeleines to munch on our walk to the Art Institute. I'm teaching Josie how to "read" the paintings—first you start by standing for a while and quietly viewing what is in front of you. Then you ask: What is this work of art trying to say? I grabbed an iPhone shot of Josie in front of the recently restored Paris Street; Rainy Day by Gustave Caillebotte. We ate lunch at Piano Terza, which overlooks the gorgeous Millennium Park. Then since Josie's parents were not at home and I was grandparent-sitting, we took the Metra to the Crystal Lake station and picked up the truck to drive home to Turtle Creek Acres.
My prayer journal does not consist of paragraphs, but is a basic note-taking arrangement of headers and lists. I write enough paragraphs in my writer's life; to do more would bog me down. This listing approach was the easiest formula for me to keep a 40-year-old spiritual discipline going. However, the point is that I might never have remembered the details of this delightful day with Joscelyn had I not made that list, under the heading of "Thanks for…", if I had not entered it on January 27, 2015 in my prayer journal. Of course, I would have recalled the delightful general events, but not the details, such as the fact that Josie and I walked 11,730 steps on our little outing.
These red journals are my stacked stones. I wonder: How are you stacking memory stones in your life?
---
Award-winning author Karen Mains has long had an interest in spiritual formation and the obedient Christian walk. She has written about the God Hunt in her book by the same name, The God Hunt: The Delightful Chase and the Wonder of Being Found. A hardback copy can be ordered from Mainstay Ministries for $10.00 plus $4.95 shipping and handling. Contact Karen at info@mainstayministries.org and she will be happy to autograph a copy for you.
Karen continues to write content for her Christian blog, "Thoughts-by-Karen-Mains." In so doing, she desires to touch the lives of Christian women and men and help them find ways to walk closer with the Lord Jesus Christ. In addition, through silent retreats, spiritual teaching, women's retreats, Christian vacation opportunities, and other ministry activities, Karen helps each Christian woman and man receive vital spiritual food.
Through her Hungry Souls ministry, Karen serves as a spiritual coach to many Christian women and men, and teaches a mentor-writing class. And, through the Global Bag Project, she is working to develop a network of African women who sew exquisite cloth reusable shopping bags, Africa bags. This micro-finance women opportunity helps provide a much-needed sustainable income for struggling African families. For more information on this critically important project, please click here.
For decades, Karen and her husband, David, have served God through religious communications—radio, television, and print publication. They are the co-authors of the Kingdom Tales Trilogy: Tales of the Kingdom, Tales of the Resistance, and Tales of the Restoration. To find many valuable resources for pastors and congregations at the Mainstay Ministries main website, please click here.
Likewise, pastors will find special resources to help them prepare effective, life-transforming Sunday sermons by visiting David Mains' website by clicking here.
Share this Article