One of the modern activities that irritates me some, but alarms me considerably, is that even in a restaurant, sitting around a table, a group of diners will be looking down at their mobile phone screens. Isn't one of the pleasures of dining out to enjoy the luxury of uninterrupted conversation?
On the street, people walk in crowds, step off curbs into traffic flow, and a majority of heads are bent as folks use their thumbs to scroll down their emails. I've kept thinking these past years, watching all these bent necks, We are reverting to a hunched stance much like the Neanderthal man scientists tell us has been our evolutionary forbear!
In the chiropractor's office, where I have just started treatments to correct a backward curve in my upper neck (it should be curving inward, but it is curving outward—the result of hours spent writing at my computer without hours of compensating exercises), I noticed a poster on his wall showing that the average human head weighs approximately 10-15 pounds. The upright weight of the head on the spine is approximately 12 pounds. When the head moves forward (out of normal alignment measured by the ears being straight above the shoulders), this causes extra weight thrust on the upper back and neck.
If the head moves one inch forward, that is equivalent to a 22 pound thrust. If the head moves two inches forward, that is equivalent to a 32 pound thrust. And, if the head moves three inches forward, the strain on the spine is equivalent to a 42 pound thrust. No wonder we have stress, aches, stiffness and physical discomfort across our shoulders and upper neck.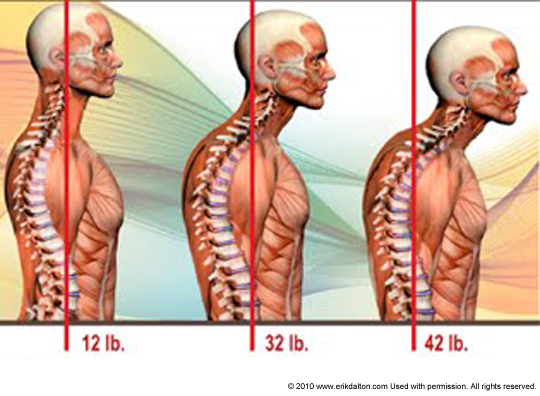 My chiropractor is hoping that the slow correction of my miss-curved upper spine will alleviate the continual sinus drainage and allergies that I seem to be tag-matching in these last years. Just when I think the sneezing and coughing cycle has calmed itself, a plane ride will set off a reaction, and I'm back to blowing my nose, taking sinus sprays and hacking at the slightest whiff of blowing dust. It makes sense: The spine is the sheath that protects the central nervous system, and if that core of essential components is compromised sending impulses to my head, a host of symptoms are certain to erupt.
So what we have in the general, bent-head population that we are becoming, is a new syndrome (remember carpel tunnel?) labeled Text Neck Syndrome, the new tech-induced body ailment. This not only causes neck pain, but influences the back and shoulders. Looking down as much as we do today actually is causing changes in the healthy alignment and curvature of the upper spine causing a diagnosable condition, i.e. text neck or forward neck.
Can we change this? Of course we can. Google "Text Neck Syndrome" and read all the articles with their suggestions as to how to correct this unnatural curvature. Will we change this? That, of course, depends upon the motivation of the cellphone, laptop, desktop tech device user.
It strikes me that the general correction for text neck involves some form of looking up, reversing the downward pose that is becoming habitual as we eat, or gather in groups, walk outside or sit in our homes. Perhaps what we need to do is lift our heads high to the heavens, throw our shoulders back, hold this posture for a while, then sing praises to the One who created us standing, standing straight, standing strong and looking to the sky at day and the stars at night—just the opposite stance from that one now rapidly overtaking our humanity—looking down, constantly looking down.
Then I would hold that posture, looking up, for as long as it takes to repeat this anthem, hopefully from memory.
Praise the Lord
Praise the Lord from the heavens, praise him in the heights above.
Praise him, all his angels, praise him, all his heavenly hosts.
Praise him, sun and moon, praise him, all you shining stars.
Praise him, you highest heavens and you waters above the skies.
Let them praise the name of the Lord, for he commanded and they were created.
He set them in place forever and ever, he gave a decree that they will never pass away.
Praise the Lord from the earth, you great sea creatures and all the ocean depths,
lightning and hail, snow and clouds, stormy winds that do his bidding,
you mountains and all hills, fruit trees and all cedars, wild animals and all cattle,
small creatures and flying birds, kings of the earth and all nations,
you princes and all rulers on earth, young men and maidens, old men and children.
Let them praise the name of the Lord, for his name alone is exalted;
for his splendor is above the earth and the heavens.
He has raised up for his people a horn, the praise of all his saints, of Israel, the people close to his heart.
Praise the Lord.
—Psalm 148
This should cure Text Neck Syndrome.
---
Seeing takes time… National award-winning and best-selling author Karen Mains writes out of decades of ministry filled with pains and joys. Known for her authentic and passionate voice, Karen, through the Hungry Souls ministry, serves as a spiritual friend to Christian women and men.
From church planting in the inner city with her husband, David, to national media broadcasting and telecasting, to serving on international boards, Karen brings a perspective on life informed by rich experience, motivated by tenderness, expanded by national travel in over 50 countries, and in an always surprising dialogue with those whose stories continually move her. Seeing—she has learned—hard-gained wisdom takes time.
To find many valuable resources for pastors and congregations at the Mainstay Ministries main website, please click here.
To learn more about Karen as activist, writer, and thinker, please click here.
Share this Article