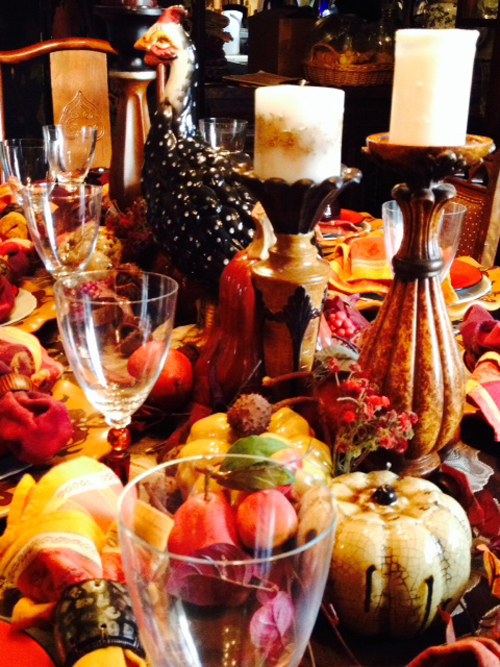 The Thanksgiving Table awaits the coming guests.
Do you ever wonder why there are few Thanksgiving products in the stores (as compared with the overwhelming number of products pushed by the consumerism of American Christmas retailers)? And are you frustrated with how Thanksgiving gets crowded out each year more and more by the Christmas selling machines? News reports in the Chicago area tell us that the best selling day in the year is NOT black Friday (the day after Thanksgiving) but Thanksgiving Day itself! I consider this to be horrific.
Long ago I discovered the benefits of giving thanks to God. Somewhere in my early thirties, for three whole months, I did nothing but record my prayers of thanks. No requests. No pleas for financial underwriting. No lists of things I needed help with and no intercessions. This spiritual exercise transformed my whole life.
The reason there are few Thanksgiving products in the stories is that the selling season is so short. The reason Thanksgiving gets crowded out each year is that none of mount mass protest movements: i.e. We are basically not thankful as much as we are greedy. (Think about it.)
If I told you that a new prescription drug had just come on the market, which had been trialed over decades, and that scientists had discovered that regular usage would enable the user to reach a state of well-being, would you be interested?
Then if I went even further and said that clinical trials had proven that the daily use of this medicinal showed positive effects on mood neurotransmitters, positive effects on reproductive hormones and on social bonding hormones, showed positive effects on cognitive and pleasure related neurotransmitters, on inflammatory and immune systems, on stress hormones, on cardiac and EEG rhythms and on blood pressure as well as blood sugar—wouldn't you rush out and say, "Let me have some of that stuff!"
Well, there is such a "drug". Wikipedia, the on-line encyclopedia reports: "A large body of recent work suggests that people who are more grateful have higher levels of well-being. Grateful people are happier, less stressed, and more satisfied with their lives and social relationships. Grateful people also have higher levels of control of their environments, personal growth, purpose in life, and self-acceptance. Grateful people have more positive ways of coping with the difficulties they experience in life, being less likely to try and avoid the problem, deny there is a problem, blame themselves, or cope through substance use. Grateful people sleep better, and this seems to be because they think less negative and more positive thoughts just before going to sleep."
Given all this information, I decided to mount a small and decidedly personal campaign. I'd like to start by stretching Thanksgiving Day to Thanksgiving Month. If people all over the country—if Christians all over the country—began exercising an intentional and active kind of Thanksgiving on November 1st through to November 30th, we might begin to create a healthier citizenry.
Consequently, as a small effort, I mounted two signs in the whiskey barrel by our mailbox. One reminds drivers and walkers going East; the other reminds people traveling West. The two signs proclaim: GIVE THANKS.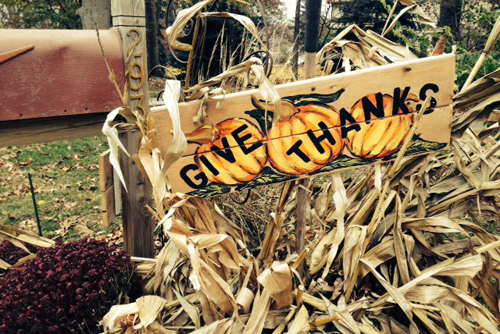 This "Thanksgiving Roadside Reminder" greets all who come to visit
Have a happy Thanksgiving Month. Be more healthy.
---
Award-winning author Karen Mains has long had an interest in spiritual formation and the obedient Christian walk. She has written about the God Hunt in her book by the same name, The God Hunt: The Delightful Chase and the Wonder of Being Found. A hardback copy can be ordered from Mainstay Ministries for $10.00 plus $4.95 shipping and handling. Contact Karen at info@mainstayministries.org and she will be happy to autograph a copy for you.
Karen continues to write content for her Christian blog, "Thoughts-by-Karen-Mains." In so doing, she desires to touch the lives of Christian women and men and help them find ways to walk closer with the Lord Jesus Christ. In addition, through silent retreats, spiritual teaching, women's retreats, Christian vacation opportunities, and other ministry activities, Karen helps each Christian woman and man receive vital spiritual food.
Through her Hungry Souls ministry, Karen serves as a spiritual coach to many Christian women and men, and teaches a mentor-writing class. And, through the Global Bag Project, she is working to develop a network of African women who sew exquisite cloth reusable shopping bags, Africa bags. This micro-finance women opportunity helps provide a much-needed sustainable income for struggling African families. For more information on this critically important project, please click here.
For decades, Karen and her husband, David, have served God through religious communications—radio, television, and print publication. They are the co-authors of the Kingdom Tales Trilogy: Tales of the Kingdom, Tales of the Resistance, and Tales of the Restoration. To find many valuable resources for pastors and congregations at the Mainstay Ministries main website, please click here.
Likewise, pastors will find special resources to help them prepare effective, life-transforming Sunday sermons by visiting David Mains' website by clicking here.
Share this Article