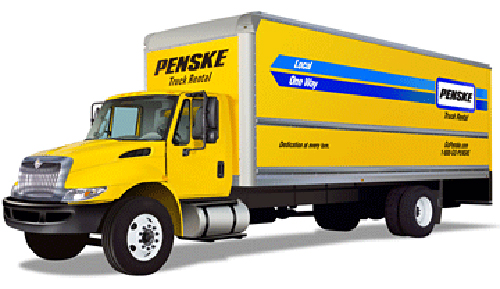 Certainly, it's understandable that my son Randall, having driven a 26-foot moving van from Phoenix, AZ to Indianapolis, IN and finally to Atlanta, GA without mishap, was not eager to drive another one again. Having visited his storage locker to make a few runs to the new apartment with his Jeep hatchback filled with boxes, it was obvious that the alley leading to his unit was narrow, crowded with spaces rented out for trucks and boats. Backing a 26-footer into that had been a daunting task the first time to unload his belongings, salvaged only by the fact that one of the moving crew had some experience driving vans and navigated the narrow passage. If another renter decided to park a car while he/she gathered items from their own lockers, it would be an impossible task.
On Thursday morning, we moved eagerly out of the cheap hotel where we had stayed for five days into the never-been-lived-in apartment with its lovely and restful views of the wooded ravine between the unit and the club house toward the front of the complex. No furniture to speak of as yet, just suitcases, some clothes in boxes, computers and files. After clicking the car through the electronically controlled gate, we drove over a little bridge into a more wooded area—a little like a welcome transition point between busier and quieter worlds.
By Friday, we were ready to empty the storage locker, and Randall began looking for a moving crew and a 12-foot van. The warehouse manager of the company where Randall was beginning his new work thought he could get some helping hands rallied by 2 p.m. Saturday, but finding a 12-foot moving van in the whole Atlanta area seemed to be an impossible task. Finally, Randall located a 12-footer about twenty minutes away from the apartment and made a reservation through the central call system. Just to make sure, he phoned the local number. Indeed, there was a 12-foot truck available.
The next morning, however, as we were preparing to leave with our trusting GPS handy, the cell phone rang. A voice informed my son that the 12-footer had been double-booked; it would be a matter of first-come, first-served. "Do you not have anything else?" Randall inquired. Well, there was a 26-footer on the lot, but that was all.
My son, weary from moving, weary from all those stressors he had tallied while driving cross-country in the first 26-footer, weary from chaos and living without access to his possessions for a week in a hotel room, weary from the challenges of starting a new job, groaned most reluctantly. He guessed he could take the 26-footer if it came to that. I could tell by his tone of voice that this was the last thing he wanted to drive in busy Saturday afternoon traffic. I guessed he was also wondering about how in the world he would back that huge truck into that narrow alleyway.
While we were on the highway, not feeling great about racing to beat out another potential renter, his cell phone rang again; the first-come had been first-served and was already driving away in the truck. When we arrived, indeed, there was nothing else in the parking lot but a 26-foot yellow Penske moving van. "At least it has a hydraulic lift," I said to my son, trying to be upbeat and positive for him; I had watched the rental employee demonstrate how to raise and lower the back platform.
Sometimes the things we don't want are the very gifts God gives us in his love, understanding our fatigue, understanding that our limitations are enlarged when we are tired beyond words. Having driven all around these unfamiliar roads while running errands and dropping dress suits and shirts off at the cleaners, after spending many a lost hour looking for resale shops and hardware stores, I knew that Industrial Peachtree Street was not as trafficked as the major highways. Randall plugged in his GPS and we trucked without incident past Jimmy Carter Highway to where the storage lockers were located.
Randall paused the big truck at the entrance, just pulling off the street. Fortunately, no random cars were parked in front of the storage lockers and one of the boats may have been moved. Having followed in the Jeep, I maneuvered out of the way of any oncoming traffic. Randall got out to plot his parking strategy, and in that moment, the gentleman who had come out of the office (and who I learned was filling in at the last moment for his friend who owned the storage company) got into the cab and with an efficient turn and another twist, smoothly back the 26-footer into the alleyway without any scraping or any banging.
The moving guys arrived, tested the hydraulic lift, filled the back of the Jeep with one more load, and I took off to buy a bunch of cold-water bottles for the day's duration, then made plans to meet them back at the apartment. It was soon clear to Randall that there would not have been enough room in the 12-footer for all his possessions. That would have required two trips at the end of an already exhausting moving day. I believe, theologically, that this is called prevenience—God acts ahead of man's plans. As far as we could tell, the only available rental truck in Atlanta was 26-feet long, large enough for all the contents of the storage locker. The last-minute day worker had spent the earlier part of his life driving and backing up trucks. How provident!
How frequently at the end of the weary seasons of our lives does God evidence his care and provision and love with something we don't want, don't know how we will move, and are certain we can't maneuver without disaster. But He takes care of all the details, planning ahead, making His schemes plain (at least in the looking back). A verse written out in my prayer journal perhaps needs amplification, but then again, this story may be plain enough. Psalm 119:107:
I have suffered much, O Lord. Restore my life again, just as you promised.
The 26-footer certainly was surety on the promise that was to come, that always-wanted, ever-longed-for reality of human restoration.
---
Award-winning author Karen Mains has long had an interest in spiritual formation and the obedient Christian walk. She has written about the God Hunt in her book by the same name, The God Hunt: The Delightful Chase and the Wonder of Being Found. A hardback copy can be ordered from Mainstay Ministries for $10.00 plus $4.95 shipping and handling. Contact Karen at info@mainstayministries.org and she will be happy to autograph a copy for you.
Karen continues to write content for her Christian blog, "Thoughts-by-Karen-Mains." In so doing, she desires to touch the lives of Christian women and men and help them find ways to walk closer with the Lord Jesus Christ. In addition, through silent retreats, spiritual teaching, women's retreats, Christian vacation opportunities, and other ministry activities, Karen helps each Christian woman and man receive vital spiritual food.
Through her Hungry Souls ministry, Karen serves as a spiritual coach to many Christian women and men, and teaches a mentor-writing class. And, through the Global Bag Project, she is working to develop a network of African women who sew exquisite cloth reusable shopping bags, Africa bags. This micro-finance women opportunity helps provide a much-needed sustainable income for struggling African families. For more information on this critically important project, please click here.
For decades, Karen and her husband, David, have served God through religious communications—radio, television, and print publication. They are the co-authors of the Kingdom Tales Trilogy: Tales of the Kingdom, Tales of the Resistance, and Tales of the Restoration. To find many valuable resources for pastors and congregations at the Mainstay Ministries main website, please click here.
Likewise, pastors will find special resources to help them prepare effective, life-transforming Sunday sermons by visiting David Mains' website by clicking here.
Share this Article