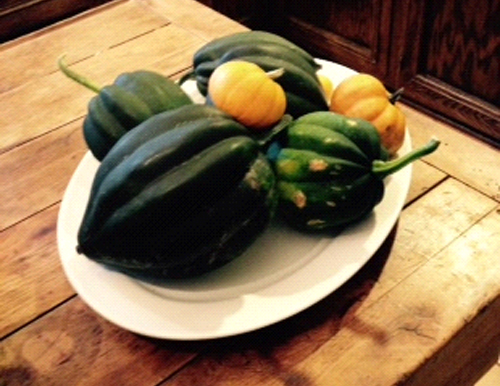 After being gone for three weeks helping one of my adult kids through a life crisis, I walked through my sadly neglected garden. I could hardly bear to check it out. It has been left on its own this entire summer—few vegetables planted, no weeding done. I observed neglect rioting all over this 3/4-acre spot. A gardening friend asked me last year a question I have often asked myself: "How much garden is too much garden?"
Obviously, too much garden is the one you can't take care of yourself after the friend who came up seasonally from Oaxaca, Mexico was unable to make this transit due to the cancer occurrence in his wife. Cirilo lived with us from March through October, and in return he did the lawn and gave me two hours of free gardening time. Then when he had extra hours, I hired him to do the rest. After his brilliant maintenance, last season, the garden looked mature and brilliantly beautiful. Due to physical problems this year and family distresses, I have done nothing—literally nothing in the yard.
Then during my sad excursion in the back yard, my eye caught the sight of a vine in the herb bed—What? Four acorn squash, spontaneously self-planted, hid under the yellowing leaves. Neglect has always been my foe, but sometimes good things burgeon in the places life prevents us from tending. Today I prayed, "Oh, God, help me to see all the gifts along the way that grow despite my inability to tend them. Help me to remember that Your life is always burgeoning despite the hard circumstances that sometimes demand my full attention."
We'll eat the squash when I come back from traveling again next week. In fact, there's enough for company dinner. That's bounty from a neglected land.
---
Award-winning author Karen Mains has long had an interest in spiritual formation and the obedient Christian walk. She has written about the God Hunt in her book by the same name, The God Hunt: The Delightful Chase and the Wonder of Being Found. A hardback copy can be ordered from Mainstay Ministries for $10.00 plus $4.95 shipping and handling. Contact Karen at info@mainstayministries.org and she will be happy to autograph a copy for you.
Karen continues to write content for her Christian blog, "Thoughts-by-Karen-Mains." In so doing, she desires to touch the lives of Christian women and men and help them find ways to walk closer with the Lord Jesus Christ. In addition, through silent retreats, spiritual teaching, women's retreats, Christian vacation opportunities, and other ministry activities, Karen helps each Christian woman and man receive vital spiritual food.
Through her Hungry Souls ministry, Karen serves as a spiritual coach to many Christian women and men, and teaches a mentor-writing class. And, through the Global Bag Project, she is working to develop a network of African women who sew exquisite cloth reusable shopping bags, Africa bags. This micro-finance women opportunity helps provide a much-needed sustainable income for struggling African families. For more information on this critically important project, please click here.
For decades, Karen and her husband, David, have served God through religious communications—radio, television, and print publication. They are the co-authors of the Kingdom Tales Trilogy: Tales of the Kingdom, Tales of the Resistance, and Tales of the Restoration. To find many valuable resources for pastors and congregations at the Mainstay Ministries main website, please click here.
Likewise, pastors will find special resources to help them prepare effective, life-transforming Sunday sermons by visiting David Mains' website by clicking here.
Share this Article