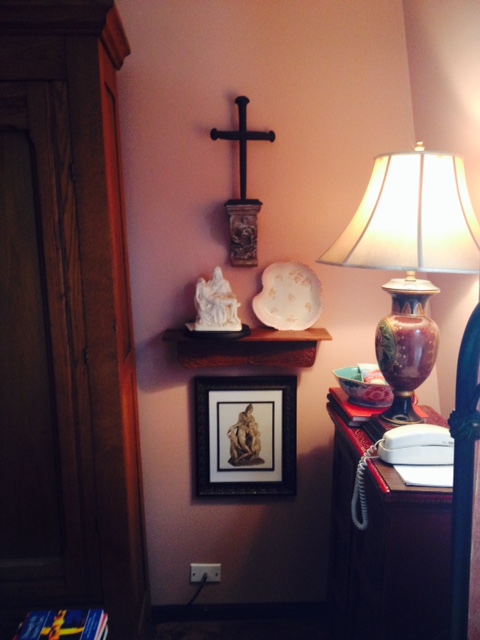 On my side of the bed, in the corner beside the old armoire a friend sold me for $200 some 40 years ago, I've mounted a small assemblage including a cross made of nails, a shelf with a lovely figure copying Michelangelo's Pietà, which is in St. Peter's Basilica in Rome, and a framed print of the Florentine Pietà in the Museum of the Duomo Cathedral. One final Pietà, the Rondanni Pietà, is in Milan, and is reputedly the last piece of marble Michelangelo worked on—some say six days before his death. I have as yet to find a representation of this that will complete my little devotional corner, the place where I rest my eyes first thing in the morning or before falling to sleep at night.
I've been to Rome and Florence and Milan and studied these works—sometimes weeping, sometimes amazed, sometimes intellectually perplexed—but mostly profoundly stunned by the artistry and the precision of chiseling spiritual realities into hard and sometimes, as in the case of the Duomo Pietà, uncooperative marble. I've written a book contemplating the Pietàs in life and in art, wanted badly to title it Holding the Broken Body of Christ, but the publishers prevailed, and, without consulting its author, named it Comforting One Another.
However, when David's friend (as referred to in the previous blog post) took upon himself the complicated task of upgrading our Internet service, a wire was drilled through the wall into our bedroom above the baseboard beneath my Pietà Meditation corner. Not only did this connecting outlet intrude, but ugly, snaking black wires coiled on the floor beneath the cross of nails, and two boxes, one with flashing blue lights and the other with an eerie blue glow, hunkered down on this coiling snake-pit of technology. Though I admitted it was a rather fitting visual metaphor, the profane marring the sublime, I simply was not going to stand for my aesthetic and spiritual corner that has brought me so much solace—particularly since I also am a mother who has lost a son to death—to be overcome by technology. Certainly not in the two weeks before Easter!
So David's friend was hauled back. He graciously pulled out the armoire from the wall, shifted the coiling black technology-snakes, the blinking blue light-box, the glowing eerie server (E.T. in miniature come to visit my bedroom), the power strip with all its plugs, behind the cabinet, plugged everything in, and all the technological devices were back online again—the phones, the PC, the iPad, Netflix in the basement TV room—all these modern devices that claim our time, clamor for attention, and rob us of meditative moments because sometimes our brains just become enthralled with all these bouncing demands.
Sometimes, get-things-done people are not always sensitive to the aesthetic mysteries, to the meanings beneath the meanings, to the numinous, to the sacramental or to mystery. Unfortunately, the artist and the technocrat often clash, their values and their worlds collide.
But not in my bedroom, not in the bed where I often spend mid-night waking hours in intercessory prayer or in heart-lifting praise. And not in my Pietà Corner.
---
Award-winning author Karen Mains has long had an interest in spiritual formation and the obedient Christian walk. She has written about the God Hunt in her book by the same name, The God Hunt: The Delightful Chase and the Wonder of Being Found. A hardback copy can be ordered from Mainstay Ministries for $10.00 plus $4.95 shipping and handling. Contact Karen at info@mainstayministries.org and she will be happy to autograph a copy for you.
Karen continues to write content for her Christian blog, "Thoughts-by-Karen-Mains." In so doing, she desires to touch the lives of Christian women and men and help them find ways to walk closer with the Lord Jesus Christ. In addition, through silent retreats, spiritual teaching, women's retreats, Christian vacation opportunities, and other ministry activities, Karen helps each Christian woman and man receive vital spiritual food.
Through her Hungry Souls ministry, Karen serves as a spiritual coach to many Christian women and men, and teaches a mentor-writing class. And, through the Global Bag Project, she is working to develop a network of African women who sew exquisite cloth reusable shopping bags, Africa bags. This micro-finance women opportunity helps provide a much-needed sustainable income for struggling African families. For more information on this critically important project, please click here.
For decades, Karen and her husband, David, have served God through religious communications—radio, television, and print publication. They are the co-authors of the Kingdom Tales Trilogy: Tales of the Kingdom, Tales of the Resistance, and Tales of the Restoration. To find many valuable resources for pastors and congregations at the Mainstay Ministries main website, please click here.
Likewise, pastors will find special resources to help them prepare effective, life-transforming Sunday sermons by visiting David Mains' website by clicking here.
Share this Article