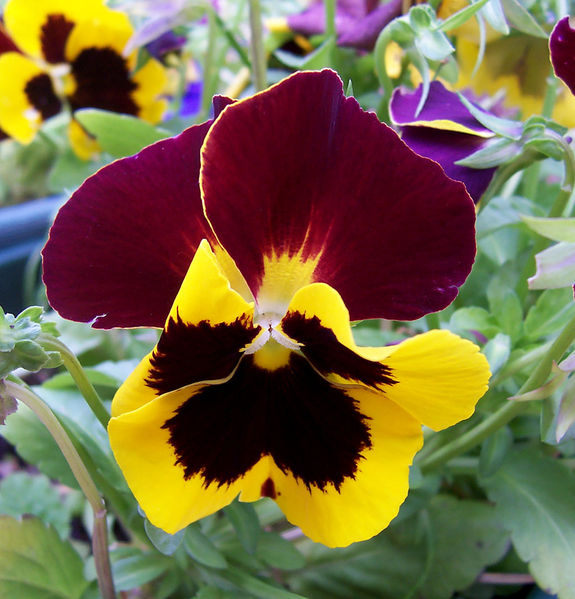 Pansies are the multi-colored flowers that look as though they have little faces. They are perfect for cool April days in the Chicago area, because they thrive here when the temperatures are low and the ground is beginning to warm for spring plantings.
I brought several flats from Home Depot, ran into a friend who works in the garden department, chatted a little, and she recommended I also pick up a dozen or so of the miniature narcissi that are just beginning to push green topknots out of their garden pots.
Growing things are just starting to push up from the ground, to form buds on the trees. David and I spent the Saturday morning before Easter Sunday, traditionally known as part of the Triduum (Maundy Thursday, Good Friday, Holy Saturday), clearing out the west driveway garden, resetting the low stone wall that the snowplow had dislodged, raking and clipping and burning the refuse.
Because nothing is blooming yet, it feels important to me to plant the pansies in the garden pots that will eventually be filled with bright red geraniums and brilliant bloomers come summer.
Pansies, for me right now, are a promise that spring is coming.
After our son died a year and a half ago from an acute and rare type of lymphoma, I had one of those low moments when I said to David something about seeing Jeremy again—this bedrock answer of the Christian to the dilemma of death—then strung on a discouraging disclaimer, "… if there is a heaven." Moments of despair haunt the grieving through their healing process. They are normal, but I'm grateful that the lifelong practice of faith preempts the lingering of these dark thoughts that want to come and stay. But still … how do we prove that Heaven even exists? It is an unverified hope.
"Well," said my husband, a man who spends hours per day in prayer and Scripture study, "that's what the Resurrection proves—that Heaven is."
I've faced death before, but never the death of a child. David's words, however, struck a chord. Of course! (DUH!) Christ's Resurrection proves that anything is possible. What a thought for a grieving mother, hit now and then by waves of unexpected pain. Proof is what the record of the Easter story is about. Enough people saw the risen Christ, heard His voice, dined with Him, walked the road; these are the eyewitnesses. That powerful reality stunned their lives, radically transformed their desires and set a movement of belief rolling out through history that has not been stopped either by the inadequacies of its proponents or the resistance of the Evil One or the persecution from other faiths or government authorities. What groups like ISIS don't realize is this: The blood of the martyrs is the seed of the Church.
The pansies I need to plant this afternoon are in some way witness to that—spring is coming as it always comes. Renewal is in the earth beneath our feet. The dead come alive. Resurrection is proof that something exists beyond our human capacities.
These small bright plants turn their faces toward the sun; as do we who have planted precious bodies beneath the soil. There is Something beyond us all that we cannot understand but that we know. Christ is risen!
… that you may know what is the hope to which he has called you, what are the riches of his glorious inheritance in the saints, and what is the immeasurable greatness of his power in us who believe, according to the working of his great might which he accomplished in Christ when he raised him from the dead and made him sit at his right hand in the heavenly places, far above all rule and authority and power and dominion, and above every name that is named, not only in this age but also in that which is to come…" —Ephesians 1:18b-21
---
Award-winning author Karen Mains has long had an interest in spiritual formation and the obedient Christian walk. She has written about the God Hunt in her book by the same name, The God Hunt: The Delightful Chase and the Wonder of Being Found. A hardback copy can be ordered from Mainstay Ministries for $10.00 plus $4.95 shipping and handling. Contact Karen at info@mainstayministries.org and she will be happy to autograph a copy for you.
Karen continues to write content for her Christian blog, "Thoughts-by-Karen-Mains." In so doing, she desires to touch the lives of Christian women and men and help them find ways to walk closer with the Lord Jesus Christ. In addition, through silent retreats, spiritual teaching, women's retreats, Christian vacation opportunities, and other ministry activities, Karen helps each Christian woman and man receive vital spiritual food.
Through her Hungry Souls ministry, Karen serves as a spiritual coach to many Christian women and men, and teaches a mentor-writing class. And, through the Global Bag Project, she is working to develop a network of African women who sew exquisite cloth reusable shopping bags, Africa bags. This micro-finance women opportunity helps provide a much-needed sustainable income for struggling African families. For more information on this critically important project, please click here.
For decades, Karen and her husband, David, have served God through religious communications—radio, television, and print publication. They are the co-authors of the Kingdom Tales Trilogy: Tales of the Kingdom, Tales of the Resistance, and Tales of the Restoration. To find many valuable resources for pastors and congregations at the Mainstay Ministries main website, please click here.
Likewise, pastors will find special resources to help them prepare effective, life-transforming Sunday sermons by visiting David Mains' website by clicking here.
Share this Article