Have you ever gone on a God Hunt? A God Hunt begins when you teach yourself to look for God's hand at work in the everyday occurrences of your life. Here's one of my personal God Hunt Sightings:
I hate it when my prayer journal takes on the appearance of being not much more than a place to record the lists of all the things that need to get done. But during the season of Christmas preparations, that's pretty much what it looks like. (Sorry, God!)
Generally, I write out Scriptures in my journal that impact me, give me pause, move me deeply in some way, demand a change in lifestyle or attitude. Devotional books are rich resources for quotes that feed my mind and soul and I copy these out as well, so as to not loose them in the busyness of the days. Not, however, during particularly busy holidays; I'm too tired to be erudite.
However, in going back over the lists of the last year, 2012, I am struck by how enabled I was to accomplish so much:
A week of decorating the house so that it looked the way I really wanted it to look.
Christmas Eve dinner and the day-after-Christmas family meal.
Company coming and going.
Our small group.
Fires in the fireplace.
Time to think and sit and be still.
Holiday music in the house night and day.
Tree lights and small spots lighting up decorated corners.
The outside pots filled with greens and the mailbox area looking wonderful.
Bird seed in the feeders and a few related presents this year that I had money enough to buy—found a bird feeder that really does baffle the squirrels so I gave one to each family group along with enough seed to fill it for one feeding round.
All and all, it was an exquisite season with just the right balance between people and activities and time for spiritual solace and quietude. I noted when David said in passing, "In one way, it's pretty remarkable: the whole world is marking this one night, even when they don't believe of a small child born two centuries back." We agreed that it was pretty remarkable.
Then there was the announcement of the pregnancy of William and Kate. All England rejoiced and much of the world sympathized with news of Kate's discomfort due to unusual nausea. Excitement was expressed and well-wishes came from distant corners. How we, people of the republic, love a royal birth. What a fitting incident to inform the season that prepares for Christmas Eve and Christmas Day. The whole world is celebrating something it doesn't quite understand; the en-goding of life with Life.
This was the year when I finished things I had thought about and started. Found those Christmas stockings whipped up by a friend and stored away. Found the box of crocheted doilies that I had time (and a sewing machine) to stitch into ruffles for the stockings. Took an old abandoned and unfinished canvas I had picked up at a Goodwill store last April and finally gave it a treatment that made it look complete and hang-able above the sewing machine table. In the fall, I had turned the back downstairs basement room into a sewing center so several of us can work on fabric projects at the same time and share our lives while our hands are busy.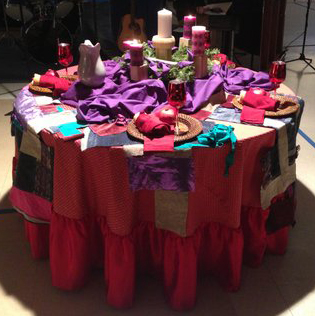 Took the unfinished patchwork pieces and assembled them on the beautiful homemade cloth for the Advent table for our communion time at church. (See photo above.) We wound purple cloth around the wreath, found a new pitcher and four stunning ruby-red goblets. Each round charger that held bread wrapped in wine linen and a glowing goblet also held one round pomegranate, a symbol in some traditions of the life of Christ.
As I looked at the lists, I realized that this season had been so full (except it didn't feel full) it had almost been host to four Christmases. Gifts, gifts, gifts were all around me.
I sat in the sewing room in the chair I had paid $2.50 for in a resale shop—and the outrageous price of $250 to have reupholstered!. The only light was the one by the bed, which also was finished: dressed with a striped bedskirt (the mother fabric of the Chritmas stockings with their crocheted ruffles), a red quilted coverlet, a wild assortment of patterned pillows. A glow seemed to emanate from the abandoned canvas I had finished with glued strips of crinkled copper paper and swipes of cement floor paint leftover from finishing that room's bare concrete floor. The copper was catching the light from the little lamp and tossing it back. It was an evening moment of pure peace.
Perhaps this is some of what God feels, having orchestrated the original Christmas event, and looking down at our often misplaced efforts to replicate it (think of all those Christmas pageants) or to celebrate it.
Somehow, this year, despite all the lists, my Christmas was just right. Nothing left undone that needed to be done. Perfect gifts for the ones I love. The house shining inside and outside with light. At last, at almost 70 years of age (January 18th), I have figured it out. With God's help, which I have recorded on every page and on every list in my prayer journal, we had a perfect season. A perfect Christmas—and I have never said that before.
I spy God!
————————————————————————————–
Award-winning author Karen Mains has long had an interest in spiritual formation and the obedient Christian walk. She has written about the God Hunt in her book by the same name, The God Hunt: The Delightful Chase and the Wonder of Being Found. A hardback copy can be ordered from Mainstay Ministries for $10.00 plus $4.95 shipping and handling. Contact Karen at info@mainstayministries.org and she will be happy to autograph a copy for you.
Karen continues to write content for her Christian blog, "Thoughts-by-Karen-Mains." In so doing, she desires to touch the lives of Christian women and men and help them find ways to walk closer with the Lord Jesus Christ. In addition, through silent retreats, spiritual teaching, women's retreats, Christian vacation opportunities, and other ministry activities, Karen helps each Christian woman and man receive vital spiritual food.
Through her Hungry Souls ministry, Karen serves as a spiritual coach to many Christian women and men, and teaches a mentor-writing class. And, through the Global Bag Project, she is working to develop a network of African women who sew exquisite cloth reusable shopping bags, Africa bags. This micro-finance women opportunity helps provide a much-needed sustainable income for struggling African families. For more information on this critically important project, please click here.
For decades, Karen and her husband, David, have served God through religious communications—radio, television, and print publication. They are the co-authors of the Kingdom Tales Trilogy: Tales of the Kingdom, Tales of the Resistance, and Tales of the Restoration. To find many valuable resources for pastors and congregations at the Mainstay Ministries main website, please click here.
Likewise, pastors will find special resources to help them prepare effective, life-transforming Sunday sermons by visiting David Mains' website by clicking here.
Share this Article