Have you ever gone on a God Hunt? A God Hunt begins when you teach yourself to look for God's hand at work in the everyday occurrences of your life. Here's one of my personal God Hunt Sightings:
I loved the signs in Boynton and McKey's Food Co. in Camden, Maine where David and I stopped for breakfast. This café, a former drug store and apothecary, has become "everyone's favorite breakfast joint" (according to one travel writer). One sign read: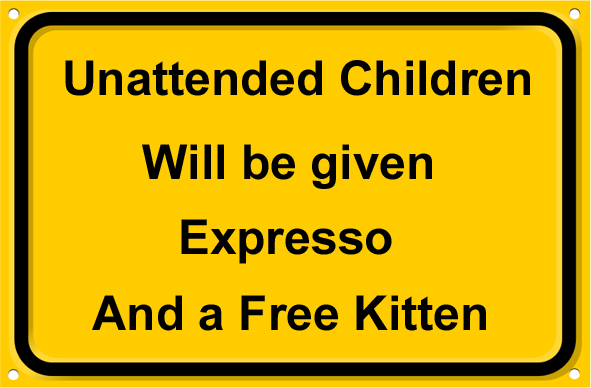 The other one declared: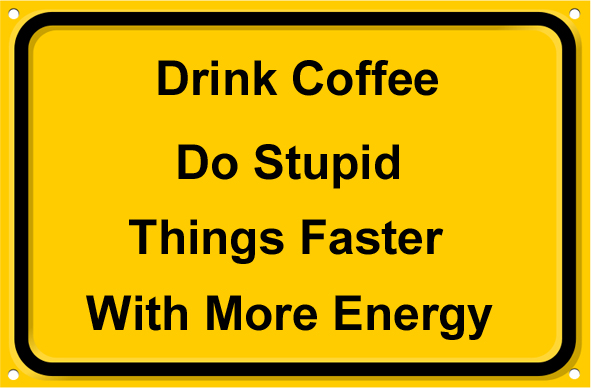 David and I planned a spring break away from the office for the last Saturday of March. So he used our time-share plan and exchange points at a getaway resort in Rockland, Maine, but after the booking was done, we looked seriously at our calendars and said, "Nope. Can't do that. We'll miss Easter Sunday." On the Monday after Easter Sunday, scheduled to fly out of O'Hare with our standby passes, we looked over at one another after waking and said, "Nope. Can't do that. Let's leave Tuesday instead." We were both so tired, just the thought of packing another suitcase to go somewhere—anywhere—was more than either of us could manage.
We arrived at the Samoset Resort just as the sun had set and evening was settling on that coastland. Consequently, waking up in the morning (cold but sunny) and seeing Penobscot Bay down the rolling lawn outside our window, with the Atlantic Ocean beyond that was a delight. We spent two days wandering the fifteen-mile-or-so radius from our hotel, which is a joy in the gorgeous geography of Main's Midcoast region. There were no tourists—it was too soon for that season—so shopkeepers were delighted to have potential buyers step into their empty stores. They were all gregarious, helpful in answering our questions—and many were garrulous.
In Camden, which is a quintessential New England seaport with white dowager-like homes climbing the hills above Camden Harbor, which we clearly viewed because none of the trees had budded, everything was suspended in a long wait for Spring; the Harbor itself embracing ships with sheathed masts and exquisite church spires lifting the eye of the viewer toward the skies. We discovered the Camden waterfalls that ran beneath the main streets to tumble down toward the bay, looking ever so much as though the houses and shops were sitting on top of the plunging spew as it made its way over the rocks to divide into several branches before melding with the harbor.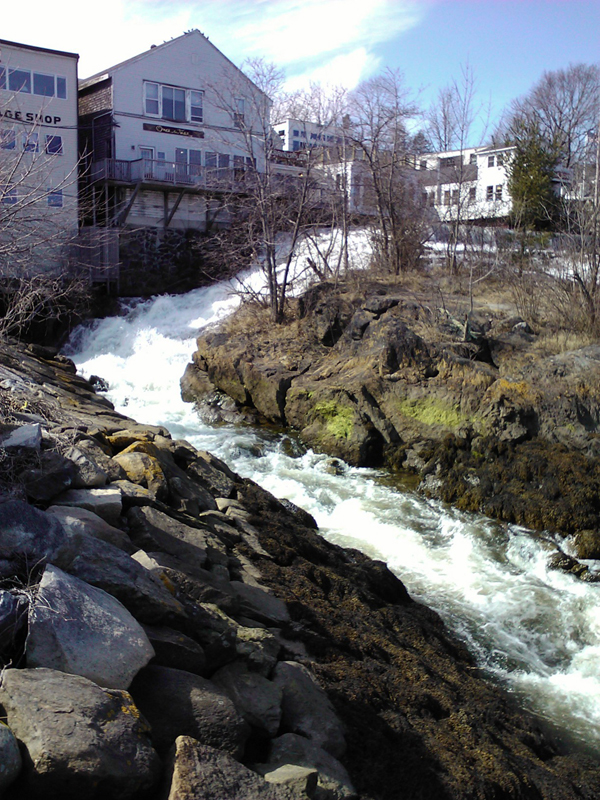 We drove up the Mt. Battie State Park roadway for a breathtaking scenic view of Camden and its Harbor. Surely, this was one of the most picturesque sites in all of Maine. However, as one Maine resident exclaimed while we were passing by, "That Nor' easter blowing in. Just chills you through the bones." The weather was beautifully sunny but the temperature was bone-rattling cold.
By rights, David and I shouldn't be able to travel like this, but due to the grace of a benevolent Heavenly Father (and generous friends), we fly free (for this year), stay in gold-star inns (due to timeshare weeks that were given to the ministry) and hold to a shopping philosophy where we enjoy the pleasures of looking but don't purchase anything (except for some pertinently worded greeting cards and a small box of eight Maine chocolates).
However, we get to see the beauty of this world, its exquisite longingness, its evocation of nostalgia. As one of it's natives, the Putlizer Prize-winning poet, Edna St. Vincent Millay, wrote in the poem, God's World:
 "…O Lord, I fear
Thou'est made the world too beautiful this year …"
The Psalmist hadn't visited Maine, but he was all too familiar with the transcendent that gets evoked when we discover unexpectedly beautiful places.
 "You visit the earth and water it abundantly,
You make it very plenteous; the river
of God is full of water …
You drench the furrows and smooth out the ridges;
with heavy rain you soften the ground and bless its increase…
May the meadows cover themselves with flocks; and the valleys cloak
themselves with grain; let them shout for joy and sing."
—portions from Psalm 65
Indeed, even in the season before the coming spring, when not a bud has popped out on a branch or limb, and we shudder in the sunshine with the north east wind blasting that unique light that occurs when land and sea combine, we too fear that Lord, Lord you've made the world too beautiful this year.
I spy God!
————————————————————————————–
Award-winning author Karen Mains has long had an interest in spiritual formation and the obedient Christian walk. She has written about the God Hunt in her book by the same name, The God Hunt: The Delightful Chase and the Wonder of Being Found. A hardback copy can be ordered from Mainstay Ministries for $10.00 plus $4.95 shipping and handling. Contact Karen at info@mainstayministries.org and she will be happy to autograph a copy for you.
Karen continues to write content for her Christian blog, "Thoughts-by-Karen-Mains." In so doing, she desires to touch the lives of Christian women and men and help them find ways to walk closer with the Lord Jesus Christ. In addition, through silent retreats, spiritual teaching, women's retreats, Christian vacation opportunities, and other ministry activities, Karen helps each Christian woman and man receive vital spiritual food.
Through her Hungry Souls ministry, Karen serves as a spiritual coach to many Christian women and men, and teaches a mentor-writing class. And, through the Global Bag Project, she is working to develop a network of African women who sew exquisite cloth reusable shopping bags, Africa bags. This micro-finance women opportunity helps provide a much-needed sustainable income for struggling African families. For more information on this critically important project, please click here.
For decades, Karen and her husband, David, have served God through religious communications—radio, television, and print publication. They are the co-authors of the Kingdom Tales Trilogy: Tales of the Kingdom, Tales of the Resistance, and Tales of the Restoration. To find many valuable resources for pastors and congregations at the Mainstay Ministries main website, please click here.
Likewise, pastors will find special resources to help them prepare effective, life-transforming Sunday sermons by visiting David Mains' website by clicking here.
Share this Article