Have you ever gone on a God Hunt? A God Hunt begins when you teach yourself to look for God's hand at work in the everyday occurrences of your life. Here's one of my personal God Hunt Sightings: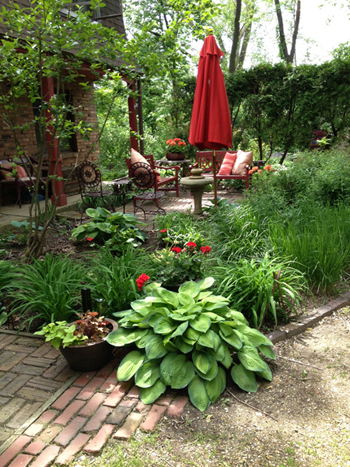 The evening after I had finally wrestled with the front patio garden making it spring clean, I invited my husband to sit in the cool of the dark. The weeds had been hoed, the bricks raked of fallen limbs and twigs. The planters had been filled with bright red geraniums, the red benches hosed and scrubbed. David had repaired the broken brace of the red umbrella. My unwieldy fountain (which is now leaking; last summer it was not bubbling) was plashing and splashing. The pillows a friend helped me sew were plumped and inviting. The night air was cool and comforting.
Suddenly, I started to laugh. The "Poston" antique bricks at our feet had been hauled from our home in Oak Park, Illinois some almost forty years ago. What besides deprivation had possessed me?
"Why are you laughing?" asked my husband.
"I can't believe I made you haul all those bricks from Oak Park."
Everything is possible, even the improbable, when you are in the twenties and thirties. But I am grateful for this touch of absurd madness, because I love the old brick rose of the patio and the walk leading to our front door. These bricks have been the key to our outdoor color scheme, deep rich brown on the house accented by shocking spots of red and maroon and wine.
In fact, when we moved to this house, which was three years old at the time, stacks of grey cement bricks and Chicago-style bricks were piled by the outside chimney. Through the years I have snitched them time after time. David laid a small brick square so I wouldn't have to stand in mud while working at a potting table. I'm forever propping wood table-legs up on bricks to keep them from moldering in wet earth or piling bricks to elevate a large pot above the grasses or hosta, which will eventually hide them without this intervention.
The brick pile has been an unending gift to me through these years. I've neither paid for the bricks nor been wanting when their services were required.
I have plans for the grey cement bricks, of which we have quite a few. One of the back garden borders would look great with some edging, and this pile has been appointed for and assigned to that task. Hopefully, we'll complete it during this growing season.
In nothing else I do, do I feel so completely inhabited by God.
 "Sing to the Lord with thanksgiving;
make music to our God upon the harp.
He covers the heavens with clouds and
prepares rain for the earth;
He makes grass to grow upon the mountains and
green plants to serve mankind.
He provides food for flocks and herds and
for the young ravens when they cry.
He is not impressed by the might of a horse,
he has no pleasure in the strength of a man;
But the Lord has pleasure in those who fear him,
in those who await his gracious favor."
—Psalm 147:7-13
I spy God!
————————————————————————————–
Award-winning author Karen Mains has long had an interest in spiritual formation and the obedient Christian walk. She has written about the God Hunt in her book by the same name, The God Hunt: The Delightful Chase and the Wonder of Being Found. A hardback copy can be ordered from Mainstay Ministries for $10.00 plus $4.95 shipping and handling. Contact Karen at info@mainstayministries.org and she will be happy to autograph a copy for you.
Karen continues to write content for her Christian blog, "Thoughts-by-Karen-Mains." In so doing, she desires to touch the lives of Christian women and men and help them find ways to walk closer with the Lord Jesus Christ. In addition, through silent retreats, spiritual teaching, women's retreats, Christian vacation opportunities, and other ministry activities, Karen helps each Christian woman and man receive vital spiritual food.
Through her Hungry Souls ministry, Karen serves as a spiritual coach to many Christian women and men, and teaches a mentor-writing class. And, through the Global Bag Project, she is working to develop a network of African women who sew exquisite cloth reusable shopping bags, Africa bags. This micro-finance women opportunity helps provide a much-needed sustainable income for struggling African families. For more information on this critically important project, please click here.
For decades, Karen and her husband, David, have served God through religious communications—radio, television, and print publication. They are the co-authors of the Kingdom Tales Trilogy: Tales of the Kingdom, Tales of the Resistance, and Tales of the Restoration. To find many valuable resources for pastors and congregations at the Mainstay Ministries main website, please click here.
Likewise, pastors will find special resources to help them prepare effective, life-transforming Sunday sermons by visiting David Mains' website by clicking here.
Share this Article