Have you ever gone on a God Hunt? A God Hunt begins when you teach yourself to look for God's hand at work in the everyday occurrences of your life. Here's one of my personal God Hunt Sightings:
While bundling three little grand kids into their car seats in the back of their parent's car, I bent down to talk a little with Nehemiah, age three. I love his fat cheeks and his happy personality (at least around us—grandparents don't have to deal too much with temper tantrums). "I love you," I said after he was buckled in.
His answer: "I don't love you."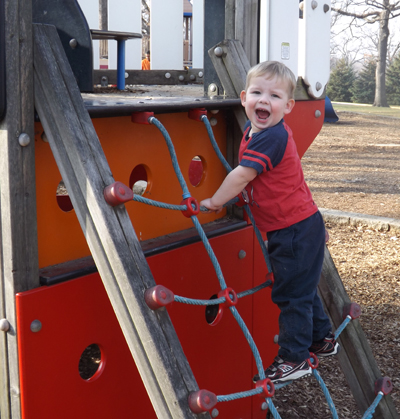 Now I have raised three boys of my own, and David and I have five grandsons. I know that there are phases in boys' lives when they don't want a grandmother nuzzling their cheeks and whispering lovey-dovey words into their ears. Consequently, when Nehemiah replied to me, "I don't love you," I didn't take it personally. He's only three years old, after all. He may mean it at the moment, but he doesn't mean it permanently.
He'll love me again when I pull out the new book I've ordered for him titled Spots. On the first page, there's one spot. The instructions say to push the spot twice. On the next page there are two spots (and so forth all through the book.) So I'm not at all bent out of shape with his slightly rebellious three-year-old declaration of non-love.
I wonder if this isn't more like God than unlike God. We tend to think when we have given ourselves to some act of rebellion that He is shocked with our behavior. I suspect it's more like that of an ancient Grandfather with one of his young and immature off-springs. He knows we'll get it sorted out eventually, that we'll begin to remember all the good gifts He's given to us, and that this little tantrum, this nasty shout of disbelief or rebellion can be chalked up to immaturity. After all, we're only 18—or 28—or 38—or 48 … you get the idea. He knows we'll get over it.
We'll get over it pretty soon, in fact, because He also knows He's brought us that delightful book. (Have you been reading it?).
I spy God!
————————————————————————————–
Award-winning author Karen Mains has long had an interest in spiritual formation and the obedient Christian walk. She has written about the God Hunt in her book by the same name, The God Hunt: The Delightful Chase and the Wonder of Being Found. A hardback copy can be ordered from Mainstay Ministries for $10.00 plus $4.95 shipping and handling. Contact Karen at info@mainstayministries.org and she will be happy to autograph a copy for you.
Karen continues to write content for her Christian blog, "Thoughts-by-Karen-Mains." In so doing, she desires to touch the lives of Christian women and men and help them find ways to walk closer with the Lord Jesus Christ. In addition, through silent retreats, spiritual teaching, women's retreats, Christian vacation opportunities, and other ministry activities, Karen helps each Christian woman and man receive vital spiritual food.
Through her Hungry Souls ministry, Karen serves as a spiritual coach to many Christian women and men, and teaches a mentor-writing class. And, through the Global Bag Project, she is working to develop a network of African women who sew exquisite cloth reusable shopping bags, Africa bags. This micro-finance women opportunity helps provide a much-needed sustainable income for struggling African families. For more information on this critically important project, please click here.
For decades, Karen and her husband, David, have served God through religious communications—radio, television, and print publication. They are the co-authors of the Kingdom Tales Trilogy: Tales of the Kingdom, Tales of the Resistance, and Tales of the Restoration. To find many valuable resources for pastors and congregations at the Mainstay Ministries main website, please click here.
Likewise, pastors will find special resources to help them prepare effective, life-transforming Sunday sermons by visiting David Mains' website by clicking here.
Share this Article