Have you ever gone on a God Hunt? A God Hunt begins when you teach yourself to look for God's hand at work in the everyday occurrences of your life. Here's one of my personal God Hunt Sightings: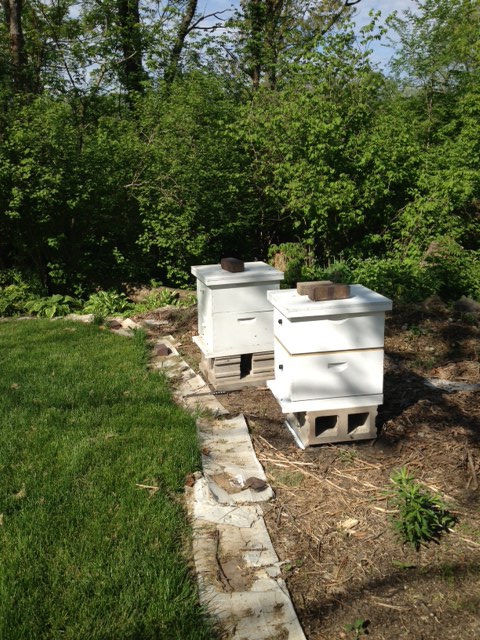 Bee hives early morning. I get up first!
Our bee colony died over the winter. Last summer, grandsons Elias Mains, age 14, and Ayden Timberlake, age 13 and I ventured into the world of apiculture. Our gentle bees produced (in their first year) some two and a half gallons of honey, and though we worked with them all summer and became acquainted with this extraordinary other world that borders on the numinous, none of us received one sting. (And I separate the boxes of the hive supers, pull out the frames, stand with bees swarming around me without suiting up or wearing a hat with a veil.)
So it was sad to hear that our precious colony that had served us so well and delighted all who can to observe did not survive the harsh Chicago winter of this last year. I would have taken that most personally, concluding that we were new apiarists and had done something wrong, but many professional beekeepers also lost whole hives of bees.
The bee population is fragile due to the poisons we use on our crops and grasses, so one of the reasons we are keeping bees is to make sure that the gardens within a five-mile range of our normal worker bee's flight pattern will have these busy golden buzzing creatures to ensure flowers, food and fondness. I actually have become most attached to the whole bee-keeping apparatus and apiculture.
This spring I ordered another hive to match the one we bought last year. We cleared the earth and leveled it, set two smooth pavers on which we stacked two cement blocks (causing some height to keep out skunks), then stacked the hives on these. A friend, Pat Mitchell, who has been tutoring us in things apiary, demonstrated how to take out the queen, uncork her small box cage, stick in a marshmallow so there will be time for the colony to get used to her pheromones before she has eaten her way through the sticky substance. Then he dumped in two colonies of bees—one in one hive, the other in the other.
It was fascinating!
We evened out the frames with last year's honey so that each hive had a similar amount, and then I spent days waiting for the bees to begin darting out and back, and circling around the hive. Dead bees were swept by the drones out of the hive, but there was so little activity that I actually lifted the lid from the supers, moved the top box a little just to make sure they weren't all dead. I could see busy bee heads around the can of sugar water we left in a hole in the top super.
This lack of activity went on day after day. I resisted the urge to sneak a peek into the hive. My anxiety wasn't assuaged by David's frequent question, "See any bees today?"
Yesterday, I spent early morning and evening gardening. The day wasn't any warmer than the few before it, but the temperature was perfect for early tasks—transplanting the lungwort that has gone rampant this year (maybe because of so much bee pollenizing)—moving herbs so they won't crowd each other in the kitchen garden, getting the hoses all hooked to spigots again and making sure there are no leaks that spray excess water in places I am not wanting to water.
It was a happy day. I noticed bees drinking at the ponds that formed on the now-muddy earth. When I glanced at the two bee boxes, I was delighted to see the familiar hive activity that I have come to love because I know it means that healthy bees are doing the work God created them to do—making lively things live.
So the bees are back! What a gift of God this world is—in its spectacles and in its particularities.
One little bee stung me slightly; it was my fault. I picked up my trowel and didn't notice that it was sucking water from its muddy handle. I quickly scraped out the stinger, noticed the syrupy string and watched the poor little creature go wobbling in flight out of sight. I'm sorry. Had I been more careful, you would have had more life to live.
But I am happy to have you and your brothers in my way—underfoot, in the water pools on the earth, on my tools, because it means you all are back. My garden (and my disposition) are all the better for you.
I spy God!
————————————————————————————–
Award-winning author Karen Mains has long had an interest in spiritual formation and the obedient Christian walk. She has written about the God Hunt in her book by the same name, The God Hunt: The Delightful Chase and the Wonder of Being Found. A hardback copy can be ordered from Mainstay Ministries for $10.00 plus $4.95 shipping and handling. Contact Karen at info@mainstayministries.org and she will be happy to autograph a copy for you.
Karen continues to write content for her Christian blog, "Thoughts-by-Karen-Mains." In so doing, she desires to touch the lives of Christian women and men and help them find ways to walk closer with the Lord Jesus Christ. In addition, through silent retreats, spiritual teaching, women's retreats, Christian vacation opportunities, and other ministry activities, Karen helps each Christian woman and man receive vital spiritual food.
Through her Hungry Souls ministry, Karen serves as a spiritual coach to many Christian women and men, and teaches a mentor-writing class. And, through the Global Bag Project, she is working to develop a network of African women who sew exquisite cloth reusable shopping bags, Africa bags. This micro-finance women opportunity helps provide a much-needed sustainable income for struggling African families. For more information on this critically important project, please click here.
For decades, Karen and her husband, David, have served God through religious communications—radio, television, and print publication. They are the co-authors of the Kingdom Tales Trilogy: Tales of the Kingdom, Tales of the Resistance, and Tales of the Restoration. To find many valuable resources for pastors and congregations at the Mainstay Ministries main website, please click here.
Likewise, pastors will find special resources to help them prepare effective, life-transforming Sunday sermons by visiting David Mains' website by clicking here.
Share this Article