Have you ever gone on a God Hunt? A God Hunt begins when you teach yourself to look for God's hand at work in the everyday occurrences of your life. Here's one of my personal God Hunt Sightings: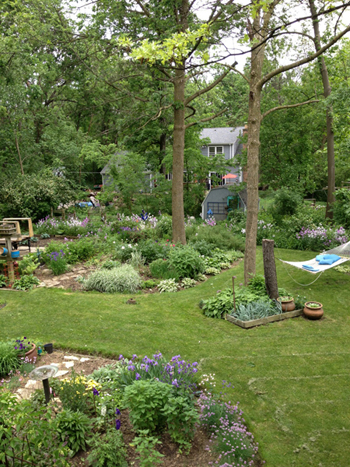 It's rather ironic that the only windows that show the whole glorious vista of the back yard are the double windows in David's study. If I want to check and see what is in new bloom, I run to my husband's study and settle into exalted exultation.
"Oh, look the spring flocks are blooming. The irises are out. The peonies are popping. Look, David, look."
The irony in this is that I am the family gardener. David puts in maybe an hour or so every two weeks, but I am the architect, the hauler, the digger, the composter, the delighter-in-the beauty and in the wonder of it all. Sometimes, I suspect, that if I weren't always taking my husband by the hand, suggesting a garden walk, inviting him to sit with me on the patio, this dear, focused and concentrated man would not notice the panoply of life that is going on in our garden (and which I have worked so hard to achieve, wept and cried in frustration over—literally—and consequently been absolutely amazed by things growing as they are designed to grow.)
Perhaps there is a design in this fact that the only windows that look out over the whole back yard are those in David's study. Perhaps he looks up more than I know and glances at the movable eye-feast that begins in early spring and advances in continual bloom all through the summer. Perhaps that design draws me into his study with the double windows, just to check again, so that I might say, "Oh, David, look, look!"
We need each other: I to see what focused intention accomplishes and David to have me continually demanding that he open his eyes and see. ("See, see, the roses in the front garden hedge are beginning to bloom. Oh, isn't it all beautiful!")
The additional irony is that God put this man and this woman together in this shared life and the greater miracle is that I have become a focused gardener and David is learning to notice (particularly since all he has to do is look up and out.)
Ironies aside, a glance out David's window, a walk on the paths he has mostly laid out for me, the smell of the lilacs which languorously droop over the driveway glider, these beauties evoke prayer—pure prayer. My heart is joined. Selah!
I spy God!
————————————————————————————–
Award-winning author Karen Mains has long had an interest in spiritual formation and the obedient Christian walk. She has written about the God Hunt in her book by the same name, The God Hunt: The Delightful Chase and the Wonder of Being Found. A hardback copy can be ordered from Mainstay Ministries for $10.00 plus $4.95 shipping and handling. Contact Karen at info@mainstayministries.org and she will be happy to autograph a copy for you.
Karen continues to write content for her Christian blog, "Thoughts-by-Karen-Mains." In so doing, she desires to touch the lives of Christian women and men and help them find ways to walk closer with the Lord Jesus Christ. In addition, through silent retreats, spiritual teaching, women's retreats, Christian vacation opportunities, and other ministry activities, Karen helps each Christian woman and man receive vital spiritual food.
Through her Hungry Souls ministry, Karen serves as a spiritual coach to many Christian women and men, and teaches a mentor-writing class. And, through the Global Bag Project, she is working to develop a network of African women who sew exquisite cloth reusable shopping bags, Africa bags. This micro-finance women opportunity helps provide a much-needed sustainable income for struggling African families. For more information on this critically important project, please click here.
For decades, Karen and her husband, David, have served God through religious communications—radio, television, and print publication. They are the co-authors of the Kingdom Tales Trilogy: Tales of the Kingdom, Tales of the Resistance, and Tales of the Restoration. To find many valuable resources for pastors and congregations at the Mainstay Ministries main website, please click here.
Likewise, pastors will find special resources to help them prepare effective, life-transforming Sunday sermons by visiting David Mains' website by clicking here.
Share this Article