Have you ever gone on a God Hunt? A God Hunt begins when you teach yourself to look for God's hand at work in the everyday occurrences of your life. Here's one of my personal God Hunt Sightings: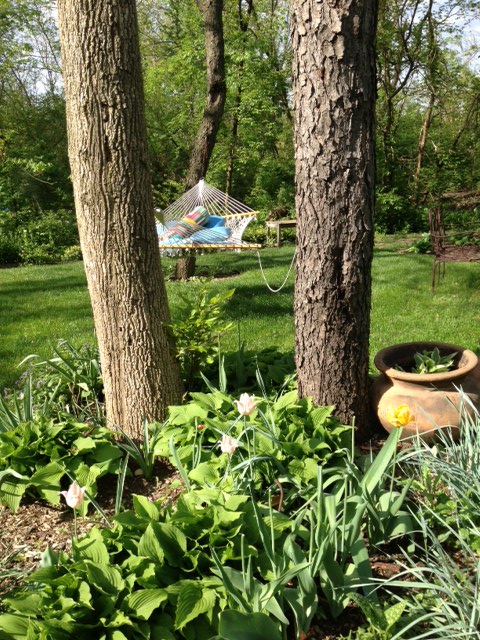 What pleasure $10 brings!
Catnaps after gardening. Swinging at night and looking up at the stars.
 Looking out my dining-room window on the barren March backyard, I saw the string hammock we purchased some 20 years ago, swinging forlornly between the two trees to which it is attached. Through the decades it has gone grey, but today I thought, Oh, I should really get a new hammock. That one looks pretty used.
Believe me, it has been used. Nine grandchildren, the oldest of whom is now 21 and the youngest of whom is now six months, have all swung to and fro in the hammock in the backyard.
I didn't think about it any more. Come summer when the trees, bushes, grass and flowering plants are all green, when the four bright-blue pillows are bouncing on the string hammock, I'll forget how forlorn and worn it looked in March. Because notes in my own grandmother's hand, written to record some of the history of her family, indicated that her mother—my great-grandmother—had died after a fall from a hammock, I always check to make sure the hammock is solid. This grey hammock is sturdily attached to the two trees that guard it; not a string is frayed, not a knot untied.
It would probably serve us well for the next decade.
However, when I popped into St. Vincent's, the closest resale shop I frequent, there in the back hall where odd items are stored, was a bright, new, white-as-white-could-be string hammock. "How much?" I inquired of my friend who manages the shop. "Oh, how 'bout $10?" I almost didn't get it, thinking it was a frivolous purchase since the graying hammock would probably last for quite some time. Yet, I am trying to learn to pick up bargains at impulse (they are often gifts to me). I've regretted many of the purchases I've passed on—the latest being a big red sun umbrella that would have been PERFECT for the outside color scheme in our yard—Oh, well.
I bought the hammock, assured by the guarantee that if I unrolled it and discovered holes, I could return it in the morning. It was in perfect condition, and the hooks stretched the exact length to the two fasteners embedded in the trunks of the guardian trees. More than that, the clean, crisps white really looks beautiful. I can't wait to pull out the blue outdoors pillows that are stored in the attic.
My question about all this is: Did God put the desire in my heart so that I would be open to hauling home a $10 resale hammock because He knew it would delight me? Or did He catch that thought and steer me within a month to walk into the resale shop when a nice new hammock was stored in the back hall, meaning it had just been delivered and wasn't even priced yet?
I don't know. I really don't know. I just know that I am embarrassed by the lavish love of a divine process I can't fathom or understand. I'm like a little child chanting, "Jesus loves me, this I know…" Perhaps the intricacies and mysteries of how God works are beyond my capacities. I just need to know that Jesus loves me. Yes, He does.
I spy God!
————————————————————————————–
Award-winning author Karen Mains has long had an interest in spiritual formation and the obedient Christian walk. She has written about the God Hunt in her book by the same name, The God Hunt: The Delightful Chase and the Wonder of Being Found. A hardback copy can be ordered from Mainstay Ministries for $10.00 plus $4.95 shipping and handling. Contact Karen at info@mainstayministries.org and she will be happy to autograph a copy for you.
Karen continues to write content for her Christian blog, "Thoughts-by-Karen-Mains." In so doing, she desires to touch the lives of Christian women and men and help them find ways to walk closer with the Lord Jesus Christ. In addition, through silent retreats, spiritual teaching, women's retreats, Christian vacation opportunities, and other ministry activities, Karen helps each Christian woman and man receive vital spiritual food.
Through her Hungry Souls ministry, Karen serves as a spiritual coach to many Christian women and men, and teaches a mentor-writing class. And, through the Global Bag Project, she is working to develop a network of African women who sew exquisite cloth reusable shopping bags, Africa bags. This micro-finance women opportunity helps provide a much-needed sustainable income for struggling African families. For more information on this critically important project, please click here.
For decades, Karen and her husband, David, have served God through religious communications—radio, television, and print publication. They are the co-authors of the Kingdom Tales Trilogy: Tales of the Kingdom, Tales of the Resistance, and Tales of the Restoration. To find many valuable resources for pastors and congregations at the Mainstay Ministries main website, please click here.
Likewise, pastors will find special resources to help them prepare effective, life-transforming Sunday sermons by visiting David Mains' website by clicking here.
Share this Article