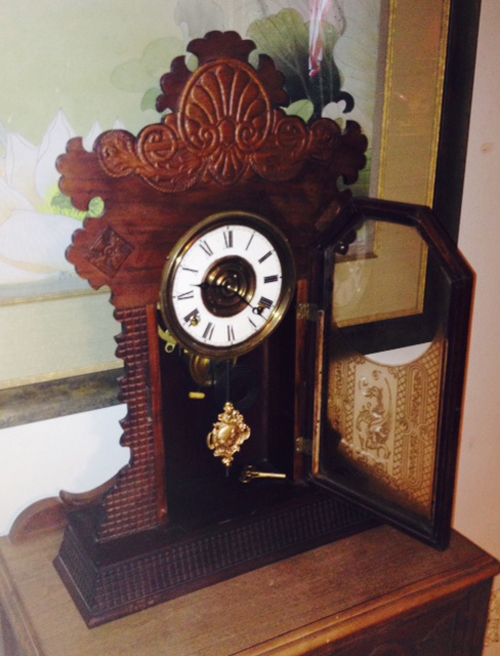 Tick tock … tick tock … tick tock … tick tock.
I picked up the old gingerbread clock from Winfield Antique Shop and set it on the stand at the foot of the stairs, from where I can hear it ticking and chiming during those moments in the night when I am awake. The cost of the repair by the Tick Tock Clock man who collects repair items then fixes them in his studio in Schaumburg, IL, was $300. I think this is outrageous, but there seem to be so few clock-repair experts around, I have to settle and pay up the ante.
This clock has a sentimental history of sorts. It is not the chiming clock my father and mother gave me for my 30th birthday; that one was stolen in a robbery where some kids on drugs forced a back window, climbed through it, took a pillowcase off the bed, filled it with articles and left. They didn't get much—some cheap costume jewelry, a computer, a broken television set and the gingerbread clock my parents had given me.
Since my father died, the clock and its chime marking the hour took on deeper sentimental meaning for me. A robbery of any sort is a personal violation, but the fact that some young punks, desperate to feed their habit, would force their way into our house and steal my father's clock was an affront on another level altogether.
We didn't replace the clock, of course. Living on a ministerial salary meant that we were grateful for enough to pay the mortgage, pay for the living expenses incurred by four children (and various live-ins), and put food on the table and gas in the car. I missed the sound of its gentle chime and the tick tock … tick tock … tick tock … tick tock heartbeat in the middle of the night.
When I am launching a major writing project, I have to have housekeeping help, so sometime after this robbery I hired a Wheaton College student to give me a hand. We became friends and somewhere in the middle of one of our many conversations, she mentioned that her father repaired old clocks. "Oh, I used to have a beautiful mantle clock…" I sighed, then told her what had happened. When Becky graduated from college, she gave me a gift from her father's shop—the gingerbread mantelpiece clock that now sits on a table at the bottom of our stairway. This is the one I paid $300 to have cleaned, repaired and adjusted.
Actually, I haven't had the clock looked at in the whole twenty years I have owned it. If I would amortize a yearly fixer's fee over those years ($300 divided by 20), the yearly cost to keep the clock in tiptop condition would have been $15 a year. Maybe $300 is not so out-of-line after all.
Tick tock … tick tock … tick tock … tick tock. I hear the clock in the middle of the night. The chimes softly strike three—bong … bong … bong. I am comforted. Why is this? Am I content because this is evidence that a symbol of my father's love is in the house again and softly working, the hands moving forward, round and round, always on time if and when we remember to wind the clock? Or do I just need the reminder that I am not alone in my wakefulness?
The Tick Tock Clock man left me lengthy voicemail instructions when he phoned to say the repair was done and the clock had been returned to the Winfield Antique shop. "Make sure that the surface where the clocks sits is level—both front to back and side to side. If you don't have a level, you'll have to buy one, but maybe you already have one. This is the most important thing. If it's not level, you'll have to make a shim so it doesn't rock—like we do here on the shelves. Never move the hands backward to set the clock, only forward, then only on the half hour, letting the clock chime. Wind the clock two times a week on Wednesdays and Sundays, turn the key in both winding holes. If you follow these rules, everything should be OK. Been nice servicing you. Call me if you have any questions."
So my clock is running happily, a reminder of a father's love, a friend's compassion and the fact that the Clock Maker of all clock makers has rules for chiming and ticking that if we follow, everything should be OK. Tick tock … tick tock … tick tock … tick tock.
---
Award-winning author Karen Mains has long had an interest in spiritual formation and the obedient Christian walk. She has written about the God Hunt in her book by the same name, The God Hunt: The Delightful Chase and the Wonder of Being Found. A hardback copy can be ordered from Mainstay Ministries for $10.00 plus $4.95 shipping and handling. Contact Karen at info@mainstayministries.org and she will be happy to autograph a copy for you.
Karen continues to write content for her Christian blog, "Thoughts-by-Karen-Mains." In so doing, she desires to touch the lives of Christian women and men and help them find ways to walk closer with the Lord Jesus Christ. In addition, through silent retreats, spiritual teaching, women's retreats, Christian vacation opportunities, and other ministry activities, Karen helps each Christian woman and man receive vital spiritual food.
Through her Hungry Souls ministry, Karen serves as a spiritual coach to many Christian women and men, and teaches a mentor-writing class. And, through the Global Bag Project, she is working to develop a network of African women who sew exquisite cloth reusable shopping bags, Africa bags. This micro-finance women opportunity helps provide a much-needed sustainable income for struggling African families. For more information on this critically important project, please click here.
For decades, Karen and her husband, David, have served God through religious communications—radio, television, and print publication. They are the co-authors of the Kingdom Tales Trilogy: Tales of the Kingdom, Tales of the Resistance, and Tales of the Restoration. To find many valuable resources for pastors and congregations at the Mainstay Ministries main website, please click here.
Likewise, pastors will find special resources to help them prepare effective, life-transforming Sunday sermons by visiting David Mains' website by clicking here.
Share this Article