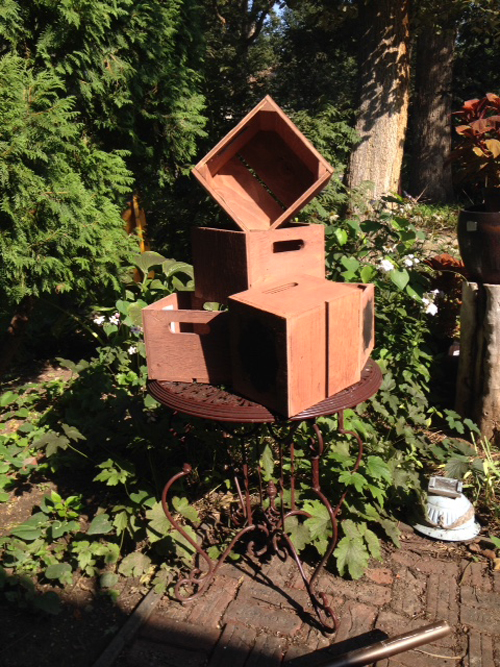 Five of twenty wedding boxes
Melissa, my daughter, and I were at Home Depot's garden center. She had notified me that a shipload of fall mums had come in and were being sold for great prices. We spent the morning at Turtle Creek Acres, walking in the marsh and clipping cattails for autumn arrangements. We planned a one-day Advent Retreat of Silence, an October dance under the moonlight (a la Van Morrison's "Well, it's a marvelous night for a moon dance with the stars up above in the skies…"), and talked about the florals for Caitlyn's Mains' December wedding. Melissa had found some lovely winter centerpieces on Pinterest using greens and white flowers arranged in old drawers and boxes.
A text inquiring as to the number of tables and as to whether they were round or square (20 tables and round), set us thinking about procuring old drawers at antique shops. Obviously, now that we knew the answer to our text, square boxes would be best—but twenty…? Where exactly would we find these without an inordinate amount of time spent running around. Melissa used to have a floral-design business; it was nothing for her and her partner to turn in a wedding invoice for $7,000 to $8,000 for the bouquets, boutonnieres, alter arrangements and reception centerpieces. Doing the florals for Caitlyn's wedding was Melissa's gift to her niece (and my granddaughter—the first wedding of that generation).
While Melissa was making inquires of the garden center salesperson, I wandered around looking at items on outside shelving. Lo and behold! a shelf held rustic boxes of various sizes. Some ten were perfectly square, about 10 inches by 10 inches. Brown stain covered rustic shapes. Blackboard paint on one side would allow for a chalk-written message, something like "Best Wishes to Jake and Caitlyn."
Best of all, the boxes were marked down from $10.00 to $7.99. "Ask the garden salesperson, if we buy all those boxes, can he give them to us for $5.00." A deal was quickly struck; the young man happened to be the supervisor with power to make such a decision. He kindly checked with other nearby Home Depots to see if there were similar boxes in stock; there were.
Melissa picked up five boxes at a store nearby, and a day later, I drove out to the Home Depot in Aurora to pick up five more. Melissa got hers for $5 also; the supervisor I worked with gave mine to me for $6 each—still a bargain. We bought 20 boxes that sold regularly for $200 for $75 plus $30; that's $105 total.
It may seem silly, but in such simple things, in such loving kindnesses is God's hand shown to me. Melissa and I could have chased through antique store after antique store and never found 20 square antique wooden drawers in which we would put the winter centerpieces. We would certainly have never found drawers for $5 each.
In my prayer journal this week, I wrote out one of my favorite phrases from the Psalms. I know the phrase well and often repeat it to myself, but it seemed time again to record this reminder: "O give thanks to the Lord for He is good; for His steadfast love endures forever." This is true every day of my life, even pertaining to things seemingly mundane, such as wedding boxes.
---
Award-winning author Karen Mains has long had an interest in spiritual formation and the obedient Christian walk. She has written about the God Hunt in her book by the same name, The God Hunt: The Delightful Chase and the Wonder of Being Found. A hardback copy can be ordered from Mainstay Ministries for $10.00 plus $4.95 shipping and handling. Contact Karen at info@mainstayministries.org and she will be happy to autograph a copy for you.
Karen continues to write content for her Christian blog, "Thoughts-by-Karen-Mains." In so doing, she desires to touch the lives of Christian women and men and help them find ways to walk closer with the Lord Jesus Christ. In addition, through silent retreats, spiritual teaching, women's retreats, Christian vacation opportunities, and other ministry activities, Karen helps each Christian woman and man receive vital spiritual food.
Through her Hungry Souls ministry, Karen serves as a spiritual coach to many Christian women and men, and teaches a mentor-writing class. And, through the Global Bag Project, she is working to develop a network of African women who sew exquisite cloth reusable shopping bags, Africa bags. This micro-finance women opportunity helps provide a much-needed sustainable income for struggling African families. For more information on this critically important project, please click here.
For decades, Karen and her husband, David, have served God through religious communications—radio, television, and print publication. They are the co-authors of the Kingdom Tales Trilogy: Tales of the Kingdom, Tales of the Resistance, and Tales of the Restoration. To find many valuable resources for pastors and congregations at the Mainstay Ministries main website, please click here.
Likewise, pastors will find special resources to help them prepare effective, life-transforming Sunday sermons by visiting David Mains' website by clicking here.
Share this Article