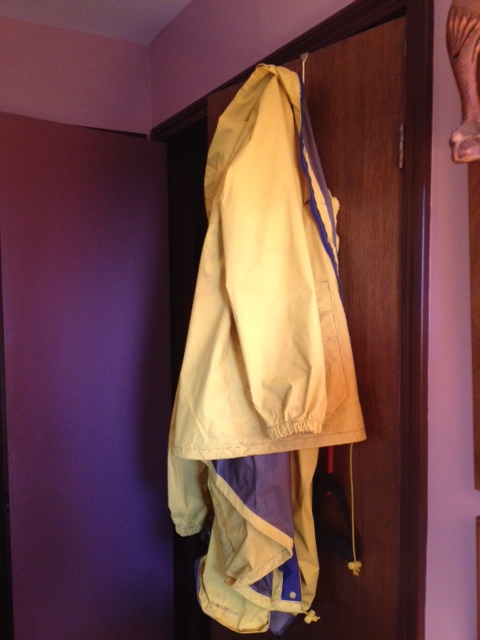 Rain slicker at the ready.
Last week, the temperature rose in Chicagoland, from the twenties to the forties—48 degrees to be exact. Now I have hauled more pans of boiling water than I care to count after a sudden freeze caught me with my Christmas greens outside their garden pots. In order to arrange Christmas decorations during those years, I needed to de-thaw the frozen planting soil.
Waking up in the middle of the night and checking the temperature outside, I discovered it was warm enough I could plod around outside without a coat while just wearing a sweatshirt.
I was in a race against falling temperatures. Somewhere about 5 A.M., I could feel that the temperatures were dropping—a couple degrees per half-hour. Stopping for a warming cup of coffee, I checked my iPhone—yep, it was now 42 degrees outside.
A damp drizzle began. I went inside, dug out my yellow sailing slicker, found some rubberized garden gloves, pulled on my wellies and kept working—no hauled hot water this year if I could help it! In a little bit of time, my jeans were soaking, and I was getting cold. "Better stop," my husband warned. "You don't want to get sick." Instead, I went in, changed my damp stockings, peeled off the jeans and dug out the yellow slicker pants.
By this time it was light, a grey gloomy growing colder November morning, and any passersby would have seen a yellow-clad figure frantically hauling greens, clipping and cutting, half muddy now in her yellow sailing slicker, protecting herself from what might be an approaching Nor'easter (what is a Nor'easter, anyway?).
However, I and my determination prevailed. By the time I ended my race at 9 o'clock in the morning, the temperature was 38 degrees, heading fast toward freezing. My walkway to the front door lined with evergreen boughs, however, and the pots filled with greens, and the wire baskets outside the garage were all neatly waiting now to be solidly impressed into the soil by the wind and the rain and the cold. The shepherd hooks were pressed into the earth and eagerly waiting for the red Christmas lanterns I hang so that their light greets people to our home.
It occurs to me that Advent, the season after Thanksgiving, that much of the church observes as the beginning of the church year, asks us to get ready, to watch for the coming of Christ, to be prepared.
My yellow slicker—pants and coat—and my race against the cold are what I call living metaphors, actions we take that are like a sometimes unseen spiritual reality. They point the way; they show us; they remind us of what we often forget. In this case, the first week of Advent asks us to get ready by repenting, to take some time for self-examination. This prayer is fitting:
Accept my repentance, Lord, for the wrongs I have done: for my blindness to human need and suffering, and my indifference to injustice and cruelty,
Accept my repentance, Lord.

For all false judgments, for uncharitable thoughts toward my neighbors,
And for my prejudice and contempt toward those who differ from me,
Accept my repentance, Lord.

For my waste and pollution of your creation, and my lack of concern for those who come after us,
Accept my repentance, Lord.
There is more, but you get the idea.
Observing Advent appropriately, getting ready for the coming of Christ, is like donning a yellow sailing slicker, pants and coat, and working hard before the climate 48 degrees turns to a frozen and chilling below-20. Be resolved. Be resolved to be prepared both outside and inside.
---
Award-winning author Karen Mains has long had an interest in spiritual formation and the obedient Christian walk. She has written about the God Hunt in her book by the same name, The God Hunt: The Delightful Chase and the Wonder of Being Found. A hardback copy can be ordered from Mainstay Ministries for $10.00 plus $4.95 shipping and handling. Contact Karen at info@mainstayministries.org and she will be happy to autograph a copy for you.
Karen continues to write content for her Christian blog, "Thoughts-by-Karen-Mains." In so doing, she desires to touch the lives of Christian women and men and help them find ways to walk closer with the Lord Jesus Christ. In addition, through silent retreats, spiritual teaching, women's retreats, Christian vacation opportunities, and other ministry activities, Karen helps each Christian woman and man receive vital spiritual food.
Through her Hungry Souls ministry, Karen serves as a spiritual coach to many Christian women and men, and teaches a mentor-writing class. And, through the Global Bag Project, she is working to develop a network of African women who sew exquisite cloth reusable shopping bags, Africa bags. This micro-finance women opportunity helps provide a much-needed sustainable income for struggling African families. For more information on this critically important project, please click here.
For decades, Karen and her husband, David, have served God through religious communications—radio, television, and print publication. They are the co-authors of the Kingdom Tales Trilogy: Tales of the Kingdom, Tales of the Resistance, and Tales of the Restoration. To find many valuable resources for pastors and congregations at the Mainstay Ministries main website, please click here.
Likewise, pastors will find special resources to help them prepare effective, life-transforming Sunday sermons by visiting David Mains' website by clicking here.
Share this Article