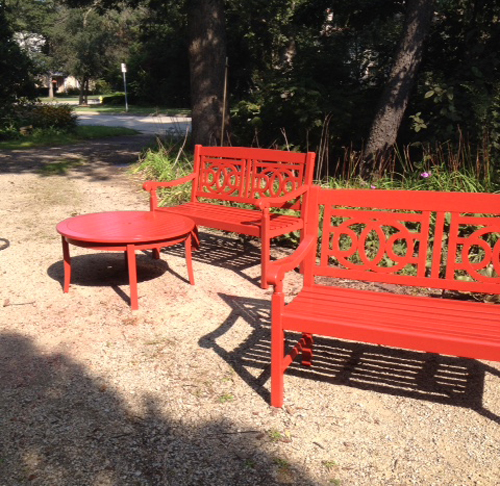 Freshly painted patio furniture
When it comes to fixing things up, David and I are the kind of people who take a while to get around to the tasks at hand. The ceramic tiles on our kitchen floor, for instance, have been cracked for years, and after my son taped down the throw rug that caught my foot, causing me to trip across the open dishwasher door and fall, tearing my rotator cuff, some 20 tiles came loose (and I mean pulled off the cement that was supposed to keep them tightened against the flooring) when I lifted the dirty rug to throw it in the washer. Since then, every month, another tile in the creeping hole beneath the kitchen cabinets loosens, cracks, breaks and is tossed. These things drive me nuts, both visually and also because I'm wary of living in a home that fast becomes a shanty due to neglect.
Some of this is because there are never extra funds to hire fix-it men; some of this is because David is not a fixer (although sometimes he surprises me). Some of this is because he doesn't see the holes, or cracks, or out-of-date cabinetry in the kitchen. Partly, that is because I am not a whiner or a complainer or a nag. I'm the kind of gal who grits her teeth and makes do. Believe me, this is not a virtue. God doesn't seem to be paying me much mind, either. My attitude, even when things get rough, goes toward the positive side. I practice gratitude to a fault. As far as the divine goes, I'm newly considering the virtuosity in this approach. Any good thing has a limit, right? Maybe I need to speak up a little more—at home and to the heavens.
My sister is married to a man who would never put up with the physical and material faults that I put up with. In fact, my husband's mother would never have stood for a creeping fault-line in the tiles on her kitchen floor—or anything else in the household fix-it category. What is wrong with me? I think this started in childhood. I can't ever remember asking for something. "Can I have…? I need some… How can I get…?" are phrases that when it comes to home repairs, even now, exist somewhere outside of my vocabulary.
So it was unusual one summer morning last week, after a set of discouraging events, which actually caused me to feel discouraged, that I complained. I counted up the carpeting in the downstairs and discovered that it had been on our floors for 38 years—and it looks like it. I complained loudly. No one keeps carpeting on their floor for 38 years, do they?
To his credit, David instantly diverted some funds he had been saving for something else toward projects around the house. We had the downstairs windows replaced last January; he has just finished paying off the $7,000 cost, so my husband figured he could put aside some funds toward overdue fix-it projects. After 52 years of marriage, my husband can recognize depression stalking around. "What shall we do first?" he asked, plotting to stave off a downward spiral.
The new window frames have been bare since January; they needed dark stain. The outside roof trim where the trees fell against the house three summers ago and where insurance paid for new roofing also needed to be stained. The back wall from which a crew from the church had torn a moldering screened-in porch, leaving a decidedly uneven patchwork of tones, drastically needed a touch up (Willie had painted the whole house a chocolate brown two summers back). My garden benches outside, so charming when they were delivered several summers ago, are now whining about being weather-worn. They need to be sanded, primed, repainted and coated with polyurethane. Paint is chipping off the back door that was probably last coated some 10 years ago—both inside and outside.
I have a wonderful painter, Willie Lopez, who works efficiently and expertly. Because we are in ministry, his prices are extremely affordable, even for us. "Let's have the window frames stained and the outside paint jobs finished." David and I agreed we could afford this. In addition, two years ago, I designed and screwed together wood shelving to make two large trellises. One of the many neglected projects, they have been stacked forlorn on the patio beneath the lilac bushes—which mean, of course, that we couldn't sit there during lilac time. If Willie painted those, David and I could get them hung, and come spring they would be ready to hold the clematis and the hop vine that are clambering over now insubstantial hardware store frames.
There is something wonderful about getting things fixed up. I came home this morning after running around for the right color paints—one gallon for the back door (and enough for the other three doors that David and I can paint ourselves); one gallon of another shade for the wooden patio and table with enough paint leftover to do the little bench at the end of the garden path. A 15-minute trip took me to the Benjamin Moore store to pick up that hard-to-match chocolate-brown stain for the outside back patio wall. Willie had already put the first coat on the window frames, then primed the door. When I came back from another errand, he was rolling brown stain ("A perfect match!" we both agreed) on the back wall.
Having been running around since 4 a.m., I went upstairs to put my feet up and take a rest. Things were getting fixed. I pondered the rising feeling of well-being—what was it exactly? I felt cared for. I felt loved. I felt that my concerns had been heard. And Willie, the painter who always does things so well at a price that even we can afford, was kind of a God-figure—at least for this day and probably the rest of this month. He is someone who has made certain things in my life that were wrong right. He has brought order into disorder. It's wonderful, isn't it, when things get fixed.
I think this is how people feel when something gets fixed in their personal lives—"You were there when I needed you," has become something of a mantra these days. "I wouldn't have gotten through my divorce without you."
Helping people fix things up—either the material collapses or the emotional ones—is a godly act, and the end result, at least for a while, is this feeling that someone cares, someone has come to help, someone will make it right. Let us praise God for the fixers in the world, the ones we can afford who help us put our lives back together, even better than they were before.
---
Award-winning author Karen Mains has long had an interest in spiritual formation and the obedient Christian walk. She has written about the God Hunt in her book by the same name, The God Hunt: The Delightful Chase and the Wonder of Being Found. A hardback copy can be ordered from Mainstay Ministries for $10.00 plus $4.95 shipping and handling. Contact Karen at info@mainstayministries.org and she will be happy to autograph a copy for you.
Karen continues to write content for her Christian blog, "Thoughts-by-Karen-Mains." In so doing, she desires to touch the lives of Christian women and men and help them find ways to walk closer with the Lord Jesus Christ. In addition, through silent retreats, spiritual teaching, women's retreats, Christian vacation opportunities, and other ministry activities, Karen helps each Christian woman and man receive vital spiritual food.
Through her Hungry Souls ministry, Karen serves as a spiritual coach to many Christian women and men, and teaches a mentor-writing class. And, through the Global Bag Project, she is working to develop a network of African women who sew exquisite cloth reusable shopping bags, Africa bags. This micro-finance women opportunity helps provide a much-needed sustainable income for struggling African families. For more information on this critically important project, please click here.
For decades, Karen and her husband, David, have served God through religious communications—radio, television, and print publication. They are the co-authors of the Kingdom Tales Trilogy: Tales of the Kingdom, Tales of the Resistance, and Tales of the Restoration. To find many valuable resources for pastors and congregations at the Mainstay Ministries main website, please click here.
Likewise, pastors will find special resources to help them prepare effective, life-transforming Sunday sermons by visiting David Mains' website by clicking here.
Share this Article