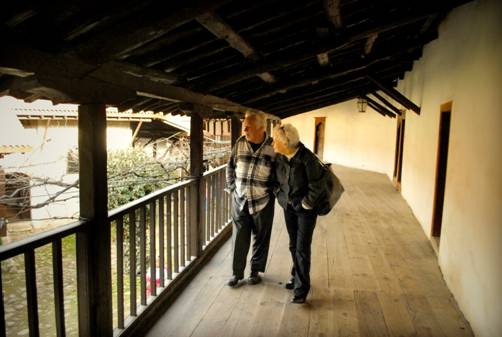 Walking the cloister at Rozhen Monastery, above the wine-producing
town of Melnik. Located in the beautiful sand pyramids of the
Pirin mountains. The medieval monasteries were repositories of
learning and are credited with "saving civilization" across Europe.
When the St. Alexander Nevsky Cathedral was constructed in Sophia, the capital of Bulgaria, the plans were that the crypt would become the burial place of Bulgarian kings. However, none of the kings were interred there. Therefore, other plans were set into motion for these vaulted underground rooms, and in 1965 the space under the church was converted into a branch of the National Art Gallery for Orthodox (religious) art.
When David and I entered the space beneath the cathedral itself, four very bored and cranky-faced Bulgarians sat behind a table. There was much more chance of these folk—one, a man, wearing a guard uniform and the others, all women, wearing official museum tags—of them speaking English, than there was of David or I speaking Bulgarian.
A fee, of sorts, was paid, no one smiled and we made our way into the stunning crypt, lighted with floods, clean and bright and housing what some claim to be the largest collection of Orthodox icons in Europe. Believe me, having seen many of those collections in my adult pursuit of the mystery contained within these art forms—church history and Scripture for the eyes—I believe it.
Spanning a long historical history, from the adoption of Christianity as the official religion in the fourth century through to the Bulgarian National Revival—the 18th and the 19th centuries—the exhibit is mainly a collection of some 200 icons, three fragments of wall paintings, engravings and an assortment of other religious artifacts, some rendered in bronze or gold or marble and onyx and alabaster.
A priest/artist living in the Monastery of the Holy Spirit high above the city of Lebanon, Beirut introduced me to icons when I was 38 years of age, and I have been chasing after them ever since. The Art Institute of Chicago recently mounted art of the Grecian Age, including icons from the time when Constantinople was the reservoir of Christianity in the East. Something profound hit me when I stood standing in front of them—a transcendent sense of all those worshipers, many illiterate, who had stood once centuries before me, pondering the meaning of Christ and his mother and the saints and apostles and prophets.
But here, here in the crypt of St. Alexander Nevsky in Sophia, Bulgaria, I could see the brilliant restored colors, the icon-writers' original intent, and to me they were stunning. A quote from Sofia Guide reads: "Actually, Bulgarian icons have always fascinated people, evoking profound respect and admiration. All expositions abroad in Paris, Brussels, Madrid, Munich, Berlin, Warsaw, Moscow, Venice, Havana, Delhi, Tokyo have provoked great interest of people and had stunning success."
Well, I agree—for an icon-chaser, it is a stunning exhibit. If you are ever, ever in Sophia, Bulgaria, make sure you enter the northwest side entrance of the Alexander Nevsky Cathedral, walk down stairs, smile at the guards (they probably won't smile back), and lose yourself in the brightly lit rooms filled with the ancient Scripture of the eyes. "Read" the icons (you never "view" icons). In fact, iconographers don't "paint" icons; they "write" them. Without a doubt you will agree that this is a most fitting resting place for the largest collection of Orthodox art—better, surely, than the remains of any Bulgarian kings.
---
Award-winning author Karen Mains has long had an interest in spiritual formation and the obedient Christian walk. She has written about the God Hunt in her book by the same name, The God Hunt: The Delightful Chase and the Wonder of Being Found. A hardback copy can be ordered from Mainstay Ministries for $10.00 plus $4.95 shipping and handling. Contact Karen at info@mainstayministries.org and she will be happy to autograph a copy for you.
Karen continues to write content for her Christian blog, "Thoughts-by-Karen-Mains." In so doing, she desires to touch the lives of Christian women and men and help them find ways to walk closer with the Lord Jesus Christ. In addition, through silent retreats, spiritual teaching, women's retreats, Christian vacation opportunities, and other ministry activities, Karen helps each Christian woman and man receive vital spiritual food.
Through her Hungry Souls ministry, Karen serves as a spiritual coach to many Christian women and men, and teaches a mentor-writing class. And, through the Global Bag Project, she is working to develop a network of African women who sew exquisite cloth reusable shopping bags, Africa bags. This micro-finance women opportunity helps provide a much-needed sustainable income for struggling African families. For more information on this critically important project, please click here.
For decades, Karen and her husband, David, have served God through religious communications—radio, television, and print publication. They are the co-authors of the Kingdom Tales Trilogy: Tales of the Kingdom, Tales of the Resistance, and Tales of the Restoration. To find many valuable resources for pastors and congregations at the Mainstay Ministries main website, please click here.
Likewise, pastors will find special resources to help them prepare effective, life-transforming Sunday sermons by visiting David Mains' website by clicking here.
Share this Article