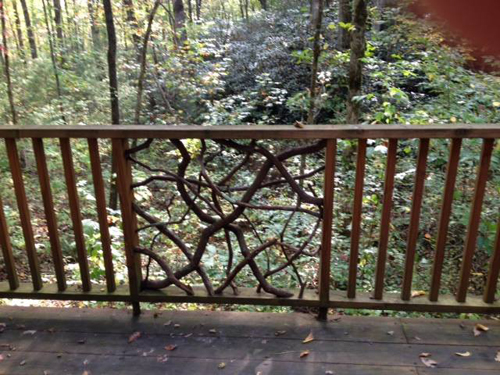 Hypothyroidism, I discovered on an Internet search, is due to an underactive thyroid. One of the causes of this condition can be seasons of unremitting stress, which signals the adrenal glands to keep pumping out adrenalin. Since I no longer have a thyroid (and am taking daily medication) and for six years have been living with stress that has been pretty unremitting, it made some sense during this session of self-diagnosis. Symptoms matched. Fatigue, fatigue, fatigue—check. Unexplained weight gain—check. Aching in joints and muscles—check. Sensitivity to cold—check. Just loved getting myself under warm covers with a heating pad and velour sheets.
Consequently, I put myself to bed for a couple weeks. Stopped pushing myself so hard. Slept and slept and slept. Drank gallons of water in an attempt to flush my system. Upped my dose of thyroid medicine—one more tablet every other day. Repeated this mantra: "Thank you, good body, for taking care of me. For sending out signals that I have been overdoing. Thank you for shouting loudly enough so that I could hear—'STOP!' Look now—I'm deliberately taking care of myself."
During this time, I took a three-day trip to North Carolina with my sister, Valerie Bell. The Bells own a summer home in the woods, nestled in the Smokey Mountains, not too far from the Appalachian Trail. Just driving south I began to feel better—no lists ran compulsively in my mind. Better fix this. Better get that. Did you forget to…? Put your feet up for ten minutes. Push the laundry. Write that blog. Call back a friend. Check the emails.
During the last six years, I have become aware of my habitual response to life's demands by ramping up—I just never took the time to examine how MUCH I ramped up, how hard or how frequently or how long it took for my internal systems to calm down. Once the crises were over, I could feel that my body was still being pumped with fright-or-flight orders.
In the summer home, in the woods, huddled between the mountains, where smoke does spiral in the hills to greet the day raise and where you can see the stars arching overhead, I spent three quiet days and began to feel physically restored. It was like the quiet greeted my bones, like the silence said, "Oh, hello there. It's you. Been a while." It was like solitude kissed me on the forehead.
I looked out across the wraparound deck railings around my sister's home and was sheltered by greening on all sides. The lovely new laurel insets satisfied my hungry eyes. The light slanted through the filtering leaves, and I thought, Oh, surely nothing, certainly nothing is wrong beyond this canopy of quiet. Nothing is bringing harm in all the world. Nothing desperate is happening outside of these woods. All is serene on the planet.
I could feel silence leaching into my bones. My joints began to unlock. My endocrine glands engaged again and began the work in my body they were created to do. The excess adrenalin began to defuse and dissipate.
I think many of you, because of the unrelenting demands and stress-points of modern life are either emotionally hypo-depleted or hyper-activated. My daughter, Melissa Mains Timberlake, and I would love to love to give you a healing gift. I have worked in the area of spiritual mentoring most of my adult life, and Melissa is a highly trained and certified life-coach. Come away for an Eight-Hour Advent Retreat of Silence held at the Timberlakes' beautiful Turtle Creek Acres in McHenry, Illinois. The date is Thursday, December 3rd, with an alternate date of Saturday, December 5th. Many of you really need to give yourselves this time of quiet so that you can begin to renew your mind and body and soul. For more information and a place to register please: click here.
Remember: "A man (or woman) is rich in proportion to the number of things which he/she can afford to let alone." ―Henry David Thoreau
---
Award-winning author Karen Mains has long had an interest in spiritual formation and the obedient Christian walk. She has written about the God Hunt in her book by the same name, The God Hunt: The Delightful Chase and the Wonder of Being Found. A hardback copy can be ordered from Mainstay Ministries for $10.00 plus $4.95 shipping and handling. Contact Karen at info@mainstayministries.org and she will be happy to autograph a copy for you.
Karen continues to write content for her Christian blog, "Thoughts-by-Karen-Mains." In so doing, she desires to touch the lives of Christian women and men and help them find ways to walk closer with the Lord Jesus Christ. In addition, through silent retreats, spiritual teaching, women's retreats, Christian vacation opportunities, and other ministry activities, Karen helps each Christian woman and man receive vital spiritual food.
Through her Hungry Souls ministry, Karen serves as a spiritual coach to many Christian women and men, and teaches a mentor-writing class. And, through the Global Bag Project, she is working to develop a network of African women who sew exquisite cloth reusable shopping bags, Africa bags. This micro-finance women opportunity helps provide a much-needed sustainable income for struggling African families. For more information on this critically important project, please click here.
For decades, Karen and her husband, David, have served God through religious communications—radio, television, and print publication. They are the co-authors of the Kingdom Tales Trilogy: Tales of the Kingdom, Tales of the Resistance, and Tales of the Restoration. To find many valuable resources for pastors and congregations at the Mainstay Ministries main website, please click here.
Likewise, pastors will find special resources to help them prepare effective, life-transforming Sunday sermons by visiting David Mains' website by clicking here.
Share this Article